Out in front of Sup. Vallie Brown's headquarters this afternoon, Mayor London Breed was giving her pitch. With a lone TV camera in place, she said she wanted voters to support her candidates, Brown and interim District Attorney Suzy Loftus, because she wanted people who could "work together."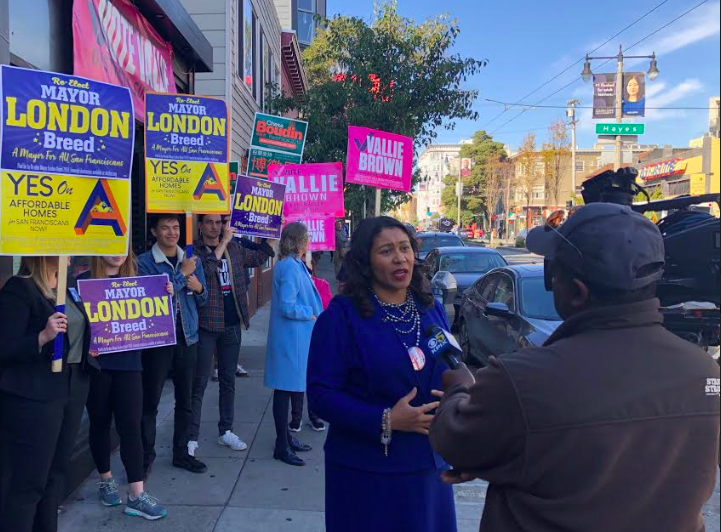 That means people who can work with her and support her agenda.
She made a pitch for Prop. A, the affordable housing bond, and then said that money wasn't the only problem – the city makes it too difficult to build housing
A few blocks away, challenger Dean Preston's headquarters was a hub of activity. There's nothing quite like the controlled chaos of a grassroots campaign on Election Night, and it was in full force – volunteers walking in and out, grabbing signs and voter-ID folders.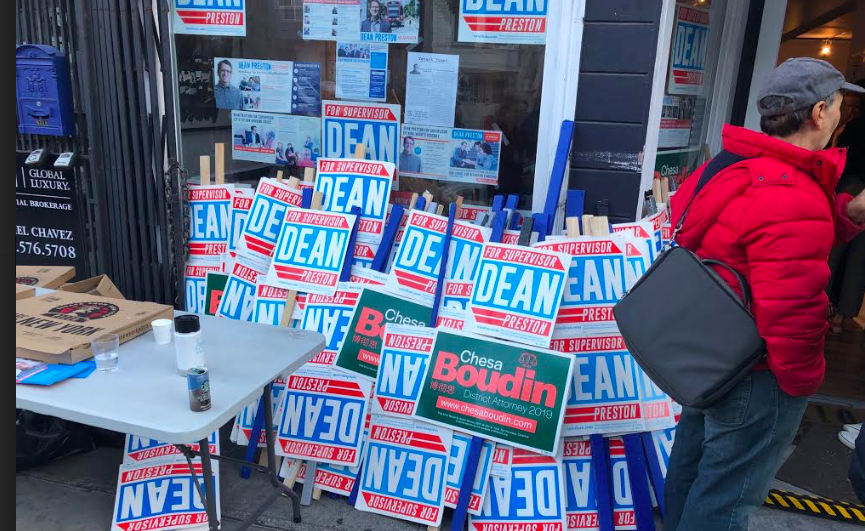 Both sides know what's at stake – and both know that this election will be determined by turnout. It's hard to get the voters to the polls when there's no major national or statewide race – or even a contested mayor's race – at the top of the ticket.
To make things more complicated, the D5 election operation was at best a little screwed up. Both sides reported to me that there were polling places with non D5 ballots. In one precinct, the D5 ballots didn't arrive until 10am, after more than 40 voters had cast their ballots (without voting for a candidate for supervisor). In another precinct, a closed-down voting site sent voters across district lines to a place where there were, of course, no D5 ballots.
"We have reports of issues all over the district," Jen Snyder, who is helping manage the Preston campaign, told me. "Polling places moved outside the district, power down until 9am, citywide ballots missing the D5 race."
Brown agreed: "We have heard a lot of reports, and we have had to call the Department of Elections to make sure the ballots are in the right place," she told me outside her headquarters.
I wanted to ask the mayor about that – and about whether she would sign and support the jobs-housing balance legislation by Sup. Matt Haney, which could bring in more money from developers than Prop. A will bring in from taxpayers.
But she refused to answer our questions and walked quickly away.
Breed knows that she will win re-election and serve another four years as mayor. She also knows that the outcome of the race for D5 supe and for district attorney will be in part a referendum on her administration.
Among the Vallie Brown and London Breed signs, a supporter of Chesa Boudin was in the back, holding up a sign that registered with the TV camera. The mayor and the supervisor, I am told, were not happy.
First results will be in around 8:45.