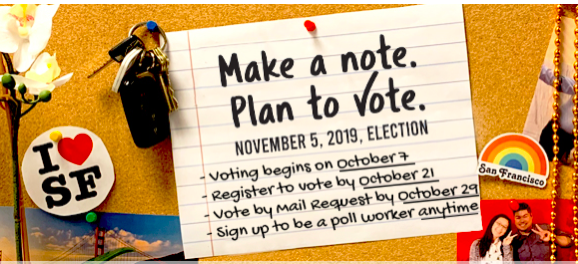 Follow us on Facebook and Twitter!
Let me start with a reminder: Yes, there is an election in San Francisco tomorrow, and there are some crucial issues on the ballot, and if you haven't voted yet, the polls open at 7am and close at 8pm. If you're not sure where to vote, you can find your polling place here. This is going to be a low-turnout election, so every vote matters.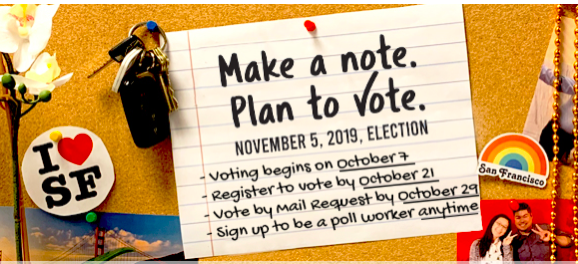 After you have voted, here are some things to look for on Election Night:
The first results will be posted around 8:45pm at SFelections.org. Those will be the vote-by-mail ballots that have arrived before Election Day and have already been counted. The first Election-Day balloting results will be released about 9:45, and then every hour until all of the day's ballots are counted (given past practice and the low turnout that's expected, I think we will know all we are going to know well before midnight).
But there will still be tens of thousands of votes to count – those are the VBM ballots dropped off at City Hall or polling places on Election Day and those that are postmarked but haven't arrived in time to be counted.
So if the races are close, it may be days before we have the final results.
That said, some things to look for:
The first round of results always skews a bit conservative. It's not as dramatic as it used to be, since more and more people vote by mail and vote early. But the more conservative voters always vote early, so there's still a significant bias in the first results.
If, for example, Dean Preston is within a few points of Sup. Vallie Brown in the first-round results in D5, that will be good news for him. If he's ahead in the early voting, it's likely a sign that he's going to win.
If you want to have fun with numbers, write down the early results and then wait until the second round, which will include Election Day voting. Back out the first-round totals and you can see what happened on Election Day. That will give you a trend number and a signal of what's to come.
Or you can just sit back and watch 48hills.org; I'll be doing that anyway.
The race for district attorney is going to be all about ranked-choice voting. None of the candidates are going to be close to a majority in the first round. The Department of Elections will run the RCV program after all the Election Day votes are counted, and will do that again every afternoon as the late votes come in.
If, as most polls show, Chesa Boudin and Suzy Loftus are in the top two spots, the winner will be determined by who the Leif Dautch and Nancy Tung voters list as their second and third choice. At this point, there's no way to predict that.
Both Dautch and Tung are more traditional prosecutor types, which might suggest that their votes would go to Loftus. But their voters may also be angry that Mayor London Breed made Loftus the incumbent just days before the election. The first-round RCV breakdown will tell us a lot.
We will probably be able to call most of the ballot measures by late evening. If Prop. A is close – and it needs two-thirds – the late votes might matter. But in most other cases, the results will probably be clear.
The late VBM votes are hard to predict. In the past they have tended to match Election Day results – but in the mayor's race last year, Mark Leno was ahead on Election Day and the late VMB votes skewed toward London Breed.
In the key races, especially D5, the results are going to be all about turnout. The candidates who get their voters to the polls are going to win.
We will be updating you all evening.