Sugar, booze, and music — these are the things that Ana Gasteyer's holidays are made of.
Top on the comedian, actress, and singer's list of most beloved holiday sweets are fruit curds. The rich and tangy spreads (also a favorite of Martha Stewart, whom Gasteyer regularly impersonated on SNL in the late '90s) are closely followed by Brach's Lemon Drops, Spearmint Leaves, and Star Brites.
"All the things that make your face slightly screwball," she told 48 Hills. "They are my true personal cocaine in the most positive of ways."
When it comes to Christmas spirits, Gasteyer is all about the smokey mezcals, as well as other winter-warming favorites like Irish coffee and spiked cider.
Musically, she's drawn to the swingin' jazz records, the Ella Fitzgerald, Sarah Vaughan, Chet Baker, and Nat King Cole that her father played over the holidays when she was growing up.
It's this vintage swing vibe that the actress, who most recently appeared on ABC's The Goldbergs and Schooled, aimed to capture on her retro-modern and deeply personal Sugar & Booze holiday album, mixing covers of Christmas classics with original numbers.
This big-band exuberance is also immediately apparent in Gasteyer's "Happy Jazz" act, which she's bringing to Holiday Gaiety with the San Francisco Symphony this weekend.
The Christmas-themed variety show, co-emceed by conductor Edwin Outwater and scream queen Peaches Christ and featuring musical performances by the SF Symphony and guest vocalists, as well as drag entertainers and the Fou Fou Ha! performance ensemble, comes to Davies Symphony Hall on Saturday.
I spoke to Gasteyer about the making of Sugar & Booze and why performing at the Holiday Gaiety show feels like a career milestone.
48 HILLS Sugar & Booze is one of the best new Christmas albums I've heard in ages. I love your covers of "Have Yourself a Merry Little Christmas," "Sleigh Ride," and "Let It Snow! Let It Snow! Let It Snow!" as much as your four original tracks on the album. Your "Nothing "Rhymes with Christmas" song is absolutely hilarious.
ANA GASTEYER My producer Julian Fleisher  is a great lyricist and writer in his own right. He made me laugh because he said, "I really want to write a song for the album." Then he couldn't think of anything to rhyme with Christmas, so he came up with that song, which is really clever. It's like the songwriter's lament.
48 HILLS One of my favorite songs on the album is "Secret Santa" with your friend and former SNL colleague Maya Rudolph. How did it feel to work with her again?
ANA GASTEYER I wrote "Sugar & Booze" and "Secret Santa" with my good friend Nicholas Williams who is half of a member of a really fun cabaret group in New York called The Gay Agenda. Those hooks came to me like inspiration and then Nicholas and I got together to properly craft them.
At a certain point, in all ridiculous songs you have to ask what the song is actually about, so you know what you're leaning toward. He's so funny because he said, "I guess what I'm getting here is that she had a bad boyfriend, went down to Havana, slipped on a banana, cracked her head on a sidewalk, and got woke." I'm like, "That's what happened."
Maya is one of my favorite harmonizers in the world. She has a crazy good ear and she's a natural fun singer. I knew the song was up-tempo, a kind of ridiculous and happy song, and she's the most perfect person to lean into what's joyful about a song, so I just asked her if she'd harmonize on it. She heard it, loved it, and was happy to oblige. Working with her on it was really fun.
48 HILLS Most of the songs are so joyful, but there's definitely a touch of sadness in "Blue Black Friday." What inspired that song?
ANA GASTEYER I came to Tedd Firth, an accomplished jazz pianist I work with, with a lyric for "Blue Black Friday" that spoke to me — "It'll be a Blue Black Friday if I don't spend it on you." Even though it's kind of cheeky, anti-commercial, and funny, I did want a ballad. I think there's loneliness sometimes that comes around that time of year, particularly right after Thanksgiving when you've eaten too much and the guy hasn't called. So I wanted to write a blue song because there's nothing worse than gluttony and rejection.
So I just worked on those lyrics on my own, and in the studio, Tedd helped me get it into a form that made sense for us. I love it so much. I think it's so beautiful and I really wanted a musical moment that was a little more sentimental, which is hard sometimes.
When I do my act, the goal is to have a great time and have it be a cocktail party in a show, but every great musical evening takes it down a notch for a second and lets people feel for a moment.  It's hard to find songs that have some humor in them that are sincere nonetheless, so writing my own seems like a good solution for that problem.
48 HILLS With so many Christmas songs out there, how did you choose which ones to cover?
ANA GASTEYER We were looking for a balance because I didn't want to do a totally wacky, kooky novelty album. I wanted it to feel traditional, sentimental, and fun. There are so many great songbook songs written by great American songbook writers, so all those tunes like "I've Got My Love to Keep Me Warm" and "Let It Snow! Let It Snow! Let It Snow!" have a great sense of the classic songbook in them.
That Cy Coleman song, "He's Stuck in the Chimney Again" was introduced to me by my reed player who's a novelty fanatic. It was only in demo form, discovered posthumously after Cy Coleman's death, and it's kind of amazing. He wrote it with Floyd Huddleston who wrote the music for The Aristocats and it just has that really subversive and fun energy. So I was just thrilled when the Cy Coleman people said I could record it.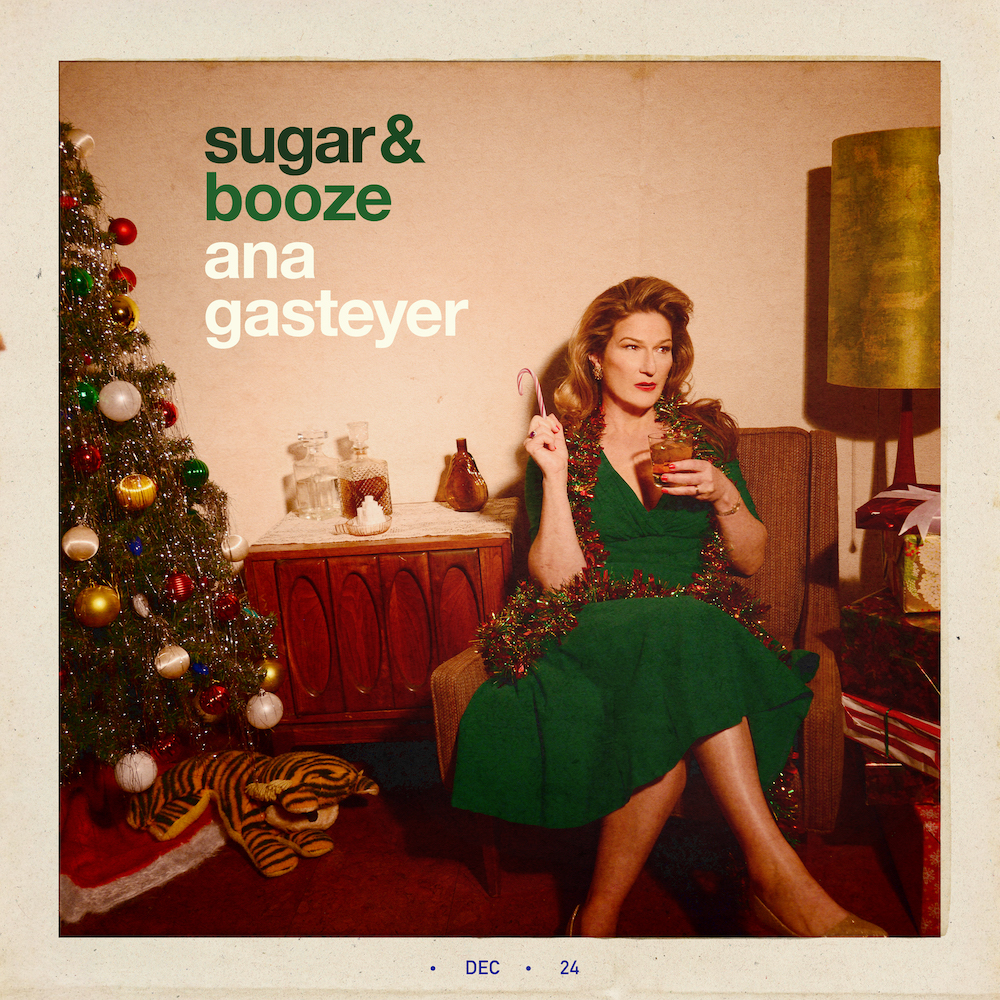 48 HILLS With so many Christmas albums out there, how did you approach yours to make it stand apart?
ANA GASTEYER It was less of how am I going to stand apart and more about what I like and what kind of band and arrangement I want. It's an incredibly personal, joyful, and naturally vintage and throwback record because that's the nature of my approach to music in general. Certainly, the swing of it, and I like jazz-swing music during the holidays. The Nat King Cole Christmas Album and Ella Fitzgerald's Christmas are my favorite Christmas records.
I think that for the holidays, so much is rooted in tradition and what we come back to year after year are our favorite ornaments, movies, and foods. So I wanted to make a record that felt like you had it before, that felt like it fits into the collection of your favorite Christmas party music. I also wanted to make a record that you could leave unattended, that wasn't all over the map and confusing in the styles. That the originals would fit in seamlessly with the nostalgic numbers, so that you're free to mix your drinks and eat your cookies and not running over to change the record every second.
48 HILLS What can you tell us about your upcoming Holiday Gaiety performance?
ANA GASTEYER I am thrilled because I wrote the song "Sugar & Booze" a year ago, and a year ago we had a few little gigs in New York and Boston and I put it up to see if it was a song that people might like. Now, the fact that it's not only recorded but that we have an orchestral chart, makes me want to pass out with joy. I can't even believe I get to hear that music with a giant orchestra. We have some really fun songs from the album and a couple of other ridiculous things planned as well, so I'm very much looking forward to it.
Between the symphony, drag queens, and Sugar & Booze, my three favorite things on the planet, if I died that night it would all be ok, meaning I could die happy. That's an incredible lineup. These are the reasons you play shitty clubs and suffer all the indignations we endure for a living — for opportunities like this.
HOLIDAY GAIETY
Sat/7 7:30 pm, $20-$89
Davies Symphony Hall, SF.
More info here.