City Hall will move another big step in the progressive direction next week as Dean Preston joins the Board of Supes.
Preston, who narrowly defeated incumbent Vallie Brown in November, becomes the first Democratic Socialist to serve on the board since Harry Britt stepped down in 1993.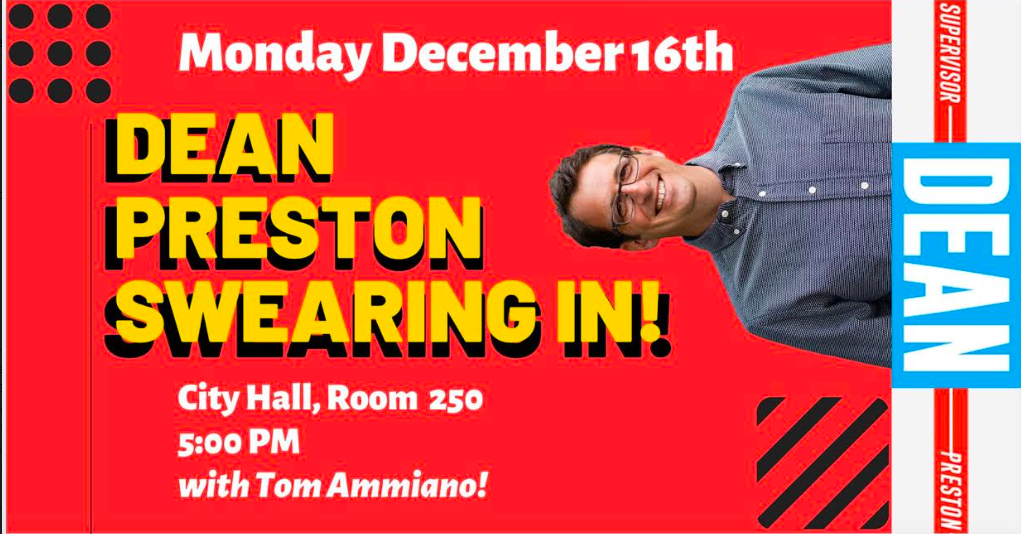 He will be sworn in Dec. 16, at 5pm, in the Board Chambers, and will take his seat the next day.
Preston will have to run for re-election almost immediately – he is technically filling the D5 supervisorial term of Mayor London Breed, and that seat is up, like all the of odd-numbered seats, in the fall of 2020.
That means he will have to both promote the sort of bold new initiatives he talked about during the campaign and provide the sort of neighborhood and constituent services that D5 residents expect.
"We are going to be your friendly neighborhood socialists," Jen Snyder, who ran his campaign and will join his staff, told me. Snyder is a founder of the local Democratic Socialists of America chapter.
Preston has hired a diverse group of staffers, all of whom have considerable political experience:
Kyle Smeallie ran Preston's campaign for supe three years ago, then ran Rafael Mandelman's D8 campaign in 2018, and has been working on Mandelman's staff. He will move down the hall to work for Preston.
Avery Yu worked on the David Campos for state Assembly campaign and was field director for Preston's 2019 race. Preston Kilgore, who is studying for his Masters in Urban and Public Affairs at the University of San Francisco, has worked on local, state, and national campaigns.
(Full disclosure, I teach in the MUPA program).
Preston said: "This is a brilliant, independent and principled group of people who share a vision for bold change and have the skills necessary to make it happen. Our team can't wait to get to work for the residents of District 5 and San Francisco."
And it's clear that his office is going to be about not only legislative success but long-term organizing and movement-building.
And it starts next week.