Since Saturday, the San Francisco police have told the news media and the community almost nothing about the officer-involved shooting at 23rdand Mission. Even the name of the victim was withheld – and it's not clear why.
But Tuesday night, we learned a lot more.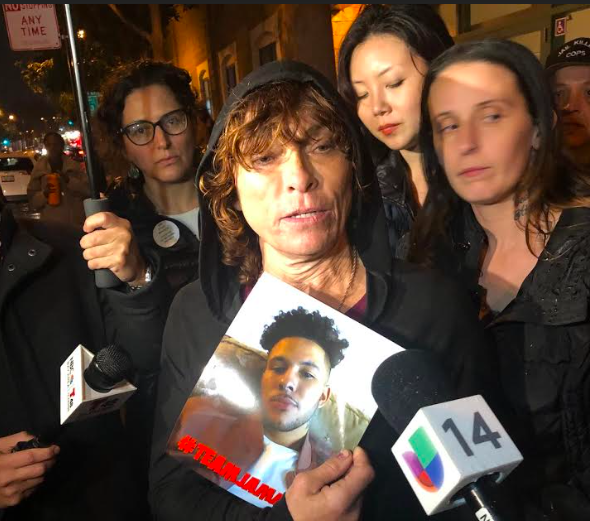 The mother of the 24-year-old man who is still in critical condition at SF General showed up at a press conference outside the Mission Police Station and told us about her son.
His name is Jamaica Hampton. He's an athlete and bodybuilder who recently completed a recovery program and was working with City Team San Francisco, which helps transitional age youth with housing and substance-abuse problems.
"I spent six hours at the hospital today, and they wouldn't let me see my son," Tana Hampton told us. "The doctors said if he lives, he might never walk normally again."
Hampton stars in a City Team video talking about his life as an often-homeless child, his efforts at recovery, and his hopes for the future.
"I can make an impact," he says. "Maybe social work down the line, I could be a youth counselor."
Dyne Biancardi, a lawyer, told us she had been with Tana at SF General. She was there as a community activist and is not representing the family, she said.
"He is still in critical condition," she said. At the time of the shooting, Jamaica Hampton was homeless.
The story the police are putting out raises a long list of questions. The official police statement, given to Mission Local, goes like this:
At 8:34 a.m. officers responded to a call of a hot prowl burglary in the area of 23rd and Capp Streets. They encountered a suspect who matched the description. When they encountered the suspect, he assaulted an officer with a weapon. An officer-involved-shooting occurred. One suspect and one officer were transported to a hospital and are in unknown medical condition. 
But typically, when someone who is using a weapon is shot by police the department immediately releases information about the weapon. There are pictures of the knife or the gun; there are details about its lethality.
In this case, all we know is that the weapon may have been a glass bottle, and the officer was hit in the face (but did not sustain any life-threatening injuries).
It's hard to hit someone with a glass bottle unless you are in very close range. Some witness accounts suggest that the officers grabbed Hampton before he fought back.
We don't have any more details. Biancardi told reporters that someone had a drone in the air during the event, but that the police have confiscated it.
SFPD regulations require that the officers activate their body cameras in this type of incident, so there should be clear footage. It has not been released.
Elizabeth Bell, who lives near the area and who had a view of the events, said she got to her window after the shots were fired. But she told me that the victim "was bleeding from the torso. The cops had their blue gloves on but none of them made any effort to help him. They seemed to be busy looking under cars," possibly for a weapon.
She said she saw no weapon in Hampton's hands: "He was lying on the ground, and was unarmed."
Adriana Camarena, a police-accountability activist, said that SFPD policies call for de-escalating violent situations, creating time and distance to avoid the use of lethal force.
"They are violating their own policies," she said at the press conference.
There could be a huge difference between this case and the long list of previous dubious (at best) police shootings. There's a new district attorney, Chesa Boudin, and he was elected in part on a promise to investigate and take appropriate action on police shootings.
Boudin told me that ""we will investigate thoroughly and expeditiously and ensure that we are enforcing the law equally and transparently."
"We are very glad he made those promises," Father Rick Smith, a Mission District priest and police accountability activist, said at the event. "Now we are going to hold him to them."