Before 20 million Americans hit the streets for the first Earth Day in 1970 (still the largest civic event in recorded human history), and before oil was spilled in Santa Barbara and the rivers of the Cuyahoga caught fire, it was a photograph of our planet that ignited the modern environmental movement.
On Christmas Eve of 1968, members of the Apollo 8 crew shot "Earthrise" from the moon, a visual confirmation that our blue marble is a contained unit of limited resources. As coronavirus hammers that point home daily, local and global experts hope more hard-earned truths will not be forgotten post-virus.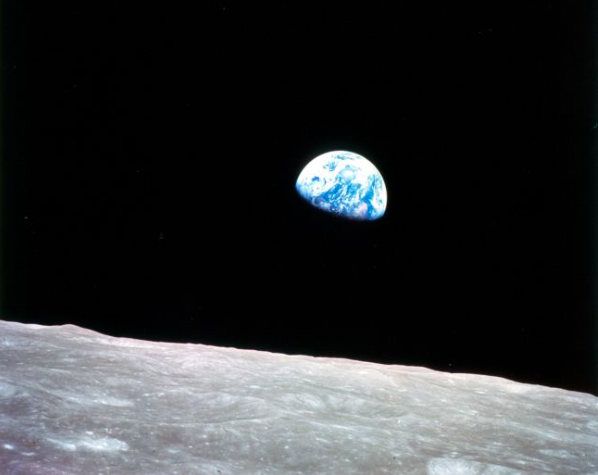 For Kathleen Rogers, President of EarthDay.org, years of planning massive street marches and campus protests have been dashed in a matter of weeks.
"The huge disappointment in not being able to see people," Rogers said. "We spent three years with faith communities, boy scouts, college campuses – name a demographic and we were all over it. We built a vast network to feel like they're part of something bigger."
Rogers recognizes virtual connections are not as satisfying as hearing a live message in a church, synagogue, or mosque, but the ambitious digital plans for Earth Day include "24 Hours of Action," an action an hour for individuals to support the planet, and Earth Challenge 2020, a citizen science initiative to build an open source database on air quality and plastic pollution.
Although COVID19 presents an "I told you so" platform for environmentalists, Rogers said she believes a unifying tone is more appropriate.
"We are entirely empathetic about people's welfare right now. We have so many staff in India terrified. We don't hire rich people. Our staff is worried about their next meal. We're cognizant of the immediate tragedy."
Still, as Rogers puts it, whether you're in "Delhi or DC," your air is cleaner. "There are lessons to be drawn. To just rebuild the Trump economy, well, I'm hoping that as human beings we have learned something."
Help us save local journalism!
Every tax-deductible donation helps us grow to cover the issues that mean the most to our community. Become a 48 Hills Hero and support the only daily progressive news source in the Bay Area.
"It's taught me a big lesson. We were unprepared as a global community to rise up. As a species we failed to take care of each other."
Tierra Curry, senior scientist at the Center for Biological Diversity, hopes this is not one more environmental crisis that we fail to recognize as an opportunity.
"One thing the pandemic has shown us is that it's a small world," Curry said. "Everything is connected. This originated in a wet wildlife market. And now it's everywhere."
"It's not I told you so, it's we have to do better. The pandemic is an immediate threat, but climate change is also a threat that will be even harder to tackle."
Curry readily admits that science alone is not going to save us. "We've been screaming for years that we're in an extinction crisis. It's bigger than the scientific methods. We have to change people's hearts."
For example, one change could be acknowledging the role of the United States in the global wildlife market. Along with China and the European Union, the United States is a "top global consumer" of legal wildlife and wildlife products, purchasing almost 20 percent of the global market. Between 2000-2013, the number of wildlife shipments into the United States roughly doubled.
According to the Center for Biological Diversity, each year, the United States imports roughly 225 million live animals and 884 million specimens. And the United States has no comprehensive system for screening imported live wildlife for any zoonotic diseases.
For Kristine Roselius, Communications Manager of the Bay Area Air Quality Management District, squaring the mission of today's EPA with the EPA founded fifty years ago is challenging.
"EPA is suspending enforcement of environmental laws," Roselius said. "But we have delegated authority to enforce our air quality. California air quality standards are the most stringent, which we will continue to enforce."
In the last month, BAAQDM has shot off several sharp responses to actions taken by the EPA, including "The Trump administration's release of the SAFE Vehicles Rule in the midst of a national crisis shows a lack of transparency, compassion and common sense. Taking advantage of this worldwide emergency to slip this bad policy under the radar while government at all levels is engulfed in the COVID-19 crisis is unconscionable."
Roselius notes that the cleaner skies in Delhi and DC are also in the Bay Area. BAAQDM estimates that traffic has been reduced by 70% or more, leading to an estimated reduction in PM 2.5 particles by 20 percent, possibly more.  Low-income communities with high exposure to PM 2.5 particles have shown higher rates of COVID19, yet again highlighting severe environmental justice issues.
Barbara Hale, Assistant General Manager of San Francisco Power Utility Commission, says SFPUC has seen dramatic reductions in electricity demand, as well. And that reduction could lead to changes in the energy market place.
"People are conducting work on laptops at kitchen tables," Hale said. "It's being consumed by residents on residential rates, not commercial paying a commercial rate. That effects how electricity costs will be recovered."
If people consume more at home, Hale said, putting solar on roofs might be more attractive since residents wouldn't be gone eight hours a day. Which might also change the savings or incentive programs SFPUC could implement to encourage smarter use of electricity.
"I see neighbors getting groceries delivered by bikes. I never saw that before," Hale said. "Peoples behaviors are changing. As those layers of restrictions are peeled away, some of these habits may persist."
Whether or not positive habits persist after COVID19 will directly impact the lives we live and share on our blue marble.