One of the most striking takeaways of the crisis triggered by COVID-19 is how unevenly it affects people. Multiple economic sectors face staggering job losses.
At the same time, some people who have transitioned to working from home – while still getting a paycheck — have had their spending automatically curtailed, putting them in the bizarre position of watching their savings grow without even trying.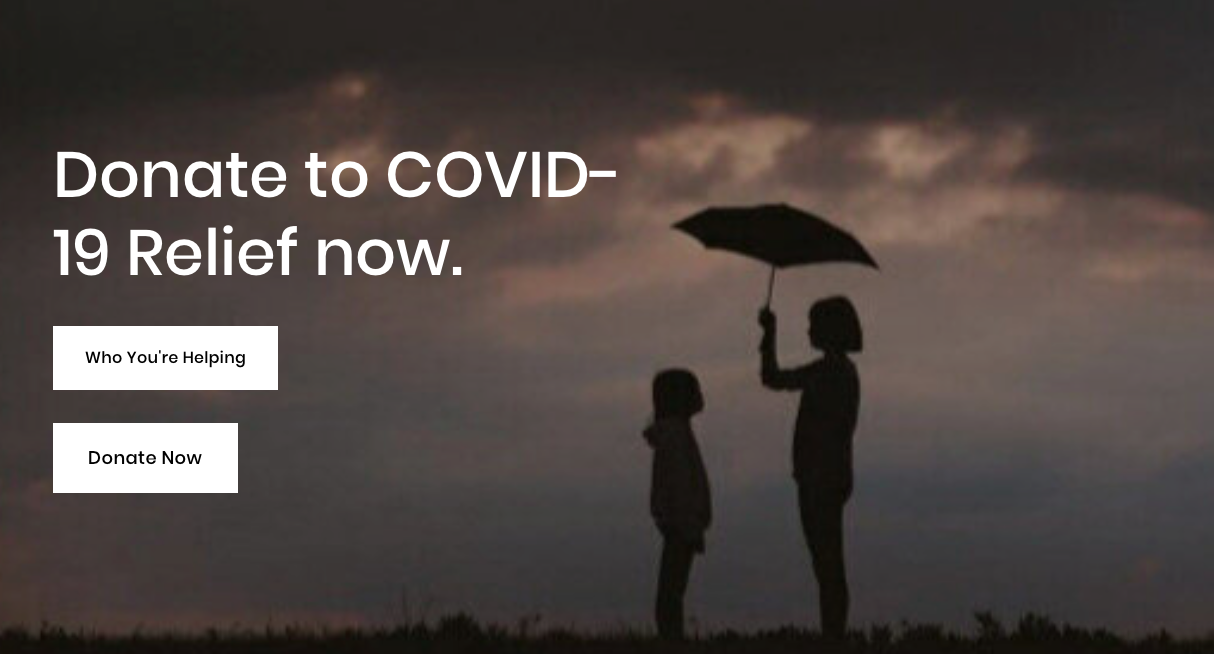 As with the inherent inequality of capitalism, some weathering this crisis face higher health risks, exposures, or financial consequences than others. Now, what happens if the legions of involuntarily thrifty office workers stuck at home with a surprise government check in the mailbox make it their business to support those who are hardest hit? These are the thoughts I think at 4am these days.
Fueled by endless anxiety and inspired by the principles of mutual aid, some friends and I got together to create a project, called "We Got You, Bay Area." It asks people who are working from home with relative financial stability to donate some of their extra savings toward COVID-19 relief efforts.
We were unsure how to go about selecting which organizations to direct funding to, because there are at least dozens, if not hundreds, of nonprofits and volunteer-led efforts who hit the ground running in March and are scrambling every moment to provide aid and assistance to people facing hardship right now. So many different groups are deserving of your generosity, so if you can afford to give something to any of the groups out there providing aid, do it!
After doing some research, we settled on four who we thought were filling the gaps by providing aid to some of the most vulnerable communities. You can read more about the We Got You project and donate here. Here's where donations are going:
Hand-Washing Stations for Houseless Communities
The phrases "shelter-in-place" and "wash your hands" do not apply if you reside in a sidewalk encampment. In houseless communities, "This pandemic has created a whole new level of urgency while revealing just how broken our housing and healthcare system really is," notes Dayton Andrews of the United Front Against Displacement, a grassroots organization that has been working with Oakland's houseless communities for years. Andrews and a team of more than a dozen volunteers are on a mission to expand access to sanitation in these encampments. To date, the team has installed six hand-washing stations. The group needs funds for "materials to build the stations, and other sanitary supplies such as paper products, cleaning supplies, gloves and masks," Andrews explains. Preventing the transmission of COVID-19 in houseless encampments is a potentially life-saving endeavor, and has the added benefit of protecting public health for everyone.
Emergency Aid for Undocumented People
UndocuFund provided emergency aid in the wake of the disastrous wildfires that swept through several years ago, and recently geared up again to deal with the tidal wave of need ushered in by COVID-19. "The shocking part about this was the immense amount of requests in such a short period of time," says coordinator Omar Medina, noting that UndocuFund received more than 4,000 requests practically all at once. "What I sense most is people's desperation, as they don't know what they are going to do." Serving domestic workers, day laborers, restaurant workers and other undocumented residents in Sonoma County, UndocuFund has been providing emergency direct assistance grants ranging from $500 to $1,000 per household. Some requesting aid, he noted, have reported receiving notices of eviction – even despite recent emergency tenant protection measures. These cash assistance grants can help people stay above water for a little while, Medina notes, but long-term solutions remain unclear. Already, UndocuFund reached a point where it had to close the waitlist until more funding comes in. "We are trying to raise funds to help out as many people as we can," Medina says.
Safety Nets for Houseless / Formerly Houseless Families
Compass Family Services, which has been operating continuously in San Francisco for 100 years, also experienced a sudden uptick in calls for help from existing clients and new clients as the COVID crisis swept in. "We're serving clients across the spectrum of situations," says Mary Kate Bacalao, director of external affairs. "Some literally don't know where they are going to sleep, while others are housed but don't have an income, and are facing insecurity." While many homeless families will qualify for placement in hotel rooms under a newly approved emergency measure, Bacalao adds, "there are also a lot of families who are vulnerable and don't meet city's criteria." Since the crisis began, Compass has transitioned to virtual ways of delivering services, such as offering tele-therapy. It's partnered with local restaurants to deliver individually wrapped meals to families facing food insecurity – a way to help bolster local businesses while making sure vulnerable families are fed. Compass is also offering digital gift cards of $450 for families in need of emergency funds.
Oakland Food Service Workers COVID-19 Relief Fund
"Our mutual aid fund was created to support and aid fellow Oakland food service workers during this global pandemic, by giving large amounts of money (between $100 and $1,000) to workers most affected by this crisis," organizers with the Oakland Workers Fund wrote in email. "The fund originated as an idea circulating between some co-workers that were laid off from one particular restaurant. We quickly realized that the best way to mobilize was to include folks from other food service jobs to show solidarity with our fellow workers, especially those who are being displaced from Oakland as it is. Led by BIPOC and QTPOC womxn and non-binary people who have been drastically affected by the COVID-19 crisis, we spent a week organizing before we launched the fund on March 22nd. We are prioritizing undocumented folks especially, as they are not eligible for the stimulus money or other aid from the federal government, as well as members from marginalized groups generally: Black and indigenous folks and other people of color, unhoused, undocumented, disabled, LGBTQIA+, and Oakland or Bay Area natives. Funds are being distributed to applicants who need it most, with attention to the most urgent circumstances people face. Applications are closed for now, but we are still asking for donations through Venmo, at @oaklandworkersfund. If you have the privilege of working from home right now, stand in solidarity with your community and support us by donating and sharing! Our website is bit.ly/oaklandworkersfund."