Five supervisors introduced emergency legislation today that would mandate that the city procure and provide 8,250 hotel rooms for people experiencing homelessness and front-line public safety and health-care workers.
The move puts the board directly in conflict with Mayor London Breed, who said as recently as April 3 that putting all of the unsheltered people on the streets into hotel rooms "is not going to happen."
The supervisors announced the move at an online press conference where they said they have been trying for a month to get the Mayor's Office to move proactively to protect homeless people from the spread of the deadly disease. "Everything to date from the mayor and the Human Services Department has been reactive at best," said Sup. Dean Preston. He said the mayor's approach has been to "wait until people get sick."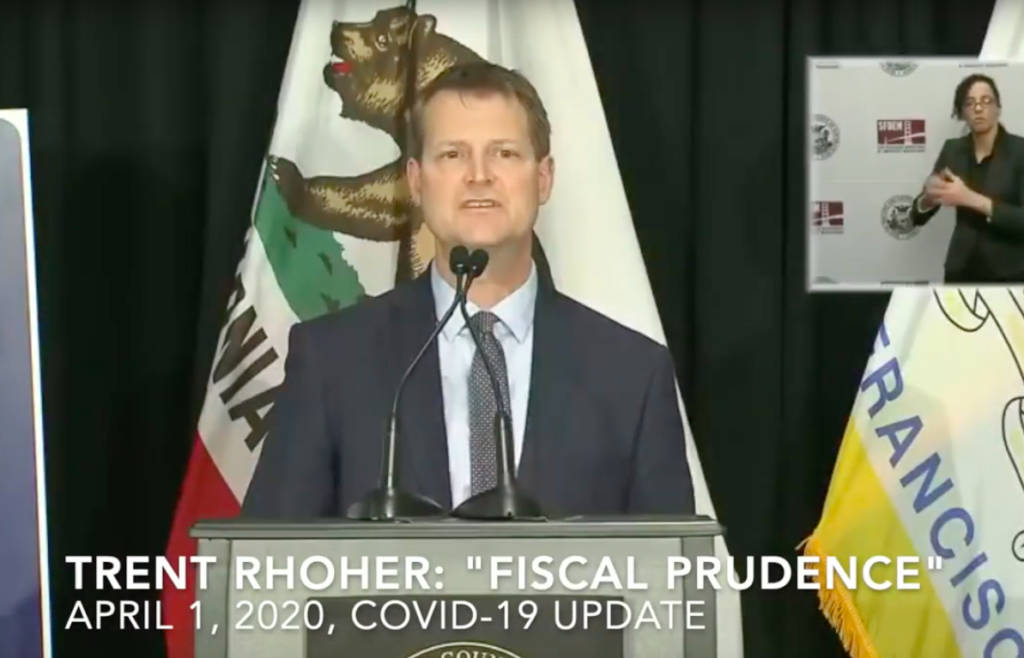 There were as of noon today three confirmed cases of COVID among residents of two homeless shelters. Since the disease is highly infectious, particularly in closed areas, it's almost certain that those numbers are much higher.
Most recently, Trent Rhorer, the director of HSA, said that it would not be "fiscally prudent" to take over enough hotel rooms to house the existing street population. But Preston said "it's way cheaper to act preventatively before people need medical care."
Sup Shamann Walton and other supervisors released a video contrasting the Mayor and HSA's words about the issue with interviews with homeless people who were asked if they wanted to be housed in hotel rooms.
The proposal would set aside 750 rooms for medical and safety workers who don't want to risk infecting their families, 500 for medical quarantines, and 7,000 for people experiencing homelessness on the streets or congregated in city shelters.
There are an estimated 30,000 vacant hotel rooms in the city, and the Hotel Council, which represents owners, has said the industry could quickly make 10,000 beds available.
The measure will come up at next Tuesday board meeting, and if it gets eight votes, would take effect immediately. The deadline for acquiring the rooms would be April 26.
Sup. Aaron Peskin said that the mayor could veto the resolution—but it takes eight votes to pass anyway, and that would be enough to override any veto.
Sup. Hillary Ronen said that HSA is now saying that homeless people "don't want to go inside" and couldn't care for themselves. "So my colleagues and I went out into the streets ask asked – and almost unanimously everyone we talked to wanted to be taken inside.
Sup. Walton noted that "people need to be placed in isolation. You can't do that in a navigation center or a shelter, or on the streets."
Haney said that the current policy "puts people in the shelters at risk, puts the staff at risk, and puts people they come in contact with on the streets at risk. Our entire city is at risk."
Dr. Juliana Morris, a primary-care physician in San Francisco, joined the supervisors to say that the majority of homeless people have existing health risks. "From a public-health perspective the current approach is making people sicker," she said.
UPDATE: Quiver Watts, the Street Sheet editor who first posted the photos of the Moscone Center shelter, released this statement today:
Less than 24 hours after Street Sheet broke the story about the City's plan to thin shelters out into mass indoor camps, London Breed announced a change of approach for addressing the pandemic in shelters. The city will no longer be moving people out of neighborhood shelters and into the Moscone Center, meaning people will not be further concentrated into the mass indoor camp. Instead, the plan is to thin vulnerable people from shelters directly into hotel rooms.

But the victory is incomplete, and some of the messaging coming from the City is misleading. Contrary to the framing offered at the Mayor's press conference yesterday, no one will be moved into a hotel room who does not meet the criteria already laid out in the email from Trent Rhorer of San Francisco's Human Services Agency that drew criticism last week. The City continues to insist only people older than 60 or with underlying health conditions, or people who test positive for or have been exposed to COVID-19 will be placed in hotels.

That means that most homeless people will not be able to protect themselves until they already have been exposed to the deadly virus. And the process of actually moving exceptionally vulnerable individuals into rooms has been painfully slow, as every person has to be cleared by the Department of Homelessness before moving.

"Denying people the right to follow critical medical recommendations on the basis of their income status is cruel and dangerous," said Quiver Watts of the Street Sheet, the local newspaper that originally broke the story. "Allowing this virus to spread impacts all San Franciscans, not just homeless people, and I fear this could be a death sentence for people who are already vulnerable. We cannot wait!"