A lot of people apparently have been sending emails to Trent Rhorer, the director of the Human Services Agency, because he has an auto-reply function. The message he has been sending out (and I got this from the Street Sheet) is pretty alarming.
At least five supervisors are calling for Mayor Breed to immediately move all of the homeless people in the city who can care for themselves into hotel rooms. But Breed has declined, and instead is moving slowly with a limited number of people in a limited number of rooms.
Here's what the person who she has put in charge of this situation has to say: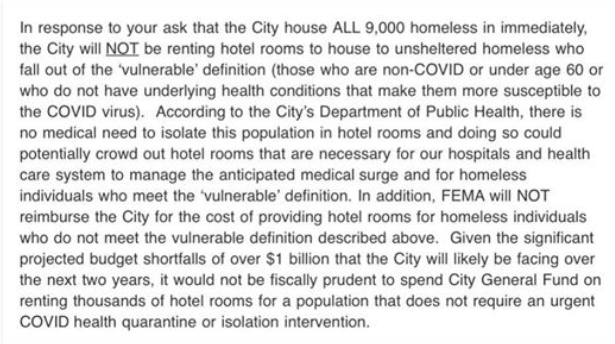 Sup. Hilary Ronen made it very clear at a press conference last week: We have the money, we have the hotel rooms, and we have the staff. The federal government will pay for hotel rooms for anyone who has tested positive or been exposed directly to someone who tested positive; there's state money and local money for the rest, and will be more federal money later.
And it's way cheaper to put people in hotel rooms at $70 a night (which hotels are accepting) than in the Intensive Care Unit at SF General (at least $5,000 a day).
The mayor wants to expand the shelter system at Moscone Center (which probably costs close to what a hotel room costs per person). But the Street Sheet got a picture of the setup — and it's bad. "This looks exactly like the places we don't want people in," Sup. Matt Haney told me.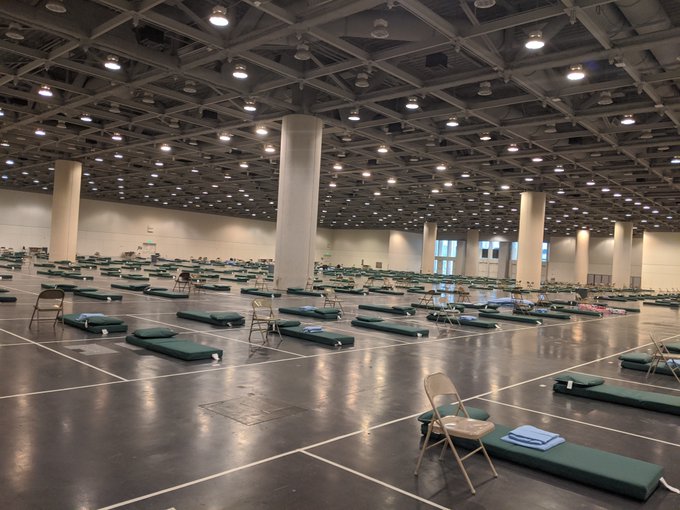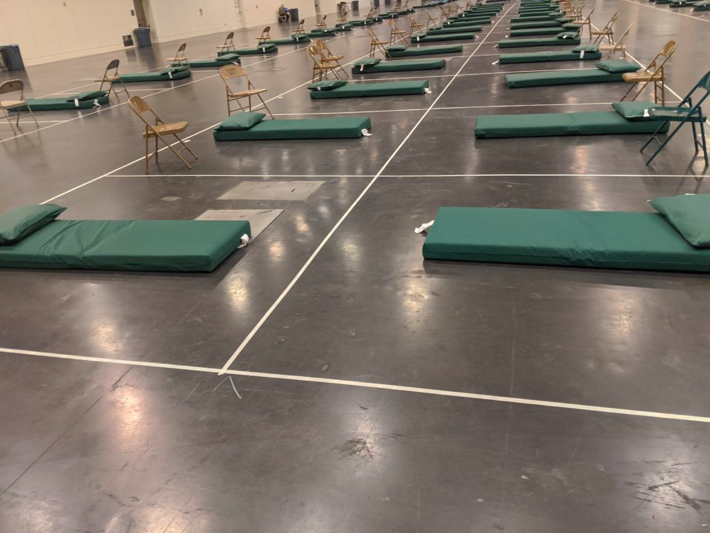 From the Street Sheet:
"People are given a wristband with their bed number on it and shown to a tiny mat on the floor with a folding chair," the source said. "There aren't many people staying here yet, but there are going to be hundreds of people, all breathing each other's coughs."
As Sup. Aaron Peskin makes clear in this video, there are many, many homeless people who are seniors, at risk, and can take care of themselves, and need to be off the streets when there are 30,000 vacant hotel rooms:
I've known Miles for many years. Like most of our homeless neighbors, "staying home" to shelter during #Covid19 isn't possible.

This is a public health crisis & experts have called for homeless to be brought indoors. We have thousands of vacant rooms & staffing where necessary. pic.twitter.com/fh3d99gigr

— Aaron Peskin (@AaronPeskin) April 4, 2020
The supes are leading the way on this, and I can't understand why the mayor isn't going along. It makes no sense at all.
The Board continues to move forward with legislation to address the crisis; the five who are pushing for hotel rooms will introduce emergency legislation to push the city in that direction. Meanwhile, the Rules Committee will hear Monday/6 legislation requiring private employers with more than 500 workers to provide emergency leave during the crisis; if the committee passes it, that will come before the full board Tuesday/7.
The Land Use and Transportation Committee will consider a measure by Sup. Dean Preston urging the MTA not to raise Muni fares in the next budget cycle. That makes sense from a lot of perspectives; higher fares hurt the people who most depend on Muni, and that's lower-income riders. Higher fares, the evidence shows, also decrease ridership – particularly when Uber and Lyft are out there offering cheap rides subsidized by venture capital,and Uber has announced its intention to undermine and replace public transit.
If the city wants to reduce traffic congestion and reduce the greenhouse-gas emissions of all those Uber and Lyft vehicle on the streets, keeping Muni fares down (or making Muni free) is an obvious solution.
Of course, Muni, like every other city agency, is going to be needing more money next year in what is shaping up to be a massive fiscal crisis. But let's be honest: The money has always been out there. The city charges developers about a third of the real impacts they have on Muni; that's not even a tax, it's just a fee that a majority of the supervisors and the mayor (or eight supervisors without the mayor) could impose tomorrow. And that's billions of dollars.