Beat music, the defiant all-inclusive electronic aesthetic that seizes and chops up odd bits of hip-hop, library music, jazz, bass music, IDM, and anything else that shouldn't fit but just does, gets it specificity from the region from which it emanates. Low End Theory, the epicenter of LA's instrumental beat scene for 12 years, was internationally known for their heavy bass, which depending on who was playing that particular night, left a footprint in your chest and at times destroyed speakers and rattled ceilings. That beautiful ruckus propelled oddball beat-frenzied artists into starting record labels and eventually earning Grammy nominations.
Case in point SMARTBOMB, the East Bay music, and art collective, started in 2013 as part of the popular party that spotlights mostly local producers and DJs, can get real heady. Before the COVID-19 pandemic, SMARTBOMB held monthly events, mostly at the Legionnaire Saloon where the showcases highlighted Oakland's IRT post-modern approach to sound. As co-founder Jason García—who speaks infusing the name of some authoritative Shuggy Otis album—explains, the East Bay has always possessed this sense of radical introspection and manifestation.
"Diversity of thought is innate in the Town, where we are blessed to have such rich and genuine community," stated Garcia, who is preparing for the collective's second worldwide broadcast this Saturday. "It's not so much a scene, but true community that spans beyond age, gender, lifestyle, etc. So many beings here who fearlessly push the needle forward in their own respects, in their own mediums and genres alongside each other. Vastly differing sonic and visual styles and approaches, all thrown into this magic pot for us all to find inspiration information from. It's a feeling of futurism."
"Light Beings #2," the second installment of a mixtape series in collaboration with the community platform Lower Grand Radio, is the audio extension of that sentiment. Following through with intention "shining light on the beautiful frequencies created from our expansive universe, while also raising funds for vital organizations & programs in the Town" highlights the motives of the project listed on their Bandcamp page.
Wylie Cable, founder of Los Angeles based Dome of Doom Records, always perceived the East Bay collective as a NorCal version of Low End Theory that understood what the music needed to be. Cable was an integral part of signal boosting that Low End Theory Culture still employs to prop up beat producers to this day.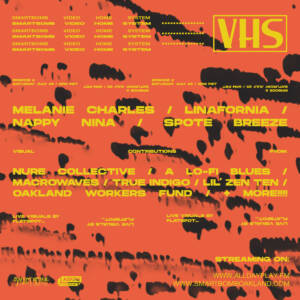 "I grew up in LA but lived in the Bay for five to six years in the early 2000s and I used to go to the monthlies they threw," stated Cable. "Always a great show. It is not a small task, running an event that focuses on underground beat music, but Smartbomb has been at it for close to a decade now."
That manifestation of Bay Area headiness runs the table with great facility. Peep the glitched-out scatter bang of "Normalcy" from DKM, or the cooldown tingly hip-hop strain "Sometimes I Listen" by heru. You understand real quick that these are daring architects.
But it's the stillness that takes the most courage. After journeying through the first 11 tracks, big ambient energy is the best way to describe the final arrangement of Selim X's "Sunset 6". It a gargantuan four minutes and change of evergreen wave slowly rolling ova and thru you, like the best salted caramel ice cream. Let's toss out qualifiers and just make room for the serenity. Heartbeat soft, warped nanoseconds folding over. Eat your heart out, Brian Eno. This is beat music framed in the way George Clinton himself liked to categorize funk: Anything it needs to be in order to save my life.
SMARTBOMB's second virtual "VHS" broadcast streams Sat/25. RSVP for link.