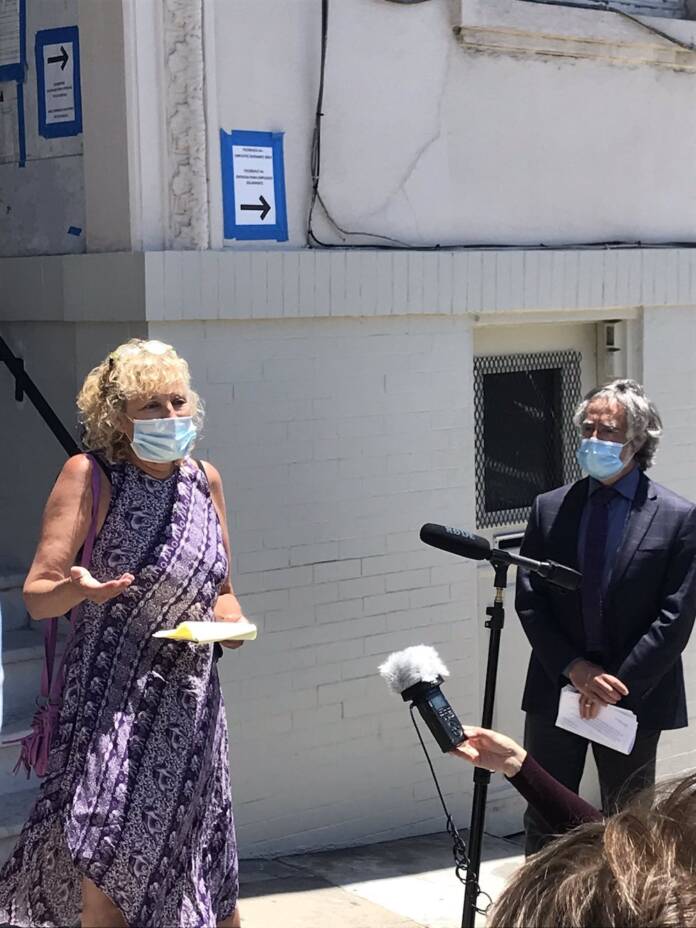 In her 27 years as a tenant on Leavenworth, Andrea Carla Michaels has had few issues with any of her landlords.
Now she is the only one of six tenants remaining in the building. The others left after complaining about a lack of maintenance — and excessively disruptive construction, even during the shelter-in-place order, Michaels told me.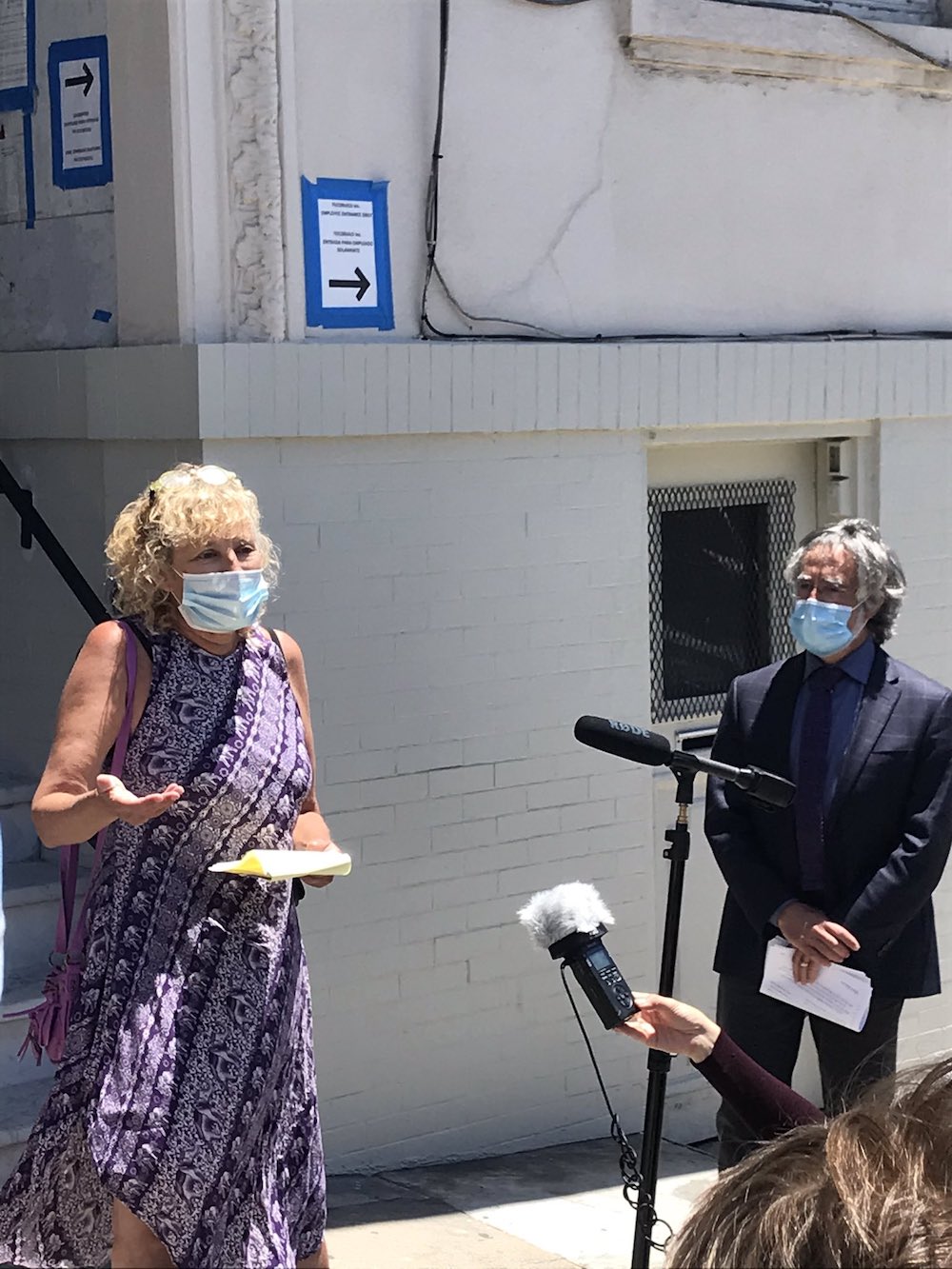 Michaels, who is 60 years old and known affectionately as the "pizza lady" for delivering free food to the homeless people in her community, told me that complaining to her landlord about needed repairs, making complaints about disruptive construction, and dealing with the stress of the pandemic has been exhausting.
"Before this, I had a pretty interesting life," said Michaels. "But doing this has become almost like a full-time job."
The construction, Michaels said, begins at 7am and continues until 7pm every day including weekends. She wakes up to the pounding of hammers and the whirring of power tools, and dust from demolished drywall coats her.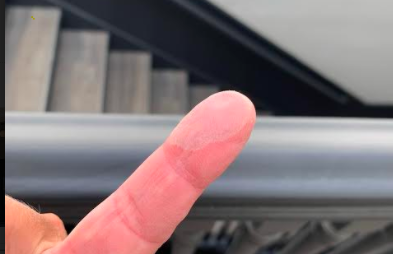 On July 13, the Department of Building Inspection issued a Notice of Violation for excessive peeling of lead paint on the exterior stairs outside her back door, joining a list of over a dozen other citations since August 2019. The lead paint peeling violation had been brought to the attention of the landlord for nearly a year by DBI.
This week alone, workers have cutoff power to Michaels' unit three times and gave the mandated 24-hour warning for only one of the shutoffs. Michaels told me that the power shutoffs have caused her to lose her progress on her work creating crossword puzzles for the SF Examiner and the New York Times, which she does on her computer. Construction began in July 2019 and continues unabated, making Michaels fear for her safety, as work crews frequently leave street-facing doors ajar, and walk through the main stairwell without wearing face coverings.
"Once COVID hit it was like, I could actually die," said Michaels.
Michaels said she believes that the excessive violations, noisy construction, and failure to notify her of power shutoffs constitutes tenant harassment with the intention of pressuring her to vacate her unit and plans to sue her landlord. And she is not the only one who thinks that.
"This is serial harassment," Sup. Aaron Peskin said yesterday. "This is an individual who has dozens of complaints against him, who has gotten notices from the Department of Building Inspection, it is aimed totally and absolutely at getting rid of a long-term tenant who has been an asset to this community. I'm not going to stand for it…we're going to stop it."
Peskin spoke during a press conference held on Leavenworth Street outside Michaels' building.
Peskin decried the practice by landlords of power and water shutoffs by landlords especially as COVID-19 surges around the country.
"There have been a handful of egregious actors, who during COVID-19, as everyone has spent an inordinate amount of time in their residences, have totally and absolutely abused the system in desire of money and profit. While we are sheltering in place it is profoundly important that residents of these buildings can shelter in peace," said Peskin.
Pekin introduced emergency legislation at Tuesday's board Meeting that would make it illegal in San Francisco to have construction which would shut off electricity and/or water unless an alternative source(s) of water and power are provided and the property owner gives tenants a one week notice of the interruption. The legislation will be voted on in the coming weeks and would go into effect immediately upon passage. To pass, it will need eight votes and it must be renewed after 60 days.
While disruptive construction is not always done with the intent of pressuring tenants out of their dwellings, as even construction that follows all the rules can still be disruptive, construction where its sequencing makes noisy work happen early in the morning and/or into the evening, without proper dust containment, or without proper sound masking to reduce construction noise are some examples of what can constitute tenant harassment, according to J. Scott Weaver, a tenant lawyer.
Weaver said that during COVID-19, if construction workers are not wearing masks when they perform work, it is dangerous for tenants.
"If you have workers coming in and out of a building, and they are not wearing a mask, they are putting tenants at risk," said Weaver.
According to Weaver, tenant harassment through disruptive construction is not uncommon in San Francisco, especially among larger landlords, which tend to have buildings with more units and thus more incentive to flip those rent-controlled units into market-rate housing.
If a tenant believe that they are being subject to harassment by a landlord, including through utility interruptions, Weaver recommends that they organize.
He said that tenants making demands to their landlords as a whole and collectively coordinate contact with public agencies. Tenants should also contact an attorney to see if their treatment by their landlord constitutes tenant harassment or constructive eviction and whether they can seek damages or other retribution. Tenants may also consider contacting the DBI if there are instances of lead paint, asbestos, or a lack of permits for construction work being performed.
You can contact the San Francisco Tenants' Union to receive consultation by filling out their intake form.
Both the landlord and property manager of the building declined to comment.