"I think there is an old-school appreciation for these bars that have been around," says an Oakland bar owner in Town Spirit: A Tribute To Oakland's Enduring Bar Culture, the short documentary that opened Oakland Cocktail Week's month-long virtual event this year (through October 11). "We need to make sure they're here for years to come."
Town Spirit was released in 2018, the year of the first Oakland Cocktail Week. Now it's 2020, and Oakland bars are in more trouble than ever. The COVID-19 pandemic has all but killed nightlife in the United States. The Independent Brewing Company, the century-old Stork Club, and the Uptown are among the Oakland bars that have already shuttered for good, and the list will almost certainly grow as the pandemic continues to spiral out of control. The few bars able to stay open must rely on serving drinks to-go.
Oakland Cocktail Week acts as a virtual fundraiser, hosted in collaboration with local-business coalition Oakland Indie Alliance, that promotes the idea that ordering drinks from bars during the pandemic isn't an ersatz experience, but a way to support the community during a tough time.
"The best-case scenario is if people who have the means are able to continue supporting these bars in whatever way the bars are able to offer at this point," says Daphne Wu, Media and Marketing Lead for Oakland Cocktail Week, who also served as a producer on Town Spirit.
The last two Oakland Cocktail Weeks, which took place at actual bars during a time when such a thing was possible (ah, the good old days), featured cocktail competitions. This year, they're bringing the contest home. Participating bars will create event-specific concoctions, the public will vote on their favorites via social media (supporting local bars in the process), and a yet-to-be-selected panel of judges will vote on the final three.
"That's what's great about having Cocktail Week extend to a month," says Wu. "People have a lot more time to try different cocktails and show all these businesses the support that they need right now."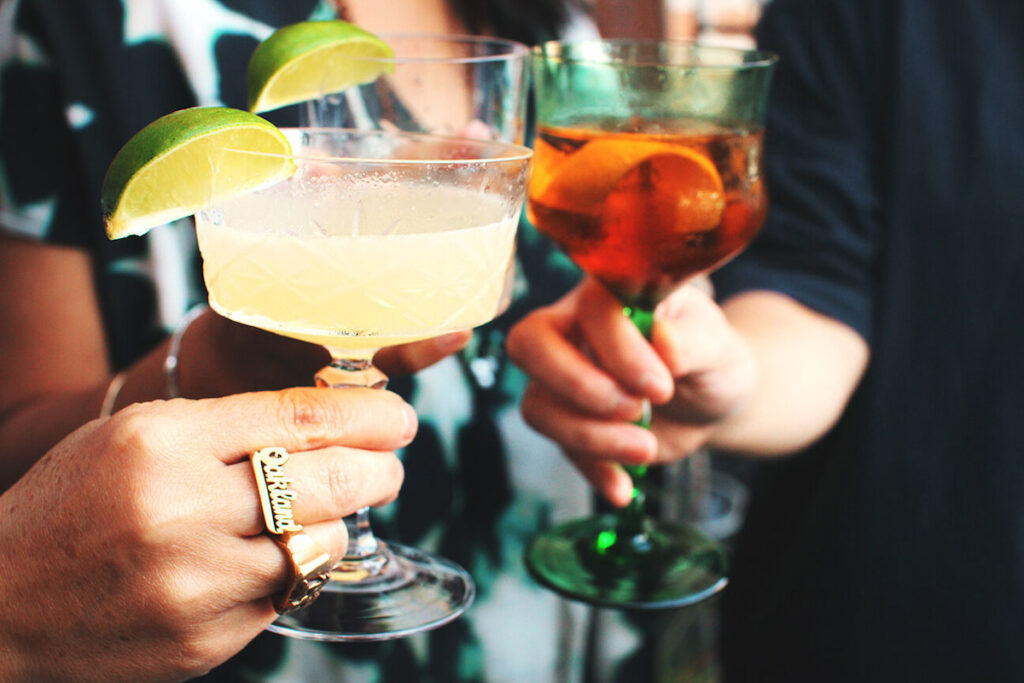 It's also a nifty way to get around the fundamental flaw of pandemic cocktail consumption. It's a cheap, easy, and rather underrated pastime to simply hole up in your house with a corner-store 12-pack or a home-mixed drink.
Help us save local journalism!
Every tax-deductible donation helps us grow to cover the issues that mean the most to our community. Become a 48 Hills Hero and support the only daily progressive news source in the Bay Area.
But here's an upgrade for your cloistered ways: The virtual event features cocktail classes, a food- and beverage-photographing workshop, a virtual tour of Berkeley's Home Base Spirits, and live music from local artists Briget Boyle, Uriah Duffy, Lady Bianca, and TuBeNu Cultural Gatherers. You'll be drinking in good company.
In addition to encouraging viewers to support Oakland bars, the event is also meant to bolster Oakland Cocktail Week's COVID Relief Fund, which targets small bars that are unable to reopen during the pandemic. Bars are still submitting applications to benefit from the fund, but the requirements to apply include employing less than 100 people and making less than $7 million of yearly revenue. Priority is also being given to establishments owned by immigrants and people of color.
"The amount of impact that small businesses have in Oakland is pretty outsized," says Ari Takata-Vasquez, executive director of Oakland Indie Alliance. "Imagine an Oakland where half of the places that you go to and love are gone after coronavirus. It's going to be a sad place."
There's no paywall for the online events. But the event's sponsors, many of them local breweries and distilleries, are encouraging viewers to match their donations to the fund—as are the performing artists, many of whose favorite bars and venues may not make it through the pandemic.
"If we want to see those businesses come back post-COVID, we really do need to support them during this weird and stressful time," says Takata-Vasquez. "I think Cocktail Week is a great way to do that that's not so focused on doom and gloom. [Fundraisers] can be fun and enjoyable—it doesn't have to be focused on what the dire consequences are."
Oakland Cocktail Week runs through October 11. More info here.