Liberation and strength are what drives Oakland artist Michelle E. Fillmore. The emerging photorealist painter, whose work is primarily of a metaphorical, autobiographical nature, has shifted her focus since the COVID crisis began. Now, her work serves as a reflection of her community and how it is coping with the pandemic.
Born in Sacramento, Fillmore grew up in Las Vegas. She knew as a child that she wanted to move to California as soon as she could, needing distance from a family member with mental illness. Her trajectory as an artist was not a planned one. Fillmore was initially an education major at UNLV, taking one art class per semester purely for enjoyment. A college painting professor immediately recognized her potential and demanded she change her major to Fine Arts. "He wore me down and eventually I came around," Fillmore said. During her senior year, Fillmore studied in Viterbo, Italy under the apprenticeship of painter Federico Paris, then returned to UNLV to graduate with a BA in Painting and Drawing in 2015.
Another professor helped secure a gallery internship at CK Contemporary in San Francisco. Soon she discovered she didn't want to sell other people's work and set up a studio in Oakland with artist Carol Aust. "Carol is my mentor and my family. When I have a question about anything, she's there to help me," Fillmore said.
Regarding her creative process, Fillmore works from photographic images projected onto canvas to outline the composition, a trick she learned from her apprenticeship with Paris. After spraying the canvas with fixative, she applies the first coat of paint diluted with Gamsol, a solvent made of mineral spirits. Setting up visual references on her computer, she begins mixing paint. Typically, a painting will take her up to four weeks to complete.
Each piece is a splendor of color and every intricate detail is placed with great care and painstaking labor. Fillmore's paintings contain mystery. Often there is a suggestion that someone has just left or is about to arrive. Or there is a sense of transformation taking place somewhere along a continuum of time. Doorways are left ajar, opening or closing. Birds are in flight or being released. Objects appear suspended in air, water or time. For Fillmore, each painting is a celebration of the ability to liberate ourselves. "I paint the things I do partially as a way to take the parts of my past that once made me feel isolated and turn them into opportunities to connect," Fillmore said.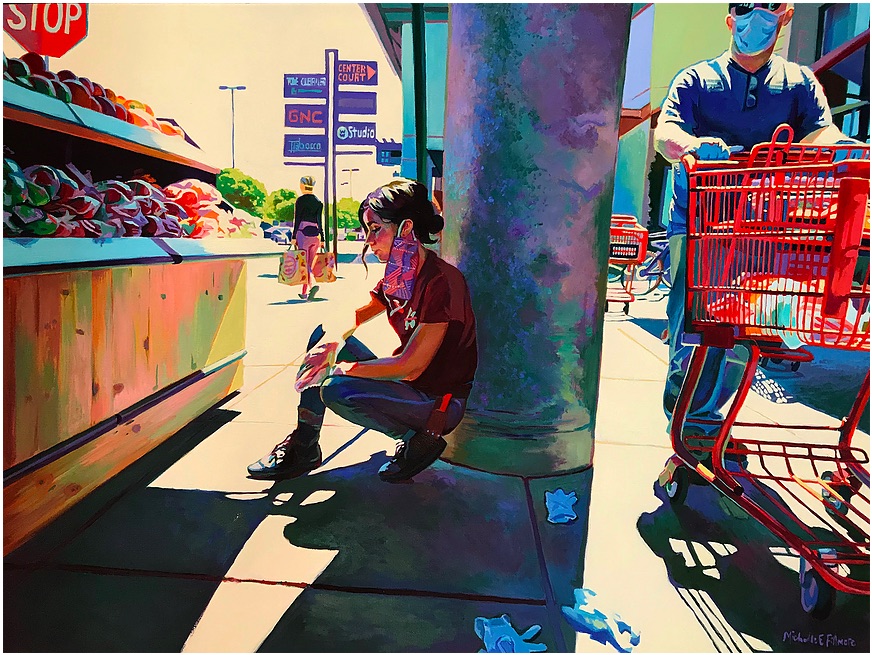 Everything about her process has changed, however, since the pandemic hit, from where she paints and how she manages inventory of supplies to subject matter. "Before COVID, my work was more triumphant," Fillmore said. "Currently my focus is about my impressions of current events, my observations in real time, even if the work doesn't feel very positive. My emotions are sitting right on the surface every time I step into my studio," Fillmore said, describing her painting sessions as fiercely protected therapy.
The recent shift is evident in "The Essential Worker," a depiction of a grocery store worker on a break in a reflective pose: Fillmore works part-time at Trader Joe's in Alameda and the image is of a co-worker. "I consider myself fortunate to have a part-time job I can go to and interact with other people. It's kept me grounded," Fillmore said. Two other recent works, "Deserted" and "Fear", portraits of masked women, depict the identity crisis imposed by the pandemic. This recent work was part of the group exhibition, "The Art of Quarantine" in July at Shoh Gallery in Berkeley.
Right now Fillmore is working on a painting revolving around the concept of managing emotions. "A friend of mine has learned to treat negative thoughts like watching weather pass in your 'sky.' You acknowledge them but let the storm pass," she said. She hopes the piece will help those feeling isolated by the pandemic to feel less alone. Finding common ground with viewers of her work is essential. "In the broadest sense I choose to make my work about the opportunity to find inner strength and hope," Fillmore said. Most important to Fillmore is that people respond to the truth in her work, saying she gives each painting a soul. "I share what is extremely personal to me. I hope people are touched in a deep and meaningful way," she said.
Fillmore is represented by SHOH Gallery in Berkeley and Adele Gilani Art Gallery in Sausalito. Recent and upcoming exhibitions include Response at Kala Institute in Berkeley and selection for the upcoming de Young Museum Open, a special exhibition in celebration of the de Young Museum's 125th anniversary. For more information, visit her website at michellelizabeth-art.com.