Happy National Cannabis Gummy Day this Thursday! November 19 is the industry-sanctioned day to celebrate the combination of sucrose, gelatin, flavoring, and cannabis, creating one of the most popular edibles on the market today.
In September 2020, Californians spent $25.2 million on infused candies. This does not include chocolates, according to the BDSA which provides marketing insights for the cannabis industry. That's a lot to consume in just 30 days.
The great thing about gummies for me is that they work quickly. I don't have to digest a lot of other stuff just to get to the good part. They also make great gifts for any holiday or occasion. They come in cute tins and have a nice price point, usually between $20-$30.
So I took this project upon myself to sample gummy offerings from the local dispensaries I go to on a regular basis. This was done in a specific amount of time on a certain budget. If I do not mention your favorite, let me know, because I already have a list going for Part 2! There are that many choices out there. I couldn't try all the flavors offered. I just went with my own faves. Again, notify me if I miss out on something truly scrumptious.
Space Gem Cannabis Infused Sweet Gummy Spacedrops come in a cute space-age tin and are packaged in small paper cups. Each gummy contains 10mg THC and other cannabinoids (<2mg CBD, <5mg CBG, <5mg CBC) for the full spectrum high, according to their website.
They are made of premium single source ice water hash—and these babies will blow your mind taste-wise. Zingy, sweet, and tangy. 
Last year I had Space Gem's Gem Juice on my Wish List. They have taken that amazingness and made it into a sweet-tart gummy. Every time I took one of these, I would end up cleaning my apartment or doing something for my active mind.
I also picked up one of their single servings for $5 which was just lovely, but I prefer the sweet flavor better. They also have a 5mg CBD/5mg THC option.
Bite into a different strain
The newest thing in edibles is gummies derived from a certain strain of cannabis. I was noticing this just the other day, so I picked up Kiva's Lost Farm, raspberry flavor made with Blue Dream live resin.
The flavor was definitely a nice raspberry. The cannabis kick was good. I really enjoyed these. I like the packaging, kind of going for a "Ye Olde Candy Store" vibe. They also have two other strains available Super Lemon Haze in a Strawberry Lemonade flavor and Clementine in a Citrus Spritz flavor. I will seek these out.
I think strain-specific gummies are brilliant. I certainly hope they make Girl Scout Cookie or Lava Cake gummies as well!
Another yummy gummy is the Smokiez Edibles' Sour Watermelon Fruit Chews. I love a good, tangy watermelon flavor, and these do not disappoint! The gummy slab has the most luxurious mouth feel. Very smooth but firm. It was a most enjoyable eating experience, so watch out and don't eat too many or you will get too high.
Smokiez has many flavors to choose from, Blackberry to Sour Apple, Peach to Jamberry. They all chime in at 10mg THC. These were hybrid. I noticed a couple of indicas as well.
The packaging is a sealable foil envelope. The artwork is nice. I still prefer tins.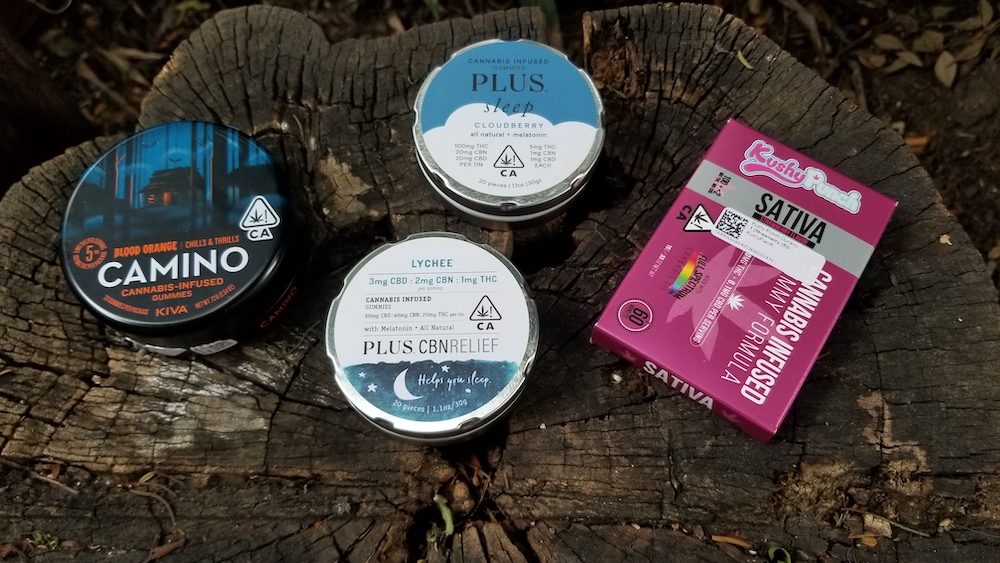 Sleep it off
Another popular trend is gummies as a sleep aid. Just a touch of certain indicas can make you toddle off to Night-Night Land all the more quickly. And, most importantly help you to stay asleep longer.
Plus Gummies released two new gummies just for sleeping.
Sleep Cloudberry contains 5mg THC, 1mg CBN, 1mg CBD in each gummy, with melatonin added. This gives you a nice bit of THC to make you sleep. If you don't want as much THC, then CBN Relief Lychee is the way to go with 3mg CBD, 2mg CBN, 1mg THC, also with melatonin.
Two days after I was out of those gummies, I had insomnia for the first time. I am taking sleepy gummies again.
You can also just take indica gummies to help you sleep as well. I took Wyld's Marionberry Gummies just for that. The 10mg slabs of gummy have a great taste and mouth feel. I would just take one of these before bed, 2 if I felt restless. They worked great.
Wyld also has an Elderberry CBN flavor for sleep as well as strawberry, peach, pomegranate, huckleberry, and raspberry. Wylde, along with Smokiez, is one of the fastest growing brands in California.
I think they are fantastic, but I have to ding them on packaging. The pretty box they come in does not go back together once it is opened, and then you are left with the small tan plastic container from inside with no markings on it. It is just not very attractive to pull out and offer your friends a cannabis snack with.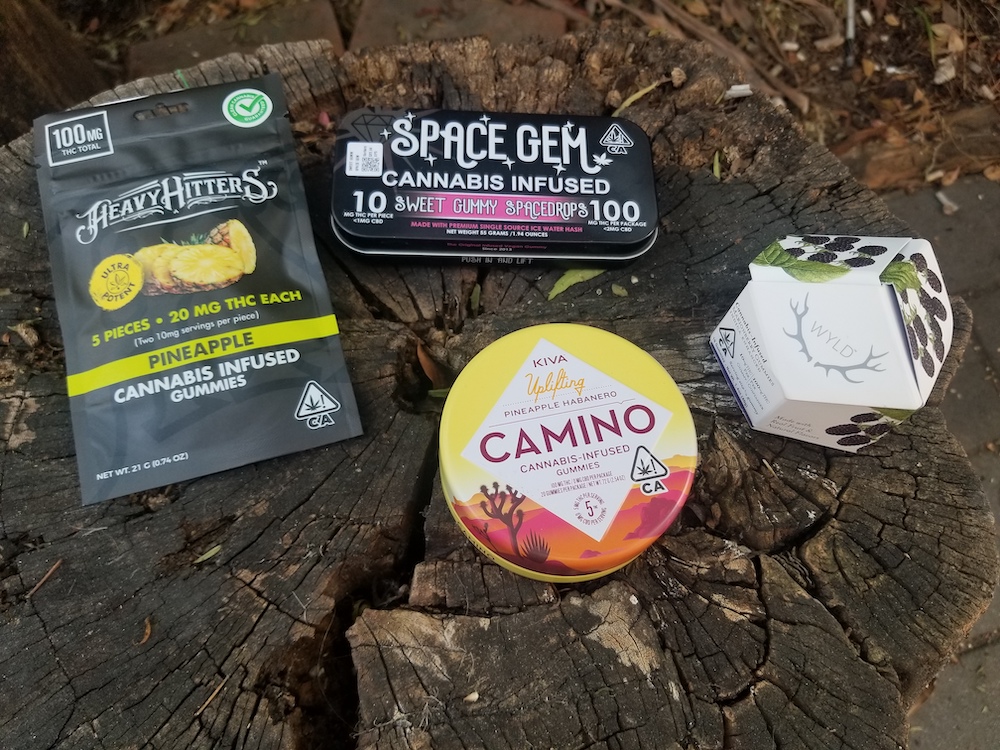 Potency is key
Kiva Confections has another line of gummies called Camino. They have very nice tins, very decorative. They got my interest with their Pineapple Habanero sativa flavor. The pineapple flavor was adequate, but it was difficult to get the habanero part unless you ate it slowly with multiple pieces. 
Then came the Blood Orange for Halloween with a super cool tin. The flavor was much better. To tell you the truth, though, I don't think the flavors are as vivid as those of Smokiez and Space Gem. I also prefer a firmer gummy. These are a little too jello-y.
They also didn't work with my system as well as others, so I could take several and not feel them as much as I did some of the other brands.
Remember, cannabis works differently with everyone. Especially edibles. Find what brands and amount work for you.
Next up is Kushy Punch , seriously potent cannabis gummies. This is the OG of gummies for me. The first gummy I tried. They come in little square containers that you pop out and tear off your dosage. Screw new flavors and fancy tins, this is about getting weed into your system. They taste like powerful weed. Shut up, eat it and get high.
Speaking of old days. Remember when you could get larger dose gummies? Heavy Hitters is recreatring that vibe with their line of 20mg gummies. I tried the pineapple flavor. Instead of 10 10mg slabs, there are five 20mg gummies. Instructions are telling you to cut them in two, but I am like, Hell No. If you are going to go there, go there. It is a statement. A statement that says, "I ain't doing shit today."
The flavor is fine but not remarkable. They come in an envelope so they are prone on getting smushed. Need I mention tins again?
Everybody likes to get gummies as a gift. Be it a self-help gift to get you through 2020, a forget-you-not to a friend in isolation, or a holiday gift to a loved one you can't hang out with. 
It's better for your lungs than flower, and a great way to add CBD to your diet. They can make you active and creative or ensure you get a nice snuggly night of sleep. Of the top 20 cannabis infused foods sold in California, 17 of those products are gummies.
So Happy Gummy Day 2020! To get the best deals on cannabis, be sure and sign up for your favorite dispensaries' email and texting lists. 
Be well. Stay sane. Now it's time to light up!