Have you spent too much time binging on TV series and Zoom meetings? Run out of time while re-organizing your closet for the fourth time this year? Not sure what to get that buddy you haven't actually seen in almost a year?
Well never fear! Your Stoner Santa is here with some stocking stuffer ideas or end of the year treats that can handily be delivered to you or picked up from your favorite local dispensary.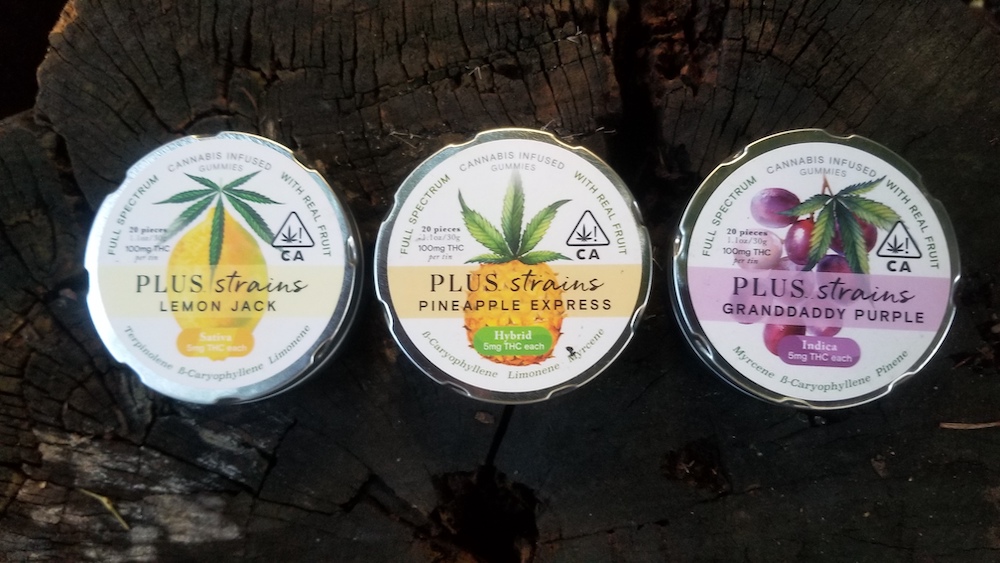 FLAVORS OF THE TIMES
Strain specific gummies are the new trend this year, and I could not be more excited about it! I mentioned them in my previous gummies column, but I didn't get a chance to try Plus' three new strains, Lemon Jack the Sativa, Pineapple Express the Hybrid and Grandaddy Purple the Indica.
First off during these terrible times, I cannot express enough SATIVA, SATIVA, SATIVA. I swear if it has not been for the upswing and energy they provide, I would be a weaker man today.
So my new pal is Lemon Jack. As with a lot of the sativa gummies, they can give you the good energy to get things done and keep an upbeat attitude within reason of course. These days let's not expect miracles.
All three of these new options have a unique cannabis flavor specific to its strain. Normally, I like it when my cannabis gummy tastes like a tangy candy. If we are getting strain specific, we are moving past just the conceptual holy trinity of sativa, indica and hybrid to actuarial strains and what they uniquely do. So I like the herbal edge to these gummies.
A friend who tried the Granddaddy Purple told me they helped with his back which is always nice to know. I've taken a few in the evening with my evening bong hit while watching Amazing Race repeats on Prime. Remember travelling!?
I've been popping the Pineapple Express as a mid-day chiller. They have a good pineapple flavor which is important.
For the holidays, they have just released a Sugar Plum sativa! I know what Santa can put in my Stoner Stocking this year!
Each tin has twenty 5mg pieces totalling 100mg. You can find them in most dispensaries for $20-25.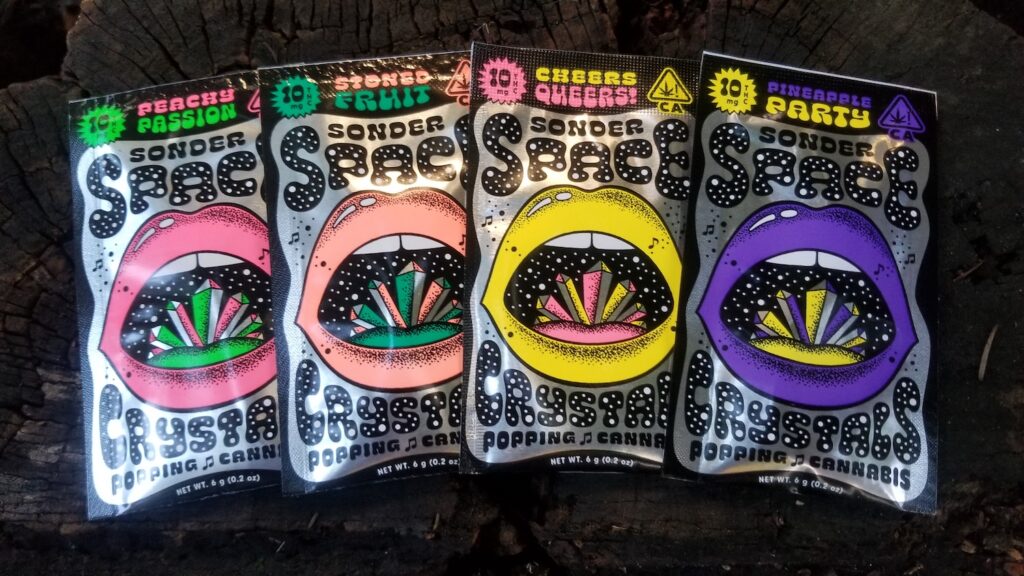 POP GOES 2020
One of my favorite bits of inspiration this year is cannabis pop rocks! Sonder just released their Space Crystals in three exploding flavors, Pineapple Party, Stoned Fruit and Peachy Passion. Each packet contains 10mg THC Hybrid and they pack a wonderful, crackling flavor.
This is where pop culture candy and sublinguals meet naturally. Both of these items need to be held in your mouth while they pop and crackle and are absorbed under your tongue for at least 60 seconds. Sonder licensed the original Pop Rocks formula so they are just like you remember them. They are also a Bay Area LGBTQ company, so show them some local love.
The Space Crystals are currently available from Sava, the only lesbian and LGBTQ owned and operated delivery service in San Francisco, for $9 a packet. I'm sure these will be popping up all over town soon.
It really took me back to my childhood and then threw me back into the now with great packaging and getting high. It's one of my favorite discoveries of the year!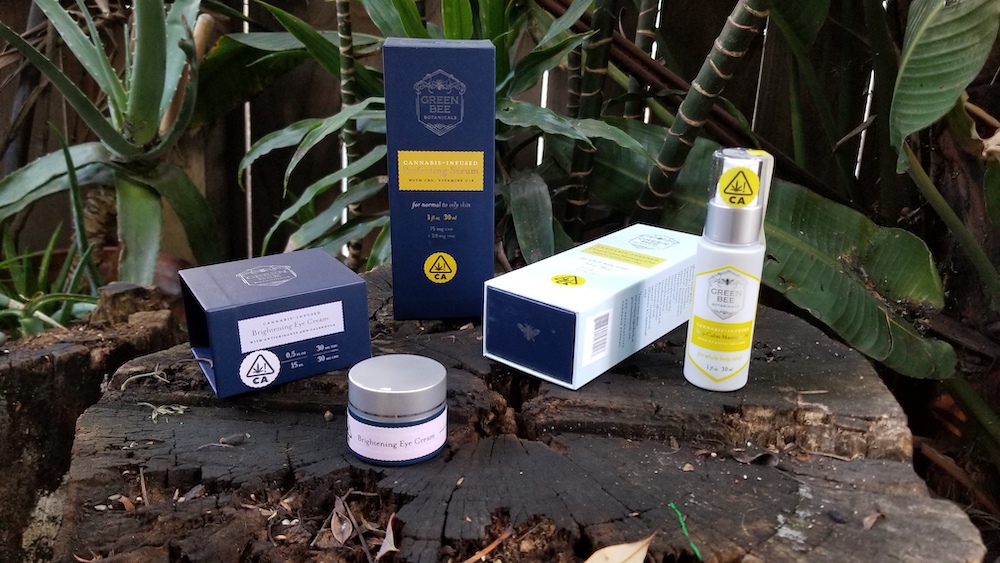 BEAUTY AND THE BUDS
Speaking of local love, I want to thank Bridget May of Green Bee Botanicals for her amazing skin products. Her skin serum just won in The Think Dirty Clean Beauty Awards and she is already a winner at the Emerald Cup. I have been using her cannabis-infused Brightening Eye Cream ($44) for a year now, and I am super happy with the results! I am not a person that stores lots of creams and remedies in my bathroom, but Green Bee Botanicals will always have a spot.
I also use the Deep Calm Massage Oil ($38) on my temples and neck for stress and on my lower back for pain. It has a 3:1 ratio THC to CBD.
The Perfecting Serum and Renewing Serum both with cannabis, CBD and Vitamins C and E are also available at around $55 each.
Bridget has worked long and hard on Green Bee Botanicals, and it shows. Again, throw some local cannabis holiday love her way! They are available at Sava and several dispensaries around town.
Nothing like letting weed take care of the inside and out.
I've been playing the pot delivery game all year. I have ordered some great cannabis and some no-so-great stuff (I still smoked it, of course). When you can't really see and smell it beforehand, it's hard to tell the quality. Also, you can't just get Strawberry Banana because there may be different companies hawking that flavor at different price points and strengths. So I go by brands.
My big shout out for consistent weed quality from what I have ordered goes to King's Garden out of the Coachella Valley. It started with 33 Bananas, then the jawdropping WiFi Cake, Wedding Cake and finally Pie Hoe. I have not been disappointed once.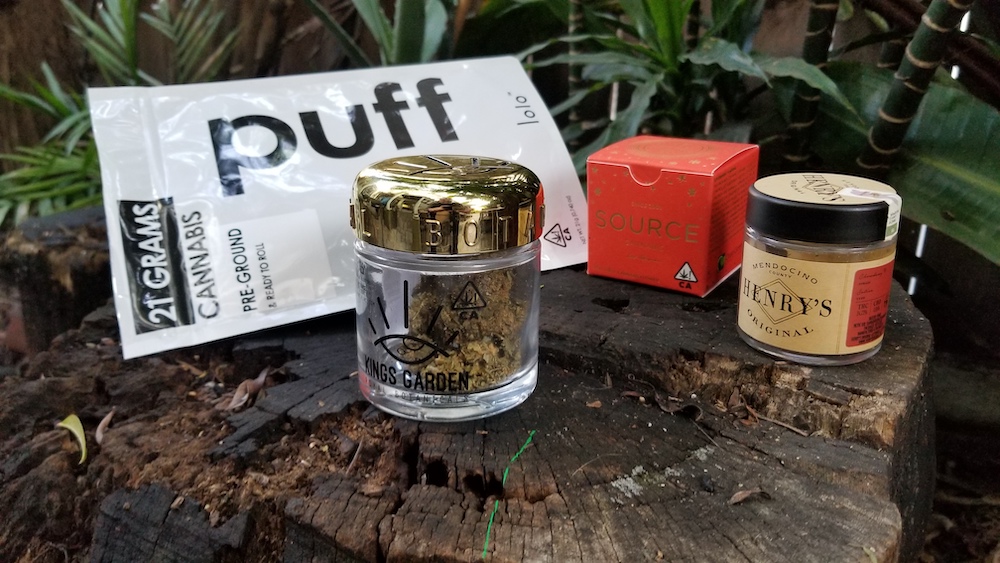 ROLLS AND BOXES AND SCOOPS
So if you are going the flower route as a stocking stuffer, I highly recommend them.
Other companies making my short list are Henry's (I'm currently in love with their Chemdawg 91 sativa), Alien Labs (Kryptochronic!), Source (Animal Face, Strawberry Cough), and Flow Kana (Purple Cupcake, Green Lantern).
An eighth (or more!) of any of these brands would make any stocking feel well-stuffed.
Another great gift idea is buying a big bag of shake and wrapping it up with some rolling papers, a tray and maybe some hash. Voila, an easy craft project making joints and smoking them. I like Lolo's big 21 gram bags of pre-ground cannabis. I've sampled several and have not been disappointed. I am currently trying out the Malibu Mirage (love the name) sativa (18% THC).
Another cool gift idea is a gift box! I know that Barbary Coast has one for $100, and I am sure other dispensaries will have one as well.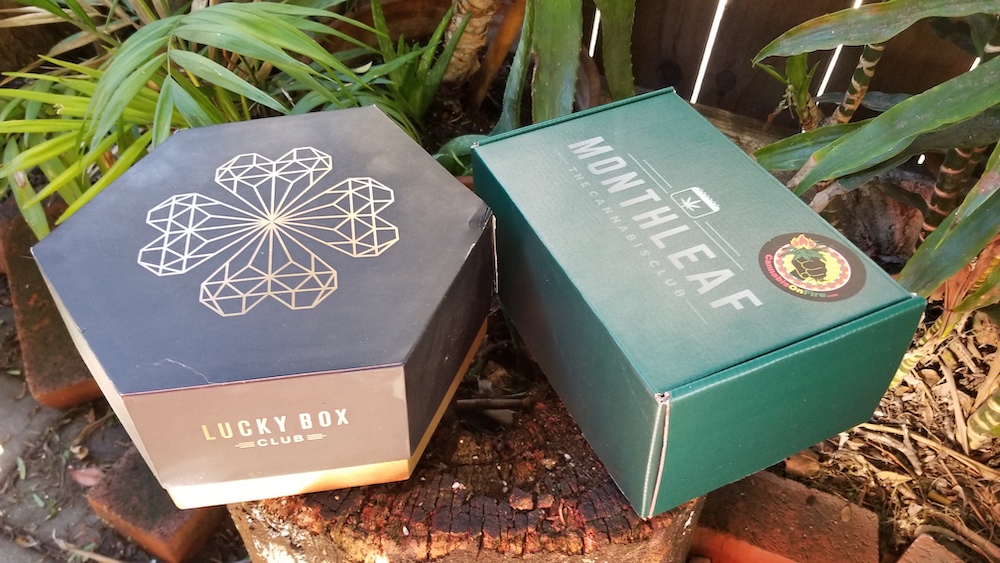 Another idea is to subscribe to a monthly box service.
The Lucky Box Club has seasonal box choices for around $200, or you can go for the monthly service at $149/month.
Another service is MonthLeaf. They offer a one time box for $120 with several content options and a monthly for $100.
I enjoyed all of them. I like boxes because it's a great way to discover new items I would not normally pick up. Subscribe to it for yourself or that hard-to-buy-for person in your life.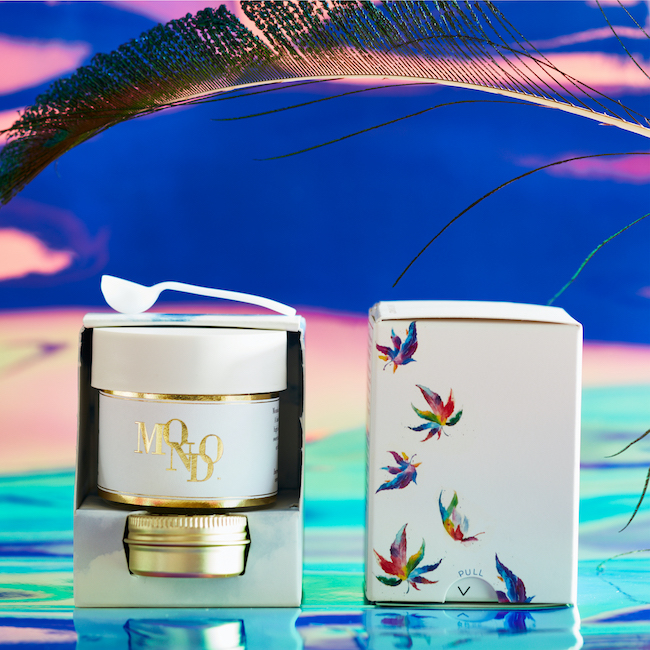 Finally we have a visit from Marcia, the sparkling, cannabis, microdosing fairy, with Mondo. Marcia Gagliardi is a wonderful part of San Francisco's cannabis community and many are familiar with her mymilligram newsletter and website. She recommends Mondo as a holiday treat. Mondo is a cannabis powder fueled by Blue Dream that you can sprinkle on any food. One scoop is 3mg THC so it is a great way to introduce someone to microdosing and letting them find their own comfortable level. It is available through Sava delivery service for $33. 
These are just a few samplings of the amazing gifts available in the weed world.
As always, sign up for specials and deal alerts from your favorite dispensaries. They are all having massive sales and delivery deals right now.
I hope everyone in your bubble and beyond has a safe and happy holiday.
Mask up, stay safe, stay sane and stay stoned! We will get through all this together.
Now it's time to light up!