Oakland non-profit Black Joy Parade has spent the past three years hosting a major celebration in the city's downtown, a free event in February that brings out upwards of 20,000 people. One extremely important aspect of the Parade is the opportunity it provides for small local businesses to sustain themselves. Although this year's festivities will likely look very different, the org is already gearing up to once more help locals channel joy this season—and in so doing, support Oakland's Black-owned businesses.
Upcoming Black Joy Parade project (and Red Bull collaboration) "Artist Lift Off" will commission six Black artists to digitally recreate work inspired by the racial justice murals that were created around Oakland this year. The project will place these visions in Oakland's Black-run small businesses.
Breaking up the gloom is important. One of the first principles one learns in art school is the importance of contrast. We learn about the duality between light and dark colors, smooth and rough textures.
Like contrast in visual art, this year has been full of disparities. More people than ever before are standing in food lines while this nation's billionaires have seen major profits. Folks are spending more time in isolation while navigating highly engaging and addictive social media platforms. And even as we all eagerly anticipate an ending to one of the weirdest years on record, we're also faced with a nervousness about what 2021 might entail. Hopefully it'll be full of joy.
I asked "Artist Lift Off" creatives Senay Alkebu-Ian and Art Blane about how they're reclaiming the consumerism of the season to sustain their artistic work, find new patrons, and erect the framework of happiness.
Senay Alkebu-Ian
Senay Alkebu-Ian is an interdisciplinary artist whose work spans painting, photography, graphic, and fashion design. His streetwear brand Madow Futur utilizes bold contrasting colors to honor Oakland's radical political roots. Black people set fashion trends in this country, and Senay's designs cement fierce political aesthetics in the context from which they came.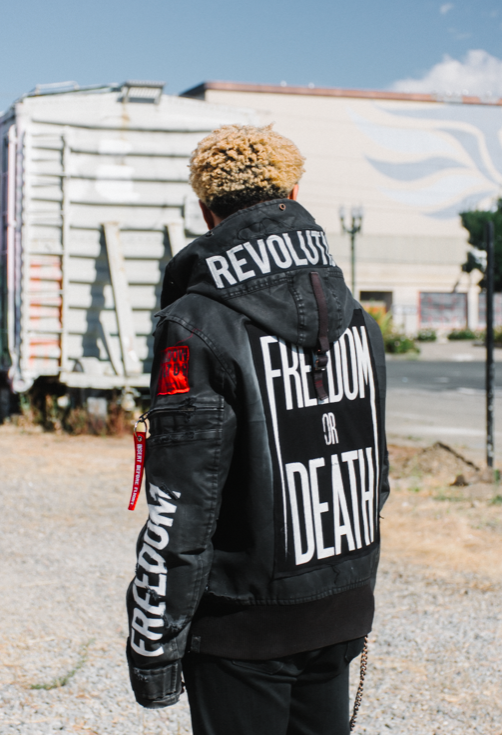 SENAY ALKEBU-IAN The way that society is set up, everything affects poor Black people the worst, and COVID-19 is aligned with that—work health, anything that you can think of. Black artists, especially those who are not part of the mainstream status quo, are suffering the most. Spaces [where they can] exist comfortably are under constant threat.
But during this time and this year, the fact that everyone has had to confront COVID-19 and the Trump presidency and all of these things at once has done a lot to expose the kinds of issues that revolutionaries have been talking about for some time. Artists such as myself that speak to these conditions and about our oppression directly—there are more people that are willing to listen, or at least look.
We experienced a shift after the death of George Floyd and Breonna Taylor. It came to the forefront like never before; the world is smaller due to the ease of connectivity and sharing information, and so it's a double-edged sword. We're having the issue, and now everyone is seeing the issue. It's a long fight, an uphill fight. Support of oppressed people is fickle and reactionary because we don't have cultural institutions that help sustain that movement. We have an opportunity to create them because the need has become incredibly apparent.
Blane Asrat
Currently based on Treasure Island, Blane Asrat's graphic pieces examine mental health and social justice issues. Asrat was born in the Bay Area, but grew up in Texas.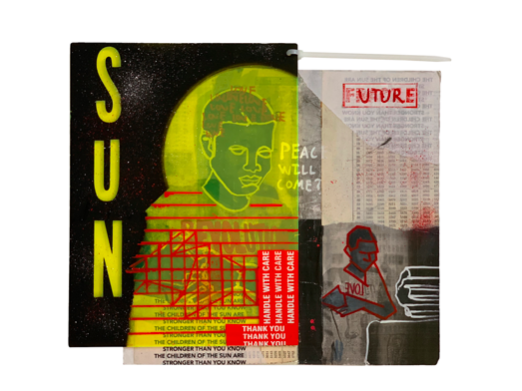 BLANE ASRAT Black folks and other people of color tend to do a lot of our organizing, celebrating, and creating in physical, personal ways. Being relegated to connecting through the somewhat disembodied medium of Zoom, discord, and social media drains the soul! It feels especially unnatural to be creative in isolation, when your work is connected to your community.
However, I know that people have found ways of thriving, through outdoor pop-up shows and mural work. The main opportunity I can see is that the general public, who might not have been as inclined to engage in art previously, is suddenly left with a lot more time to really look at creativity around them. People are sitting at home and reading comics, listening to new musicians, finding new clothing designers, etc.
Visit the artists' websites to purchase work directly, and stay tuned for additional merchandise by visiting blackjoyparade.org