Aleksandra Zee's creations in wood are inspired through meditation with an intention of putting goodness out into the world. Her hope is that her artworks evoke peace and a sense of calm, but she welcomes any interpretation. With a double major in liberal studies and fine arts from Azusa Pacific University, Zee originally planned on becoming an art teacher, which she may still pursue at some point. For now, she's following her passion.
Zee grew up in Dana Point in Southern California and moved to the Bay Area in 2008 for a job as display artist at the clothing store Anthropologie's location in Palo Alto. After three years she decided that making her own art—not creating within a large company like Anthropologie—was where her heart was pulling her. She moved her woodshop to Oakland from San Francisco in 2014, down the street from the Oakland Museum of California, and has been there ever since. A few years later she moved her home across the bridge, taking up residence near Mills College.
Zee creates a variety of work, but her wall "paintings" in the medium of wood are her signature pieces. Ranging in size from 1×1 foot to 5×10 feet, her framed pieces are geometric in pattern, with a natural and clean feel to them. An interest in Native American craft is evident in her work, as is a background in painting.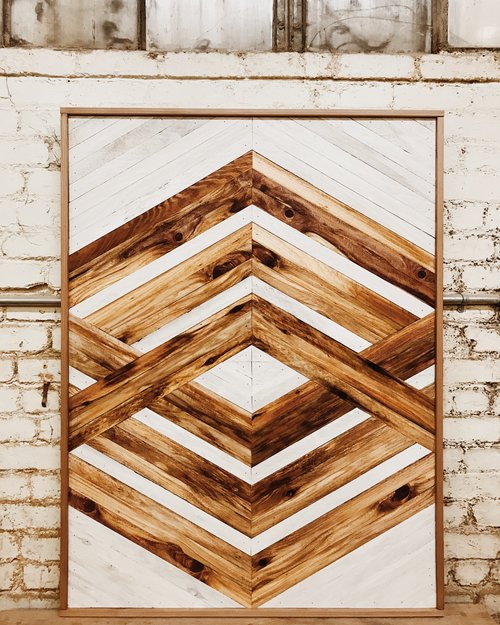 The tools of her trade are large pieces of wood awaiting transformation via electric saws, nail guns, sanders, and the like, found in most woodshops. But her approach, inside a mostly male-dominated culture, begins with a meditation in which she sets an intention before diving in and losing herself in her work.
Zee draws most of her inspiration from her relationship with nature.
"For me, the high desert is where I am most deeply inspired," she says. "The colors, the stillness, the sunrise and sunset, and how the colors change ever so slightly throughout the day all make their way into my work," she said. There is something about the desert's endless expanse that provides the broadest exploration within her work.
"As nature pushes on and weathers every storm, that is how I view my evolution as an artist, always growing and striving in my practice," she says.
Her art community is also a huge inspiration for Zee, made of creators who constantly nudge boundaries in their art and whose work is at the forefront of their lives.
"Being surrounded by so many incredible humans so dedicated to making art encourages me to be better and to make work that is relevant and meaningful," Zee said. No two days are alike in her studio. She works on several pieces at once because "processing through" larger pieces takes time. Zee first establishes a color palette, then creates patterns that begin from the center and work their way out to the edges. Playing with materials in real time, Zee relishes the freedom to interpret and change things as she goes, addressing the challenges present in the inherent nature of wood and its unique qualities.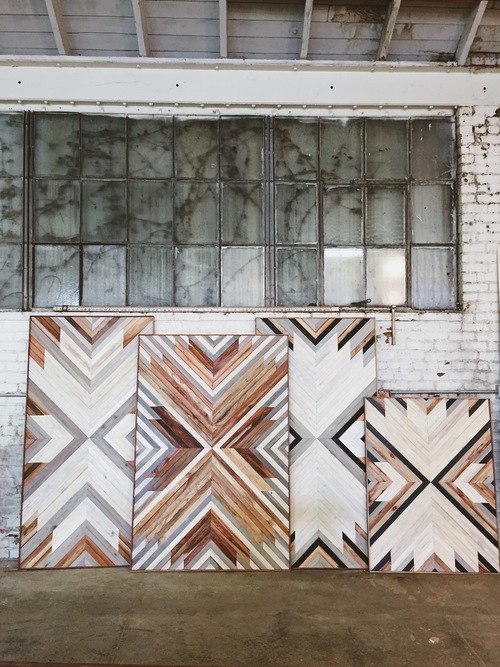 Matching up woodgrain, patterning, geometric lines, edging, and color to create more depth within each piece are what drives Zee's process. She describes it as a moving meditation because the work involves repetitive motion within actions: making similar cuts, trips back and forth to the saw, etc., while also creating an environment of growth within a full-circle experience.
After 15 years of intense work, Zee was eager to slow things down to let new ideas percolate. Having completed several commissions in 2019, including a permanent installation of a large ceiling mural at MacArthur Place in Sonoma, and the release of her book, The Way of the Woodshop, Zee was ready to map out new work for 2020. The COVID crisis compelled her to downsize her team and make big adjustments regarding supplies, deliveries, and access to materials. That created a huge learning curve and daily practice with patience, but she keeps working diligently.
"I am counting my blessings that I am able to stay in production and keep my small business afloat during a time when so many have been forced to close," the artist said. "I love what I do with my whole being and every day is a gift. My work is a direct reflection of my deep gratitude."
For more information, visit her website at aleksandrazee.com.