Oakland community leaders, elected officials, and members of Oscar Grant's family gathered outside Oakland City Hall Tuesday decrying Alameda County District Attorney Nancy O'Malley's decision not to charge Anthony Pirone, a former BART police officer involved in the January 2009 killing of Oscar Grant, with murder.
They demanded that she re-examine the case and file felony murder charges against Pirone, claiming that he instigated the shooting of Grant by his then-colleague, Johannes Mehserle.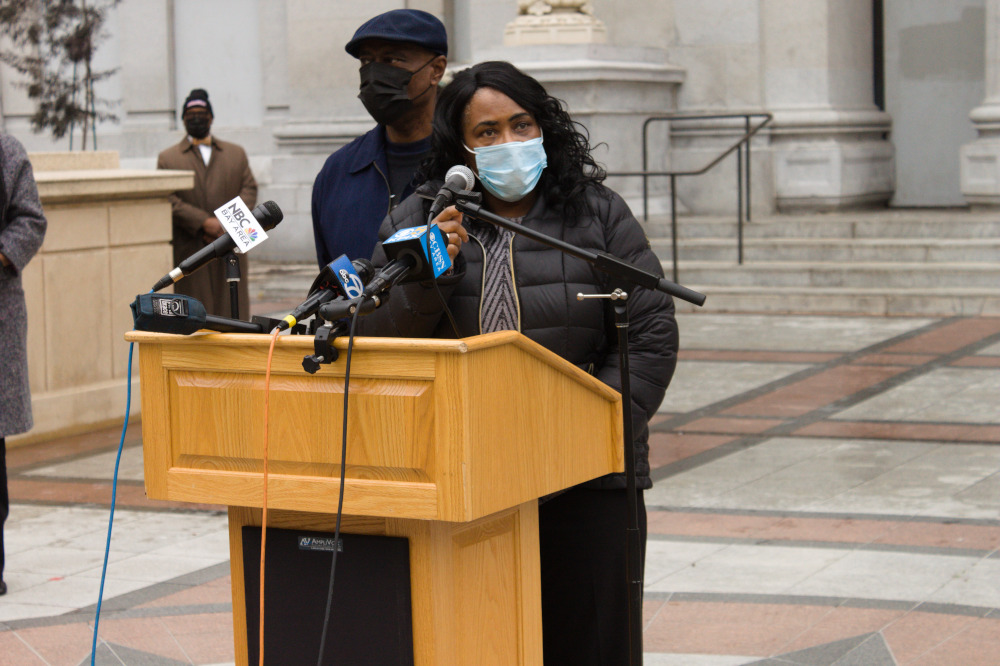 "Yesterday's decision by District Attorney O'Malley to not press charges against Officer Pirone is more than a disappointment, it is a travesty," said Loren Taylor, District 6 Oakland City Councilmember, whose district includes East Oakland. "If not for the actions of Officer Pirone, Oscar Grant would likely be with us today."
In a 15-page report, O'Malley argues that Pirone cannot be charged for murder because he did not actually shoot, and therefore did not kill, Grant; Mehserle shot and killed Grant after he was thrown to the ground and choked by Pirone.
Mehserle was convicted of involuntary manslaughter and sentenced to 11 months in prison in 2010. Moreover, O'Malley states that Pirone was unaware that Mehserle intended to murder Grant, and therefore could not be charged with "aiding and abetting" murder. The decision comes after O'Malley reopened the investigation into the killing of Grant in October.
Community members, local officials, and BART leaders cited a recently unsealed 2009 report from Meyers Nave, a law firm hired by BART to investigate the shooting and officers involved, in justifying their arguments that Pirone should be charged with murder.
In reviewing video of the assault and Grant's autopsy report, the report found that Grant had sustained brain hemorrhaging brought on by Pirone, who pulled Grant out of the train at Fruitvale Station, and struck Grant in the head multiple times, whereas O'Malley says that there was no evidence of hemorrhaging. The report also states that Pirone's violence towards Grant is what led and enabled Mehserle to shoot and kill Grant.
"Officer Pirone's overly-aggressive and unreasonable actions and conduct in violation of policy and acceptable standards contributed substantially to the escalation of the hostile and volatile atmosphere during the course of the incident. Pirone was in large part responsible for setting the events in motion that created a chaotic and tense situation on the platform, setting the stage, even if inadvertent, for the shooting of Oscar Grant," the report states.
Sausalito civil rights attorney Charles Bonner refuted the DA's claim that Pirone did not "aid or abet" Mehserle in the shooting of Grant, stating that the fact the Pirone told Mehserle to approach Grant and then moved aside when Mehserle warned he was going to tase Grant, before killing him with his firearm, means that Pirone enabled his colleague to kill Grant.
"Pirone took an innocent man, turned him on his stomach, held him down with his knee on his neck and his head, and then called over Mehserle to continue this assault of an innocent man…then when Mehserle said 'move over Tony, I'm going to shoot [Grant] with the taser,' Pirone then moved and facilitated and aided this shot, and the shot was intended to inflict injury—people die from tasers. The fact that he shot him with a gun and not a taser is irrelevant," said Bonner.
Bonner added that the DA's justification for not charging Pirone of murder on the basis that Pirone did not know that Mehserle meant to kill Grant and therefore could not have encouraged him to do so is beyond what a DA can do, saying that determining whether a defendant had "intent to encourage" murder would require a jury trial.
"The DA says 'oh, but no one knew that Mehserle was going to kill Oscar Grant', but…DA O'Malley does not have discretion to determine whether or not Pirone had the intent to encourage, that is solely within the province of the jury," said Bonner.
Perhaps the most outraged of everyone was Grant's mother, Wanda Johnson, who has been calling for both officers to be charged with murder since her son's death. Johnson illustrated the vastly difference experience white and Black people have during police encounters, pointing to the disparate treatment by law enforcement of largely white, pro-Trump supporters who stormed the Capitol building Wednesday with little resistance and even took selfies with Capitol police officers as they did so, compared to the violence her son experienced at the hands of BART police simply because he was Black.
"You may see what's going on in Washington DC, and how so many people get into offices guarded by so many police officers and leave alive. They were hired to protect and service the community, and yet the officer that killed my son and the officer who instigated the situation were also hired to protect and serve the community. The difference is that Oscar was an African-American man lying on a platform, he wasn't fighting the police, he wasn't climbing a wall," said Johnson.
But Johnson and her family, however, remain committed to getting justice for her son, which for her means having Pirone charged with murder. She demanded that O'Malley continue meeting with community leaders and local officials, and to review Grant's case again, as she is assured that Pirone's violence against her son, as well as his instigation of Mehserle to shoot Grant described in the 2009 Meyers Nave report, constitute a murder charge.
"When I think about Oscar, when I see him being shot, when I look at his blood on the concrete, America, Oscar's blood is on your hands…We will continue to push until justice is served because we have to fight as a community not only for our family, but for all families who have lost loved ones at the hands of police," said Johnson.