On Thursday evening, one day after an insurrection at Capitol Hill that led to five deaths, 40 people gathered outside City Hall before marching to Twitter HQ on Market and 10th, adding their voices to the nationwide chorus calling for Trump's impeachment.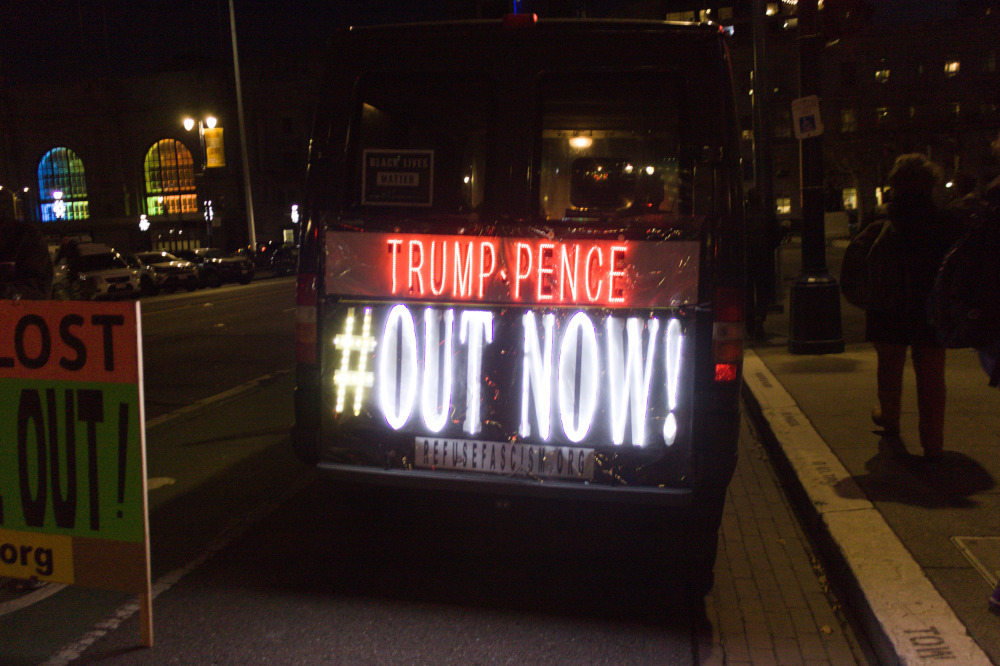 The national movement for Trump's removal reflects fears about what The may further do to damage American institutions or endanger others during the final days of his presidency, such as pardoning himself, or even launching a nuclear weapon, which has led to the House of Representatives to commit to introducing impeachment articles by Monday.
Protesters said that Trump's impeachment would be a symbolic rejection of Trump's presidency and legacy, one marked by hateful rhetoric and actions, at a crucial moment where the destructive consequences of the proliferation of far-right extremism were laid bare.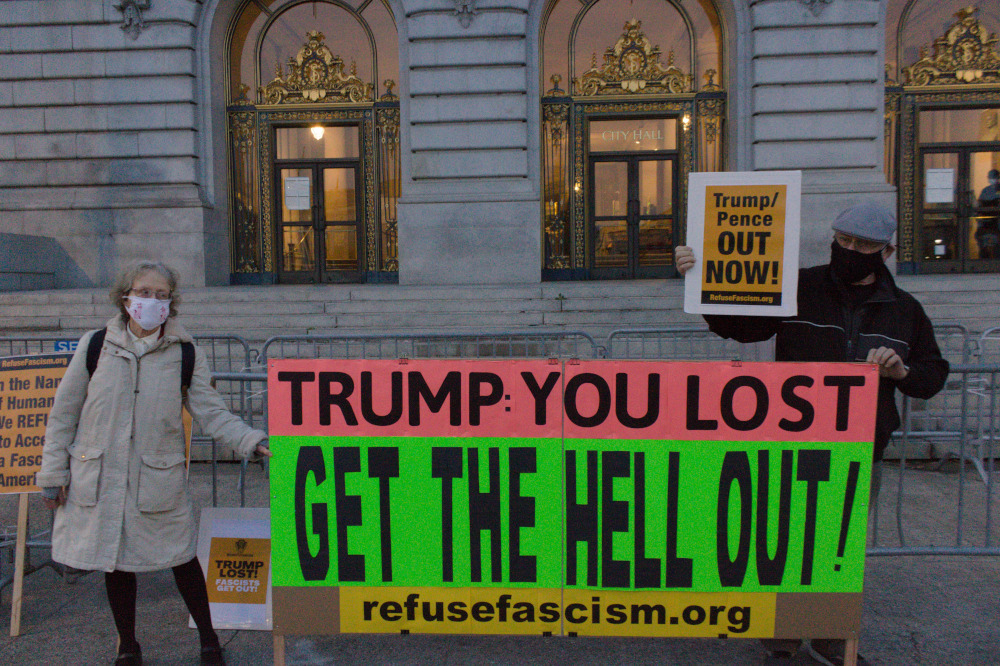 "It's the right thing. He should have no legitimacy at this point. It may not be practical politics, but it's about right and wrong," said Barry Thornton, spokesperson for RefuseFacism, a recently-founded organization committed to nonviolently opposing toxic and fascist movements, which organized Thursday's demonstration. "If he were thrown out, it would be a very good message to people all over the world…It's possible to impeach him, so why don't they?"
This message is particularly important to send, according to Thornton, because fascist groups and sentiments have further entered the mainstream due to Trump's encouragement and refusal to condemn them throughout his presidency, and that consistent nonviolent organizing is a key part in preventing these ideas from spreading.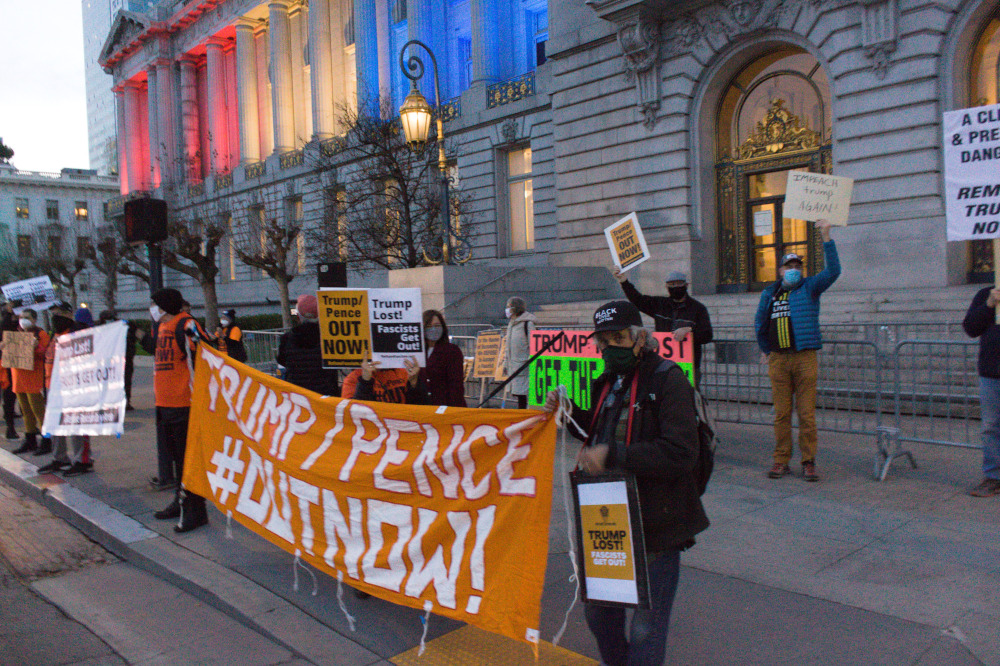 "You thought it would be enough to vote Trump out, but it's not enough. It's not going to get rid of Trump and it's not enough to get rid of American fascism," said Thornton. "This fascist coup was defeated for now, but it's far from over. There's a fascist movement that is deeply entrenched in America, and it will take a massive nonviolent struggle to root it out even if Trump leaves office on schedule."
Protester Bianca Von Krieg also said she believed that Trump alone is not the issue, and said that Trump is a product of the toxic aspects of American culture, including the emphasis on the importance of ourselves over the community, and that instilling the importance of community over self is a necessary step in preventing the encroachment of ultra-nationalist ideas into the mainstream and preventing a candidate similar to Trump from winning the presidency as soon as 2024.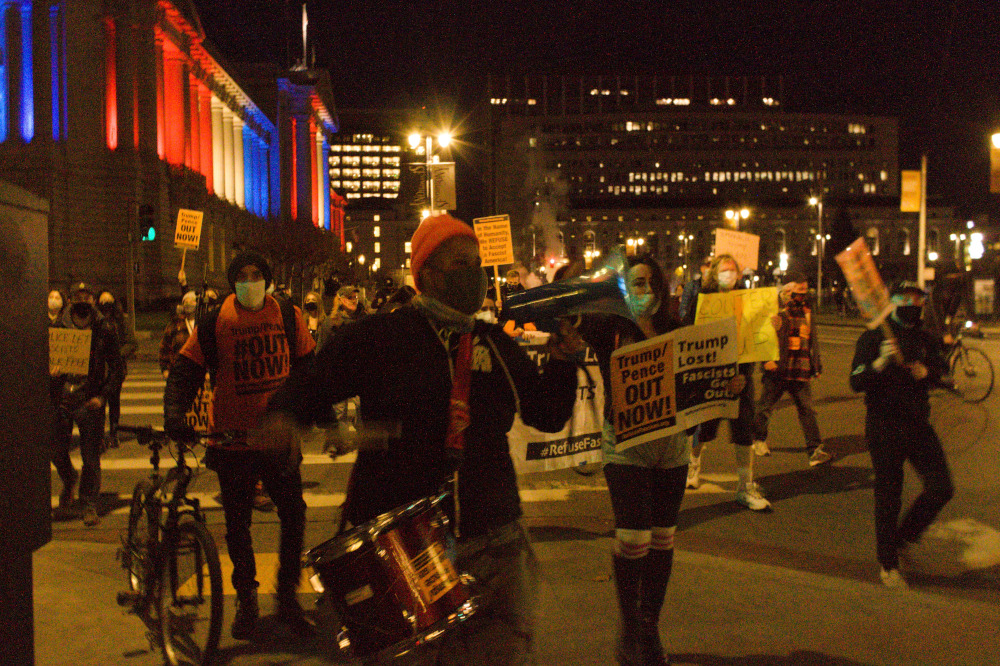 "Donald Trump didn't just fall out of the sky," said Von Kreig. "Trump was created by American society and values…We have to change society and values to make sure we don't have another Donald Trump again."
Alex U Inn, a San Francisco-based activist who has spent 20 years organizing for racial justice, noted the importance, now as much as ever, for people to organize and continue to spread the message that fascism and hateful rhetoric towards immigrants and people of color should not be tolerated in the United States.
"Everybody has a job to do, every single one of you. Every city should be out in the streets because this is not okay. They think they've got the power, that we're silent, what they don't know is that we're ready, we're just as powerful as they are," said Inn.