When Kenneth Cabrera was fired from Dandelion Chocolate on June 2, he was taken completely by surprise.
"I wasn't prepared for it," said Cabrera. "I felt like my name was dragged through the mud."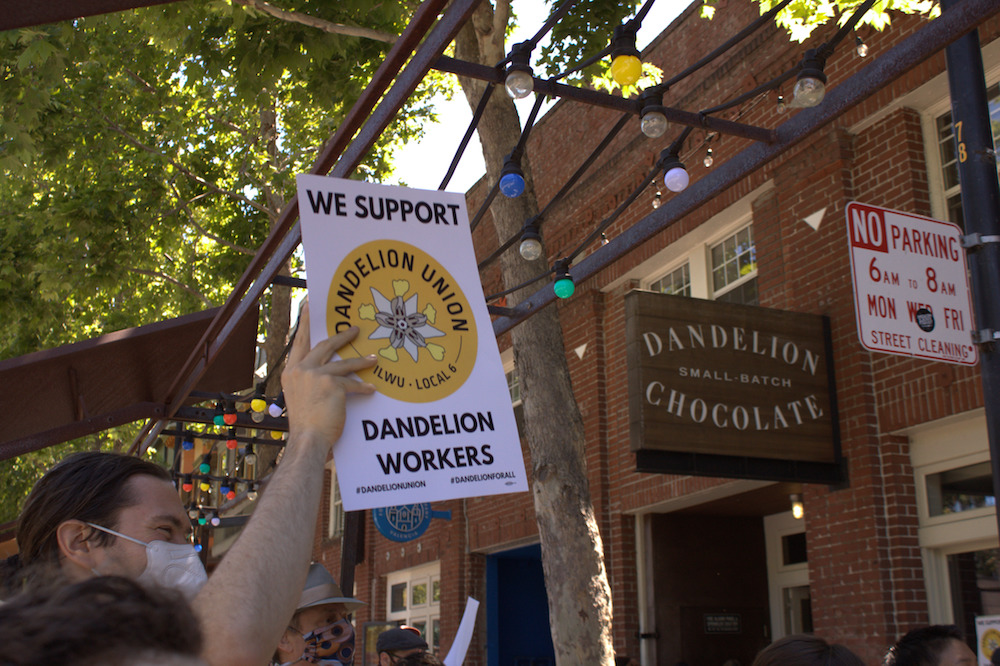 Cabrera, who worked as a barista at the Valencia storefront for nearly two years, openly supported Dandelion workers' campaign to unionize, and said that Dandelion Chocolate management has opposed unionization since workers went public with the effort in March. Cabrera and eight other workers laid off the following day were outspoken union supporters and members of the Dandelion bargaining committee. Cabrera said he believes that the fact that these nine layoffs of workers from the bargaining committee was an act of retaliation by the company against those openly supporting unionization.
"There are things that management would say about us, our movement, or specific individuals about the union,"said Cabrera. "In my case, the manager was vocal about his gripe with the union, he literally said that he was "pissed off" that they were unionizing," said Cabrera.
In response to these layoffs, more than 50 Dandelion employees, union leaders, elected officials, and union supporters gathered outside Dandelion Chocolate's storefront on 740 Valencia Street on Sunday to decry the layoffs and demand that the nine dismissed workers be re-hired immediately.
"There is a lot of talk in City Hall about economic recovery…let's not measure economic recovery by whether the stock market goes up…let's measure economic recovery by how many workers unionize, by what happens to workers wages," said District 5 Supervisor Dean Preston.
The layoffs came amid a contested union election held by the NLRB on April 20, from which four votes are currently being litigated by the ILWU Local 6, the union that hopes to represent Dandelion's workers, and Dandelion Chocolate management, with a decision projected to arrive in six to eight weeks. The outcome of that review will likely determine whether workers unionize or not, according to Agustin Ramirez, Northern California lead organizer for ILWU Local 6.
"It could come down to one or two votes," said Ramirez.
These layoffs, Ramirez said, come after thinly veiled termination threats, presented frequently during "all hands" weekly company meetings going back as far as March, around the time when Dandelion workers went public with their plans to unionize.
According to Ramirez and Cabrera, Dandelion Chocolate founder and chief executive Todd Masonis has said that unionization would deter investors, damaging the business' finances and forcing layoffs to remain solvent.
"When he laid them off, we felt that it was targeted. There's no way that these nine workers were just people who had to be laid off. None of the nine layoffs were anyone who was not a union supporter," said Ramirez.
Dandelion Chocolate founder and chief executive Todd Masonis said that protesters' outrage regarding the nine layoffs misrepresents what really happened, saying that there were a total of 16 layoffs, and the fact that nine of them were union supporters on the bargaining committee was a coincidence.
Masonis also said that the 16 layoffs included managers and non-managers alike, and that layoffs were made based on where profits were low, and then, by seniority.
"I don't know who is on the union organizing committee, so I can't speak to that except to say that these actions affected managers and non-managers, both union supporters and non-union supporters. We reduced departments solely by profitability — and within those teams — by seniority," said Masonis in an email interview.
Ramirez, however, said he is not convinced, and argued that the layoffs are intended to weaken the pro-union presence inside the bargaining unit, which is composed of 39 workers, but leaves the number of workers who do not support unionizing intact.
"Out of the bargaining unit, out of those 39, nine were let go, and all nine were union supporters. If he let six or seven others go, they were probably managers or other people who can't vote anyway…I believe at the end of the day, the union would win the election by one or two votes, so if you let nine votes out of the 21 that were possibly going to be "yes" votes on the bargaining committee, and you leave the 19 or 20 that did not vote for the union in the election intact, where's the majority now? The "no" votes are intact, and the union supporters are cut in half," he said.
Masonis did not identify which 16 positions were dismissed.
Masonis also said that Cabrera's termination was done for reasons separate from the other layoffs, but did not elaborate.
Cabrera said he disagrees.
"The situation itself, the context, that so many workers were laid off suddenly, I think my termination was part of the management's reaction to chill the union movement," said Cabrera.
Masonis said that the layoffs had to happen, with the alternative to layoffs being to go out of business, and that 40 percent of the company has experienced reductions in pay, hours, and layoffs.
Union supporters, however, expressed skepticism at Masonis' proclaimed fears of financial ruin if workers unionize, pointing to the hiring of law firm Littler Mendelson P.C.–which is notorious for its hardball legal tactics against unions. That firm doesn't come cheap.
Demonstrators promised to keep pressuring Dandelion Chocolate to rehire the nine dismissed workers, saying they will continue raising their voices until that demand is met.
"We'll be back," chanted protesters.