2021 might not be the summer of "love," but it's definitely the summer of "I need to get the hell away from quarantine and reconnect with everything the outside world has to offer." In that sense, we should all embrace our freest spirit and hit the road in these upcoming months with no regrets.
Throughout COVID, I've tried to adopt a more hippified lifestyle—whatever that means as a Mexican American millennial freelancer—since it prioritizes good vibes, peaceful energy, and a lackadaisical privilege that I need now more than ever. It also implies a sense of freedom both spiritual and literal, through various forms of trips and travels.
But it wasn't until last weekend, when my wife rented a 1984 Volkswagen Westfalia on Outdoorsy and decided to cruise down Highway 1, that I really tapped into my bohemian sense of joy in the great Californian outdoors.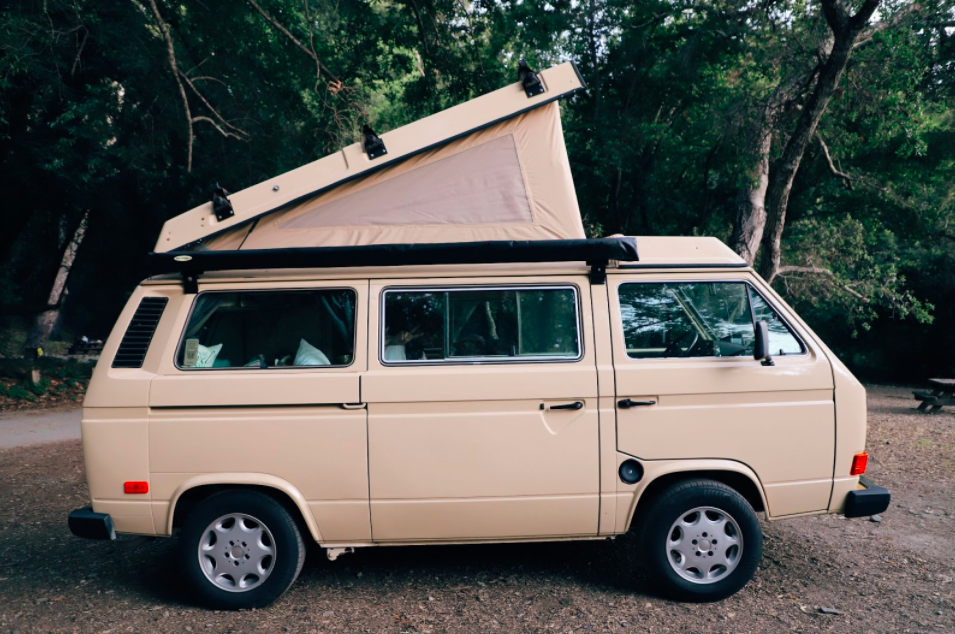 I should clarify: I'm not a very good hippie, nor am I an outdoorsman type; I'd much rather be wearing fresh Nikes at a bar with friends in Oakland than spending a few days alone outside. Admittedly though, this trip was one I had to write about to let others like me know just how necessary—and fun, affordable, and relatively easy—it was to do.
I don't have an exact count, but if I guessed, I'd say I've driven (or been driven) up and down Hwy 1 no less than 10 times in my life, so I wasn't simply there to see the glamour of the famous Bixby Creek Bridge or to watch a sunset fall into the never-ending Pacific's mouth (although, that's always dope to witness).
Instead, I wanted to see how this ride could be different—how it might illuminate new angles I'd never noticed—since chugging across the windy roads in an old Volkswagen with a 4-speed manual, no power steering, a kitchen, cabinets, and a mountable second-deck felt more like something a flower child from the '60s might enjoy. But not me (especially not during the start of the NBA Playoffs).
Well, I'm here to tell you, good reader, after having spent about 72 hours straight without showering while cruising around in an outdated automobile along the coast, often without internet connection, that it's hella worth every penny. I implore you to turn off your device right now and give yourself this experience you never knew you needed.
GETTING STARTED
Let's begin with the logistics, since it's the most essential step in getting the rubber to hit the tarmac. You'll want to secure an old Volkswagen first—or any type of RV, but having a retro ride will surely add to your trip's charm. The prices vary of course, but in general, you should be able to snag one for an extended three-day weekend in the ballpark of $400-600. (Remember, this covers both your rental vehicle AND most of your lodging, as well as providing a kitchen to cook your meals and reheat any leftovers, so you're essentially budget traveling from this point on).
Next, you'll want to book your campsites in advance, since you technically can't just pull over and sleep anywhere on the 1—although, if you really wanted to, you could try to find some outlook and park under the stars to see what happens. I don't recommend that though, since there are so many cool state parks, national forests, and beaches along the route where you can pull up and stay for anywhere from $10-50 a night. Like most campsites, these locations offer bathrooms, general stores, and nearby happy campers with whom to potentially mingle, along with access to hikes and local history. In our case, my wife booked our reservations weeks in advance at Pfeiffer Big Sur State Park and Morro Strand State Beach, roughly 200 miles south of the Bay Area's largest city, San Jose.
Like a bowl of raw organic granola, the planning aspect won't be the most savory part of your trip, but it's essential and will benefit your future outcomes.
THE ROUTE
From there, the millennial hippie vibes can flow. You might start off by hooking your way down the 1 until you reach Monterrey around lunchtime, where you can cruise around the famous sites of Cannery Row. Then, pull over at the less-crowded Dust Bowl Brewing Co., where WEDOS Taco Trucks is serving up grub. After taking care of a chicken quesadilla and eggplant sandwich with pesto burrata on brioche buns, accompanied with something like a raspberry kolsch or Mexican amber on tap, you'll be set to hit the road again.
From that point, you'll start to see iconic vistas to which visitors from all over the world flock. But instead of just pulling over on Hwy 1, getting out of your car, and tripping over groups of tourists to get a good view of the Pacific Ocean like a first-timer, you can park the vehicle, slide open your doors, and kick your feet up for 20 minutes like a pro traveler.
You'll want to be somewhat strategic about your stops though. Truthfully, you could pull over every five minutes to see something gorgeous. I recommend stopping at one of the many bridges once your calves start to ache from pumping the old gears, then waiting until you reach the River Inn, where you can actually purchase some cocktails and sit inside (or on top of?) the Big Sur River. Doesn't get much more bougie-hippie than taking off your shoes and dipping your ankles into the cool, natural water while sipping on a hard kombucha infused with watermelon, sea salt, lime, and mint.
You'll hit your first campsite around that time, and that's when you'll truly appreciate the art of a 1984 Westfalia. The fiberglass roof pops-up to create a sort of bunk bed tent you can sleep in, with make-shift windows that zip up and down, depending on the temperature and surrounding views. It also includes a passenger chair that can swivel 360-degrees and turn into something like a La-Z-Boy, as well as a spinning panel that can fold against the wall, or can be turned into a center table for meals on the couch. Oh, and the back seating area also turns into an extra bed. The Germans, amiright?
We stayed at Pfeiffer Big Sur State Park the first night, which is wooded, beautiful, and definitively Californian, and cooked up some mac 'n' cheese. There's a nice variety of trails nearby for various skill levels. We started our second day by hitting the steep switchbacks near the majestic Los Padres mountains on the Buzzards Roost Trail that will spit you out with a view of the cerulean Pacific to start your morning. It's a solid four mile loop.
From there, you'll have options. Beach? Forest? Brunch? Depends on your desires. We kept it simple and took advantage of our spacious mobility by passing up on the ever-popular breakfast at Nepenthe. Instead, we grabbed some cheap sandwiches and beers at Big Sur Deli and Tap House and hacked the system by parking near the famous restaurant with our own private views. Slide the door open, don't worry about dealing with parking or waiting in line, and let the same cool breeze refresh you while you transform your ride into your living room with views that compare to the Santorini islands. You'll definitely get some honks, some thumbs up, and maybe even a fellow hippie who'll come up to tell you "you're doing this the right way."
Things you can do afterwards, in no particular order: find the infamous and offbeat Tin House along the Tanbark Trail, which was supposedly built as a secret hideout for FDR; take a photo in front of the world-renowned McWay Falls; or stop at the often-overlooked Limekiln State Park to chill beneath the Limekiln Creek Bridge built in 1957, or to find the hundred-foot tall limestone kilns that were abandoned after industrial operations that started in 1887. Note that this is not the typical sightseeing you might associate along Hwy 1; the kilns, in particular, are bizarre enough to merit a written feature in Weird California, and are a bit of a trek off the main road, but well worth it.
You'll be tired by then, but I urge you to keep on trucking (or vanning?) forward until you pass the beached elephant seals, who are certainly worth a five-minute pull-over, before finally reaching another state site to set up camp. We stayed at Morro Strand State Beach, which you'll see from far away due to the massive Morro Rock in the ocean.
It's a chill site, right next to the sandy beach. Do your thing and unwind. Since we had the classic van, we wandered over to the old school boardwalk in the town of Morro Bay, explored the infinite shells at The Shell Shop and got an order of cubanos, picadillo, tostones, plátanos, and arroz con frijoles negros at Milane's Cuban Cuisine. We paired it with Ironbeer and Materva-Yerba Mate, two Cuban sodas we'd never heard of despite our honeymoon in Cuba years ago. The meal was enjoyed right next to the actual Morro Rock, which can be reached another half mile up the road from the comfort of your parked van.
For your final day, you'll want to extend every minute. You can hit up the nearby San Luis Obispo and enjoy the downtown, or you might check the beach drive at Oceano Dunes, where you can literally drive onto the shore, right next to the waves. (Be sure to check your vehicle's capabilities since you could potentially get stuck in the sand.) It's the only state beach on the West Coast where vehicles are legally allowed—although, the Los Angeles Times reported that a vote was recently passed to close access to off-roading within the next three years, so if this sounds like part of your hippie dream, you'll need to do it soon. We didn't take the rental VW offroad, but we've done it in the past, and it's well worth the extra half-hour drive south.
From there, you'll be gassed out. Take one final siesta inside your house-on-wheels beneath the open California skies before hitting the 101, maybe stopping at In-N-Out for a classic meal, and returning back to your life of Bay Area work and hustle.
I promise you won't regret the trip. And you'll wish you never gave the keys back.