San Francisco taxi drivers held a caravan protest Tuesday, going past City SF MTA's Van Ness headquarters, demanding debt relief for those owing thousands in medallion loan debt, saying they have been cheated by the city after being encouraged to purchase medallions shortly before Uber and Lyft out-competed the taxi industry with the city's blessing, with former Mayor Ed Lee even declaring July 13 as "Lyft Day" in 2013.
"It's the first protest asking for anything, any debt relief, no more delays," said Matt Sutter, a taxi driver and holder of medallion number 771.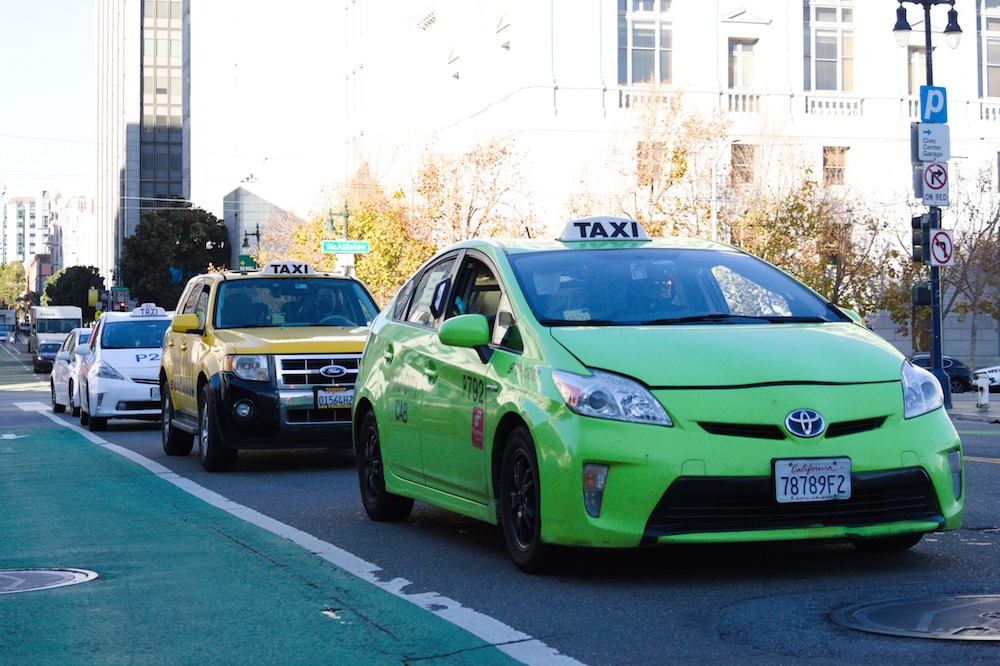 To be a taxi driver in San Francisco, you have to have a medallion, or permit, to operate a cab inside city limits. You can either lease one from a cab company, like Yellow Cab, Flywheel, or SuperCab, or, you can buy your own outright—for $250,000.
The city put the permits on sale in 2010, and many drivers went into debt to buy one. Two years later, under illegal competition from Uber and Lyft, the medallions lost much of their value.
Now, those cab drivers, many of whom are immigrants or are older, are demanding relief from a city who they feel has cheated them for more than a decade, selling them costly medallions while allowing Uber and Lyft to thrive and out-compete them.
"The business is gone…we are suffering on the street, most people like me don't even drive anymore." said Ali Asghar, who holds Purchased, or "P," medallion number 1225. "Driving the car costs more than the income. They need to give us our money back."
Drivers holding these purchased medallions are demanding that the city provide debt relief to ameliorate their outstanding loan balance, sometimes higher than $100,000, with several different options on the table.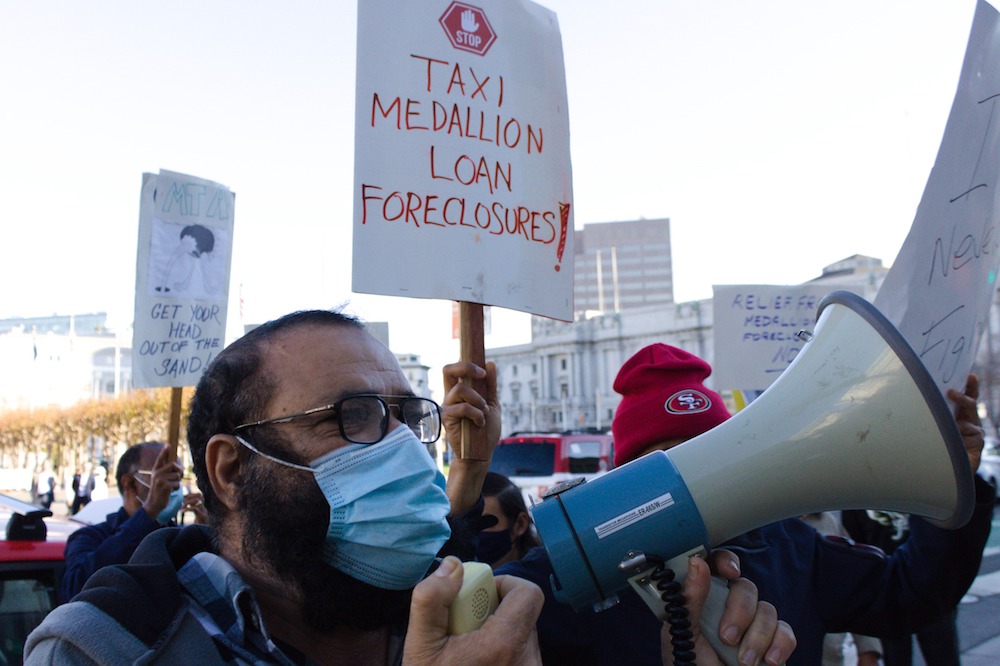 Asghar has not driven in two years, and now works at the Tesla factory in Fremont to pay off his outstanding $220,000 for his medallion loan, because the low amount of rides he can get while competing with Uber and Lyft makes the overhead to drive a cab, which includes a monthly "color scheme" fee of $1,500 to affiliate with a company on top of his monthly medallion payments of $1,500, too expensive to be worth it.
One proposal that is popular among some P medallion holders is for the SFMTA to issue a revenue bond under 2007's Prop A, which allows them, subject to approval by the Board of Supervisors, to do so without voter approval. The proceeds could then be used by the city to pay off medallion loans.
Drivers have their doubts that this proposal will even move forward however, as doing so could arguably be a tacit admission of the medallion sales program's failure, a program that the MTA still says it is still trying to promote, even though no P medallions have sold since 2016.
"The SFMTA Taxi Services team is focused on supporting the purchased medallion holders and drivers," said MTA spokesperson Erica Kato. "Already, taxis have become increasingly competitive in the marketplace. We are eager to continue supporting the purchased medallion program, promote improvements in customer service and marketing opportunities, all the while supporting the competitiveness of the taxi industry. This work is increasingly important as taxis recover from the tremendous impact of the COVID-19 pandemic, and we hope the [San Francisco Federal] Credit Union will be part of the solution.
"We are meeting with taxi industry stakeholders this week and will continue to have ongoing and open conversations on how we can best develop reforms before presenting them to the SFMTA Board of Directors in 2022."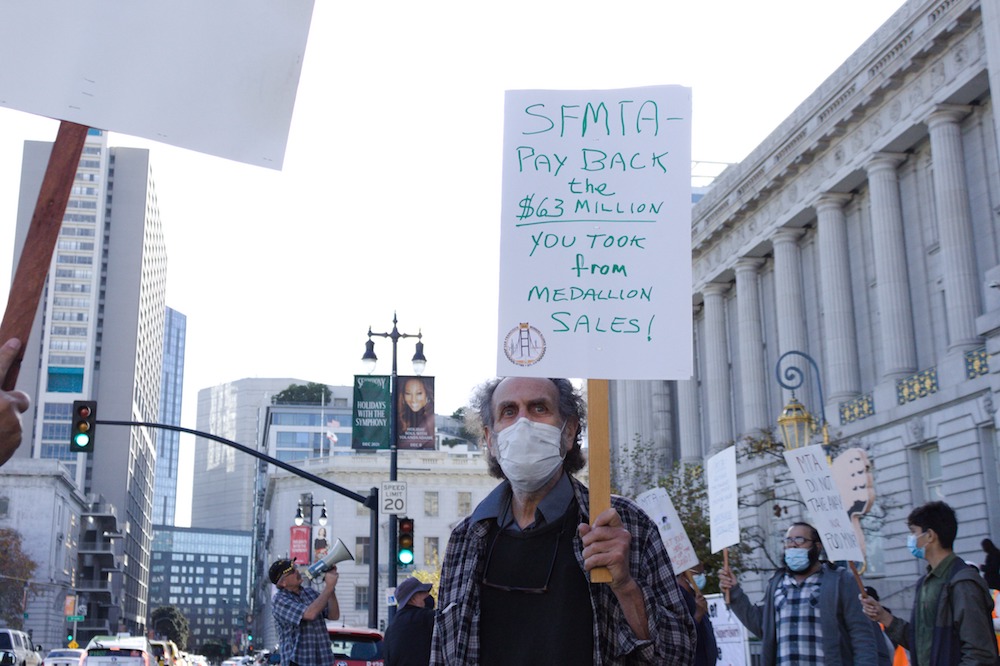 Other cab drivers want to go beyond getting debt relief for P medallion holders. Mark Gruberg, head of the Taxi Workers Alliance and holder of medallion number 1106—he got his medallion under the old system, before the medallion monetization scheme began in 2010—said that monetary relief is needed for all medallion-holding drivers who have lost business to Uber and Lyft. Gruberg said that those who have already paid off their medallions in full, heavily investing in medallion ownership in hopes of higher incomes, have suffered due to the city's support of rideshare companies, which undercut the cab industry and made those medallions worth far less than $250,000.
"If you have a medallion and it's mostly paid off, you put a fortune into that but if there is only debt relief, you're going to get very little of nothing out of it as opposed to someone who still has a huge debt, and if you give them debt relief that's great, but in a way you're favoring that person over someone who had the wherewithal to pay off the medallion in full," said Gruberg.
"I think beyond debt relief, there has to be monetary compensation of some kind to help out all drivers…initially the city sold them medallions when most of these drivers would have been able to get these medallions under the old system in a few years, and then after snatching these dream medallions away from them, they allowed Uber and Lyft to operate even before the [California Public Utilities Commission] approved them."
One proposal that has the support both of medallion holders and the SFMTA is to lower the price of the medallions, although the amount they should be lowered to is contested—drivers want a price between $50-$75k, while the MTA has pushed for lowering it to $125,000.
"It's not low enough…the guys that [have paid] $125,000 are foreclosing too," said Sutter. "If they were to lower it to $50,000 or $75,000 you would get more people than you would think to purchase again…at that cost it's doable."
And the Board of Supervisors appear to support renegotiation of medallion prices, having passed a resolution last week urging the San Francisco Federal Credit Union, the sole authorized lender for medallion loans, to enter negotiations to lower medallion prices, which cannot be done without collaboration between both them and the MTA.
Yet the Credit Union has stood firm refusing to enter negotiations to lower prices, as they say that the SFMTA should declare the medallion sales program a failure and reimburse the bank for all outstanding medallion loans, and that by not doing so and continuing to operate a sales program which has not sold a medallion in half a decade it is acting in bad faith. The Credit Union even took the MTA to court over this issue, and lost, but it is widely believed among drivers that the Credit Union will file an appeal.
The Credit Union did not respond to requests for comment by press time.