Under The Stars is back from the hinterlands for 2022. Happy New Year! Good to congregate with all of you, virtually, once again. That's right people. This week our quasi-weekly column that presents new music releases, upcoming shows, and a number of other adjacent items bids a sad farewell to a beloved outpost of quality food and hang,Universal Cafe. And an enthusiastic hello to the new Breadcrumbs/Ink Bleeds EP from our fave ambassadors of fuzz, reverb, and delay, Seablite!
What a year in music… We started 2021 off writing about the fearlessness of bassist Dezron Douglas and harpist Brandee Younger crafting an American songbook of jazz and pop tunes while trapped in lockdown. Self-recorded as the country erupted over the murders of Ahmaud Arbery, Breonna Taylor, George Floyd, and countless other Black people, their weekly single microphone performance from 2020 shaped itself into a recording that lifted spirits and lowered folks' blood pressure.
Several months later, we were lucky enough to attend Outside Lands, clap for live music y'all—but still be dispirited on how the City of San Francisco, left the Tenderloin to fend for itself. Riddled with crime, the hand-to-hand distribution right out in the open was on display for all visiting tourists to see, including the obvious homelessness.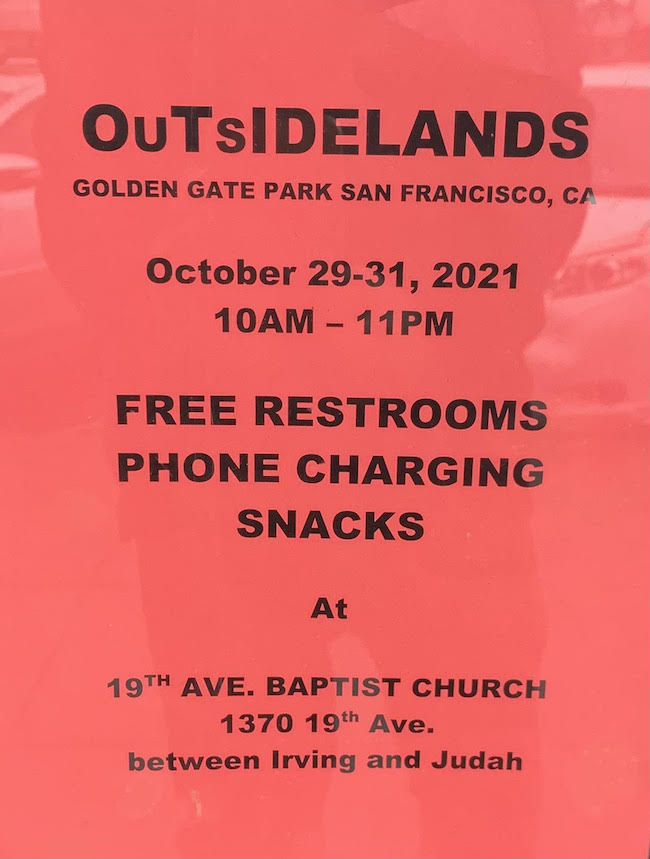 Restrooms and clean water popped up immediately at a music festival in Golden Gate Park, used mostly by out-of-towners. But for numerous misplaced San Francisco residents, forced to live in tents on the streets, Porto-potty benefits were not extended. So raw sewage flooded those blacktop squatter regions. Mayor London Breed seems to be getting on that these days. Around the same time, tourists returned to The City By The Bay for holiday vacationing. But these travelers had a new observation to behold: Major theft in Union Square, squad cars turning the holiday shopping district into a militarized stretch of real estate adorned with Christmas lights.
We got the opportunity to witness the thriving indie band scene, live and in the moment, here in Ess Eff. At the historic Balboa Theater on a mid-December Sunday eve, eccentric culture ambassadors played ever so loud and quirky to their dedicated DIY constituency. A movement that hit some type of tipping point over the summer. The Balboa, during the past couple of years, has become an incubator of sorts, providing refuge for that essential segment of nightlife.
But coming off lockdown, it's been a centralizing force, propelling this evolution forward with expediency. In regular times a city's nightlife serves as a selling point for tourism. Shouldn't The City of San Francisco guard and support that culture, by supplying struggling nightclubs and venues with the same economic protection and resources found in the oh-so precious Union Square?
Life moves sneaky fast. In some cases low-key stealth. Sideways too. It seems The City has some soul-searching to do. Enough talking above my paygrade. Let's get to IT!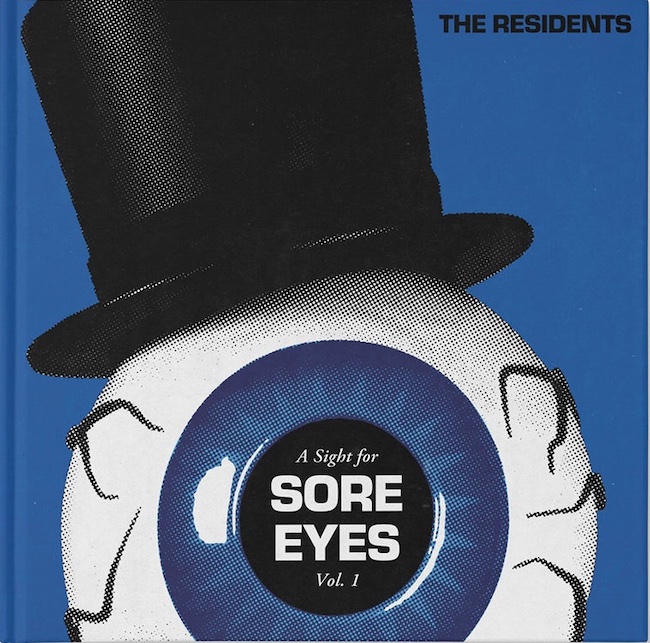 THE RESIDENTS, A SIGHT FOR SORE EYES 50th ANNIVERSARY BOOK (VOLUME 1)
The reclusive, mythic, and highly influential experimental art collective The Residents are celebrating 50 years of being, well, The Residents, with a new historical and introspective book, A Sight For Sore Eyes, Vol 1. According to the bands' website, Melodic Virtue has been given unprecedented access to The Cryptic Corporation's archives, documenting everything from their beginnings in San Mateo up to The Mole Show.
The book features, a black vinyl 7″ record of the unreleased Not Available-era track "Nobody's Nos," and an introduction by Primus' Les Claypool, as well as impressions and accolades from ​Danny Elfman, Paul Reubens, John Linnell (They Might Be Giants), "Weird Al" Yankovic, Andy Partridge (XTC), Penn Jillette, Eric Drew Feldman (Captain Beefheart's Magic Band), Paul Leary (Butthole Surfers), Aaron Freeman (Ween), James McNew (Yo La Tengo), Zach Hill (Death Grips), Eric André, David J (Bauhaus), Cedric Bixler-Zavala (The Mars Volta), Josh Freese (The Vandals), Rob Crow (Pinback), Dan Deacon, Don Preston (The Mothers of Invention), Alexander Hacke (Einstürzende Neubauten), JG Thirlwell, Blaine L. Reininger (Tuxedomoon), Sam Coomes (Quasi), David Janssen and Brian Poole (Renaldo and the Loaf), and others. Whew.
You can preorder the book here, it's starting to ship around Fri/7.
Pamela Z, Echolocation (Freedom To Spend)
Experimenting with voice, electronics, communication, and linguistics since the '80s, Pamela Z, the San Francisco-based composer-performer and media artist, deserves to have at least a week of numerous performances, similar to a much-ballyhooed metal band around these parts did before the holidays, based on her tireless exploration of the human condition. The O.G., as the kids say, combines innovative vocal techniques, operatic bel canto, found objects, text, digital processing, and wireless MIDI controllers that allow her to manipulate sound with physical gestures.
Simply put it's DIY, punk resourcefulness, an extended experiment with the fringes that gave seeds to numerous contemporary artists—tUnE-yArDs and Lyra Pramuk just to name a few.
Echolocation, the debut album from the Buffalo, New York, born and raised artist, released in 1988 on cassette, excavates the juncture when Pamela Z beta-tested those voice-generated studies. Now, it receives a digital and vinyl reissue on Freedom To Spend, an arm of RVNG Intl, so we can revisit those days of enterprise accompanied with the above-mentioned spectral sounds.
Sis, Gnani EP (Native Cat Recordings)
Sis is the project of multi-instrumentalist Jenny Gillespie Mason, founder of the Bay Area-based Native Cat Recordings. The imprint has released albums by Luke Temple, Brijean, John Vanderslice—and now a new EP called Gnani from Mason comes Fri/7. "Wooie" the recent Danski Tang animated video, delivers up the odd-duck earworm of a bop with psychotropic morphing colors, and figures that wave and wiggle along with the proggy-synthy groove.
Jenny gave some words on the meaning behind the new single:
"'Wooie,' the place where I wanted to reach towards, when the confused, wizened reality of 2021 around me was sinking in more and more, some kind of invented city where Edenic stirrings met communal life. Seeking out the 'woo' in astrology, tarot, Jungian dream analysis, the writings of Rudolf Steiner–what to others may seem like escapist jibber-jabber, but to me gave me a sense of magic and a horizon and depth. And oh, that beat I'd made on Ableton Push–I just had to have it throughout, urging me onward to that funky true place—and I just had to have Brijean play congas on it—and she did!"
According to Mason, the EP arrives at the culmination of a lifelong journey of being a musician, working with collaborators near and far in studios across the country, although most of Gnani, was recorded at Mason's home studio in Berkeley, CA.
You should pre-order it here.
Juke Bounce Werk Presents JBDUBZ Vol. 9
Los Angeles label and collective Juke Bounce Werk has released its ninth compilation, JBDUBZ, which features 43 tracks that display the commonality of jungle, acid, house, and classic footwork. JBDUBZ Vol. 9, a name your price purchase, features tracks by Bay Area artists Bored Lord and Tomu DJ.
Two Syllables Volume Eighteen (First Word Records)
The widespread critical acclaim for releases from Yazmin Lacey, Kaidi Tatham, and Children of Zeus made underground and mainstream heads around the world acknowledge First Word Records in 2018. For almost two decades this London-based imprint has steadily provided and updated where urban music is at. If that means bass-heavy beats meet jazz, soul, and hip-hop in the most austere British club culture way, then that's what's up. Talent still changes trends. Ask First Word. That's how they became named Label of the Year by the highly influential Gilles Peterson Worldwide Awards in 2019.
Two Syllables Volume Eighteen, packed with 13 assorted tracks that maintain a throughline of nouveau soul-from the ambient musings of Sarah Williams White to the Phuture boogie gusto of Kaidi Tatham. It's a complete account of what this imprint remains steadfast about: new ideas that push with original bearing. As we move through this new year, find out where First Word touched down in the last 12 months, in anticipation of its next cycle.
You can download the name your own price compilation here.