I can't recall the last time I heard stillness, a certain type of peace, speak so loudly as in bassist Dezron Douglas and harpist Brandee Younger's first release as a duo, the 11-song suite Force Majeure. The album resembles an American songbook co-curated by John Coltrane and Kate Bush. 
We found out how deadly the virus truly is, but it failed to destroy humanity. Among other stopgaps, livestreaming on various platforms preserved our character, our dignity in 2020. Both graduates of The Hartt School of Music, Douglas and Younger hosted a series of shows from their living room in Harlem this year. Self-recorded as the country erupted over the murders of Ahmaud Arbery, Breonna Taylor, George Floyd, and countless other Black people, their weekly single microphone performance lifted spirits and lowered folks' blood pressure. No matter external strife, Force Majeure demanded your calm and focused attention.
The acoustic nature of the album works in the same vein as the Cowboy Junkies' Trinity Sessions and Bruce Springsteen's Nebraska album, it's a one mic coup. Transporting listeners to the funky cafe on the corner, with the bad wall art and weak-ass coffee that somehow showcases the most incredible talent in the city everybody live tweets about.
The two have played together in the Ravi Coltrane Quartet and in sessions for Makaya McCraven's 2018 release Universal Beings, on which they are both featured artists. That name Force Majeure is a slippery chunk of legalese that voids commitments in the event of "extraordinary circumstances." Think of it as an act of God clause, that true-indeed, eviscerated spate of paid engagements that Douglas and Younger were missing. A harsh fate, a terse reality that the couple, alongside their musician peers, suffered in the wake of COVID-19.
"We vowed to become a part of the resiliency of this city," said Douglas to the press. "You can take the work away, but you can't stop musicians from being creative. Livestreaming is just a part of it. The whole world saw that arts and entertainment is an integral and vital part of this 'service' city. We, musicians and creatives, are as essential to this city as the MTA is. The NYC community responded with love and honesty on a high level. Expression became vital for people to make it through the day and, at the same time, listening and watching expression became vital."
Lemme tell ya America, Black people are amazing. That's not an opinion, it's factual.
We have to be, in order just to exist, to breathe. Live. Do the normal stuff that some … take for granted. That crinkle crease of genius is a skill set used every waking second and it runs through this entire project.
This couple, stuck in their East Harlem apartment with no idea on how income would ever happen again for them, streamed a set each Friday during where they ran down arrangements, snapped jokes at one another, lamented on the loss of life, and showed their own personal humanity in the face of NYC's and the country's shelter-in-place reality. With a virtual tip jar fastened, they garnered national attention.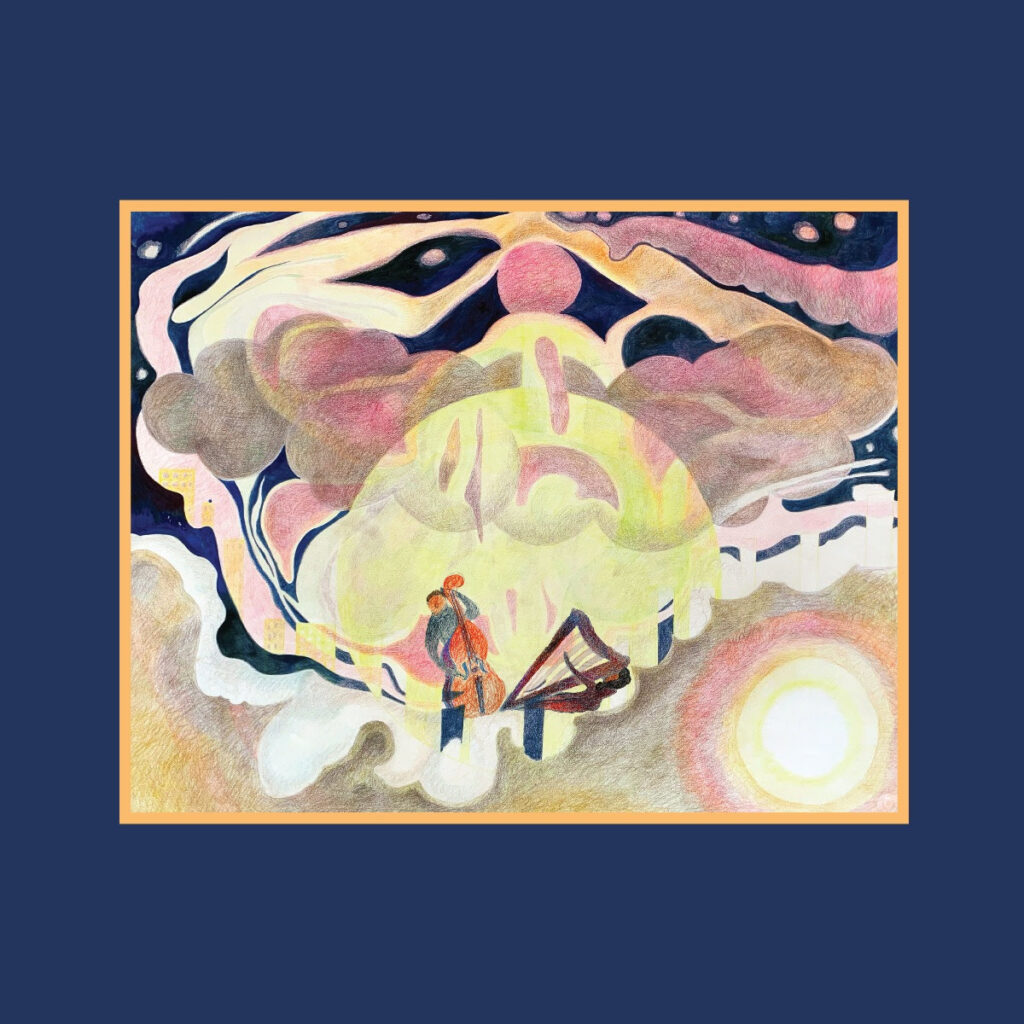 It's impossible not to conjure up visions of Alice Coltrane and Dorothy Ashby with their hair blown back from the cosmic debris erupting when Younger, a member of the Beychella Marching Band, makes those broad commanding strokes on the harp. The groove-centered "Gospel Trane" sets the pace and width of the album where she picks, strums, floats, percussively attacks her instrument with the fervor of a drummer and the daintiness of a uke player. The celestial treatment of John Coltrane's "Wise One," featuring Douglas with the thunder-on-bass running contrast to Younger's lighting-on-strings, to the plucky guitar nature of "Sing" and the gentle nature of the Kate Bush cover "This Woman's Work," displays the wide gamut these professionals cover.
But it's the original, jokey-titled "Toilet Paper Romance" that closes out the project, offering up the candid vibe of the duo swinging, doing the damn jazz work. Here you'll find all the right combinations of light and cantankerous rhythm, featuring bump and thudding bass-wise motion. With that melody floating from the harp, a nanosecond behind the bass, it inspires a J Dilla-type levitation. When that melody blows in, it establishes itself, official. Douglas, with finger-snaps, accentuates the point.
That camaraderie runs through the much-too-brief Jackson Five cover "Never Can Say Goodbye," with Douglass lightly coloring the bass parts and Younger converting the harp into an acoustic guitar. You're gonna wanna run it back for several reasons. As the kids say "it hits different."
Matter of fact, the entire project moves with lived-in juxtaposition. Just when it feels like things could be getting a bit too heavy, Douglass and Younger have some funny interaction, snapping us all back to the funky cafe, with the bad art and weak-ass coffee, witnessing Black excellence. Douglass giving the vocal benediction, the food-for-thought; "Black music cannot be recreated, it can only be expressed." It's a sentiment made twice on Force Majeure, for a reason.