Mayor London Breed has made it clear that she is going to make her law-enforcement agenda, which includes more cops, a centerpiece of local politics this year. She appointed a police public-relations spokesperson, who played a role in creating the publicly funded copaganda campaign that among other things sought to discredit DA Chesa Boudin, as District 6 supervisor. He has promised to focus on drug dealing and crime.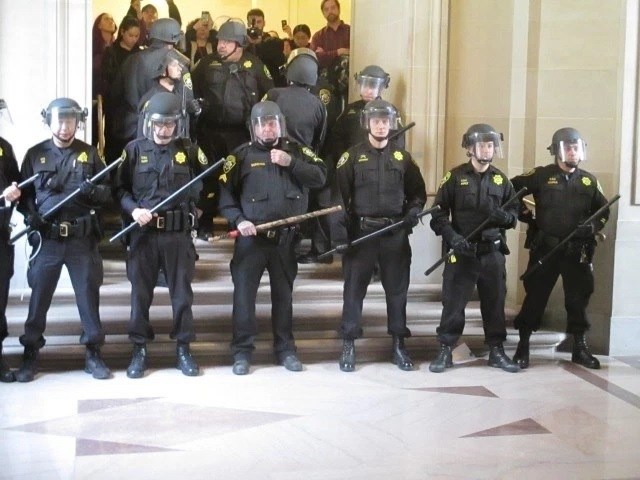 All of this is happening as the local news media continues to whip up a false narrative of out-of-control crime, aimed largely at attacking Boudin (and helping the effort to recall him, which would allow Breed to appoint her own DA).
There was a time, and it wasn't that long ago, that Breed said she supported the move to (partially) defund police and move money into programs that would support marginalized communities and prevent violence. That promise evaporated pretty quickly.
Now the Mayor's Office is all about more Police Academy classes, more arrests, more prosecutions for "drug dealing" (which has never worked) and more hype about cracking down on "crime."
In the meantime, the SFPD is still failing to complete the far-reaching reforms that the department agreed to address back in 2016.
The Board of Supes will hold yet another hearing on the implementation of these reforms Tuesday/24, and Chief Bill Scott will talk about how wonderful things are an how far he has come with changing the toxic culture of the department.
But as the mayor asks the supes to pour a lot more money into an already well-funded operation, some of the board members may ask why the reforms are still lagging. And since it's a Committee of the Whole hearing, the public can also weigh in.
That hearing will start around 3pm.
Two days later, the Public Safety and Neighborhood Services Committee will consider legislation by Sups. Gordon Mar and Shamann Walton that would require every police precinct to create a Community Policing Plan including foot and bicycle patrols, and include a community process for setting the priorities.
There's a long history here: For decades, reform advocates have pushed to get cops out of their cars and onto the streets, and have promoted a model of policing that encourages officers to get to know, and become involved in, the neighborhoods they are supposed to serve.
And for decades, police unions and in many cases police management have fought the concept, in part because the cops like their cars and their role as a paramilitary force, and in part because it's difficult and requires a new attitude to become community-oriented cops.
So: for decades, lots of talk and no action.
The Mar-Walton legislation was amended May 12 to recognize that the programs have to be subject to fiscal realities—it's more expensive, some say, to have cops walking a beat than driving around in cars, although considering the downsides of the current system, I could argue that.
But it's part of the reforms that the city has been slow to implement. We shall see if the mayor will go along.