In a dramatic appearance at a crowded rally in the Castro, longtime queer activist and leader Cleve Jones announced Sunday that he plans to fight the eviction from his 18th Street duplex.
Jones, who is is 67, HIV-positive, and has COPD, had previously said that he had planned to voluntarily end his 12-year tenancy after the building's new owner, Lily Pao Kue, a 30 year-old self-described stock trader who purchased the building for $1,585,000, said she would raise Jones' rent from from $2,393 to $5,200, as reported by the San Francisco Chronicle and the Bay Area Reporter.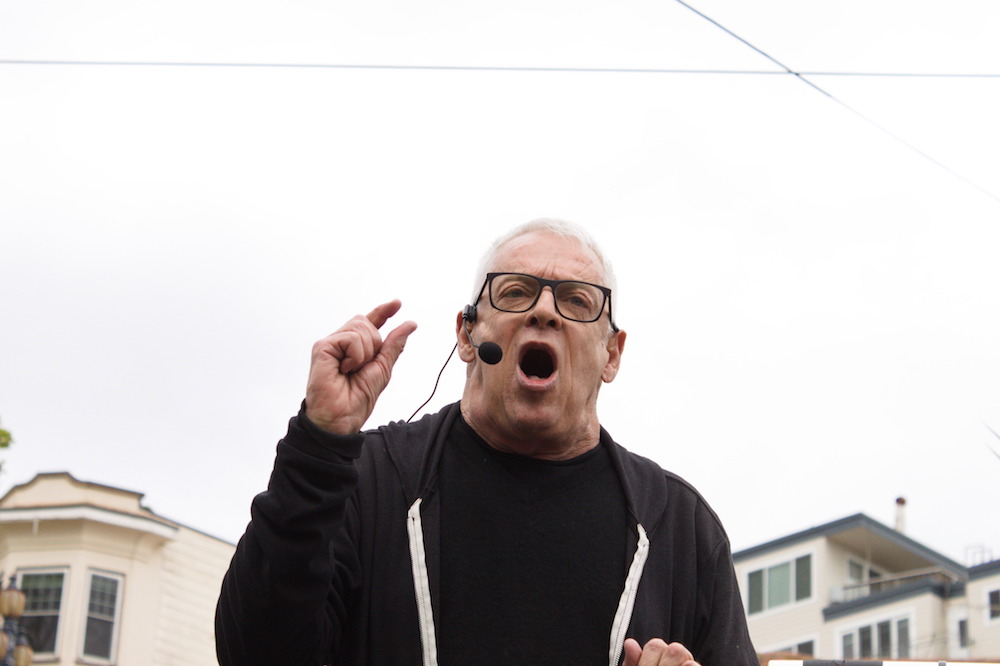 "This was not a fight we sought, this was not a fight we want, this was not a fight for which we are prepared, but I have come to the conclusion that it is not a fight from which we can walk away. I'm not leaving," said Jones, addressing the rally.
Jones made it clear that this is not about him. "I will be fine," he said, noting that he has a good job, legal resources, and political connections; he's not going to wind up on the streets.
That, he pointed, is not the case for many others who face housing insecurity. So fighting the eviction, he said, is about standing up for the rights of all tenants.
His decision sets up a political and legal battle that could set a precedent for how landlords can interpret state law to evict tenants—and whether the city will allow it to happen.
Pao Kue's case to raise the rent and evict Jones relies on an interpretation of the Costa-Hawkins Act that is, at the very best, a stretch.
Pao Kue has claimed that Jones had vacated the apartment after purchasing a cottage in Guerneville, and that his roommate and partner, Brenden Chadwick, is an illegal subtenant, in justifying Jones' eviction from the apartment.
Jones disputed those claims during the rally Sunday, saying that he was unable to occupy the Guerneville cottage during the first year of ownership due to flooding and wildfires in the area and since then only occupied the Guerneville cottage sporadically, namely when he had to quarantine away from his partner due to potential Covid exposure.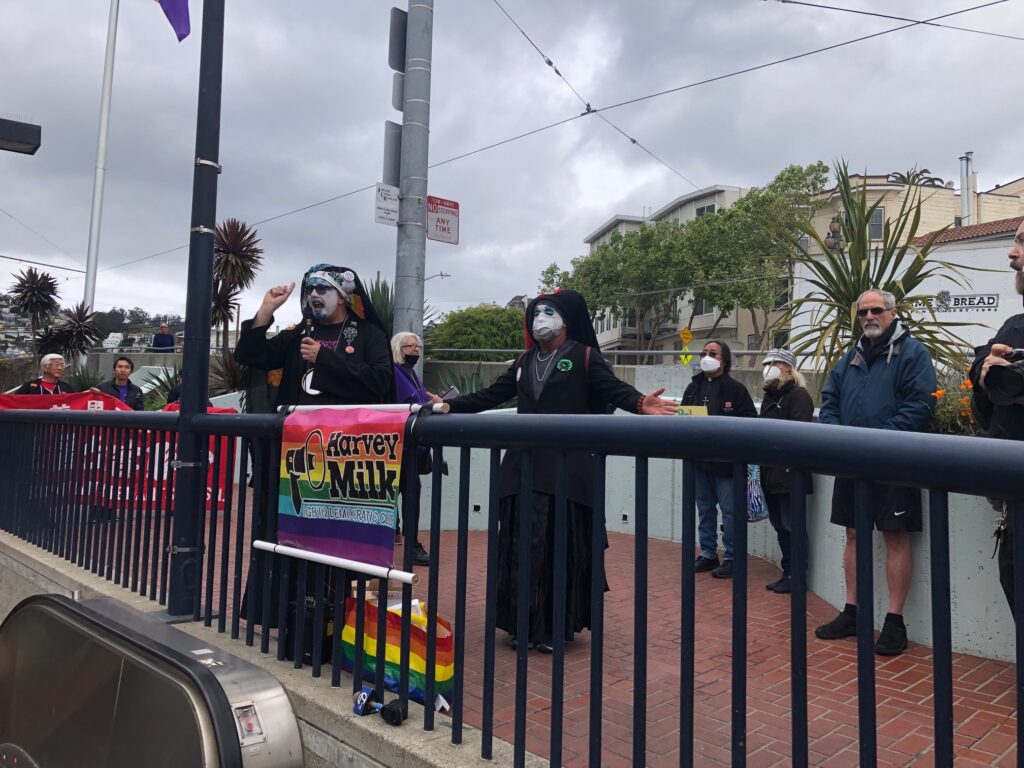 And under city law (a hard-won tenant victory sponsored by then-Sup. Jane Kim) it's legal to bring in a partner or roommate to a one-bedroom apartment as long as the zoning allows it. The building management company that Jones used to pay his rent to was aware of the situation and approved it, Jones said.
Jones' neighbors corroborated Jones' claim that he rarely spent time in his Guerneville cottage, saying they regularly saw him at his apartment.
"I saw him coming and going all the time. There was social distancing, but he was always home," Mike Pierce, who regularly socialized with Jones, said in an interview.
Jones said that artifacts and historical documents related to Harvey Milk's activism, the founding of the San Francisco AIDS Foundation, and the creation of the AIDS Memorial Quilt have been moved out of the apartment as a precaution.
"I moved that stuff out. It's safe. Harvey's bullhorn is safe, all the records are safe," Jones said.
During an interview after the rally Jones said that reflecting on his years of activism and history in the Castro ultimately persuaded him to hunker down and fight the eviction.
"I was overwhelmed with guilt…I'm getting all these messages on social media saying 'we understand your decision, but we wish you could fight'…how am I supposed to tell people to fight back, which is what I've done for decades in this community…if I'm not willing to stand up and fight back?" Jones said in an interview.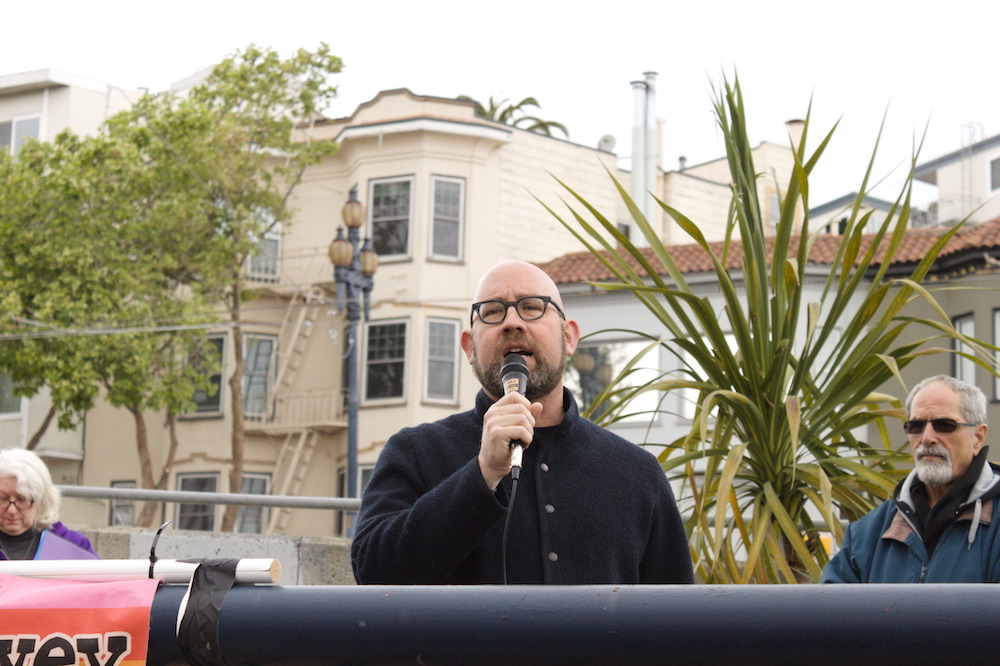 Jones and others underscored that Jones' eviction case is just a symptom of a problem of pervasive evictions in the Castro, which are often used by real estate speculators to purchase and clear out rent-controlled units in order to flip them to market-rate high end housing, and that those less politically connected than Jones face tougher circumstances fighting those evictions.
"If somebody with his stature in San Francisco who is so beloved and so much a part of the community and with all the connections he has—if this can happen to him, we know it's happening across the city to people with far fewer resources," said Race Bannon, who been Jones' neighbor since 2010.
Jones underscored the importance of queer neighborhoods as a nexus of political power and activism for queer communities, which has been a key part in electing queer lawmakers and crafting legislation beneficial to queer people all across California.
"Sometimes this gets reduced to a silly conversation about gay bars closing but it goes far deeper. The gayborhoods are crucial," Jones said. "When we lose that geographic concentration of actual queer and trans people sharing space, we lose political power…if we're not in large numbers in certain precincts, we can't elect our own and defeat our enemies."
Jones added that the ability for LGBTQ people to gather and live in the same neighborhood is also a crucial element in making the Castro a hub of art and creativity.
"It's not an accident that this neighborhood created the rainbow flag and the AIDS Memorial Quilt and the first gay synagogue and the Gay Men's Chorus and the LGBTQ Film Festival and so many other things," Jones said. "It came out of that creative cauldron when we inhabit the same space."
District Eight Supervisor Rafael Mandelman, whose district includes the Castro, said that the city has done a lot to preserve the Castro's history as a queer neighborhood, but that evictions in his district present a threat to that legacy. Mandelman's district has faced similar numbers of no-fault evictions since 2009, including Ellis Act evictions, as District Nine, which includes the Mission, according to reporting by the San Francisco Chronicle.
"We do a lot to preserve the queer legacy of the neighborhoods, but you can't have a queer neighborhood, if the queer people can't afford to live here and the people who made it a queer neighborhood have all been displaced and evicted," Mandelman said in an interview.
Mandelman said that Jones and people in his situation shouldn't have to fight these battles alone. He said would speak to City Attorney David Chiu to weigh the city's options.
Mandelman added that while he believes that while the city can do more to protect tenants from no-fault evictions by speculators, there needs to be a prioritization at the state level to strengthen tenant protections, including repeal or reform of the Ellis Act. Specifically, Mandelman said he supported amending the Ellis Act to curtail its use by speculators to flip rent-controlled housing units by making new property buyers remain landlords for the first five years after purchase before being eligible to evict tenants under the act.
"I think the city does what we can, but there's more to be done, right? We have right to counsel, but we can strengthen that, we have a small sites program that needs to be strengthened, but really we need changes in state law…we need the legislature, and the governor really, to care about tenants in California."
Sup. David Campos, who is running for state Assembly, said that he wants to be sure that the interests of tenants are represented in a Legislature that is dominated by real-estate interests.
Jones said that he is uncertain if he will be successful in maintaining his tenancy, and acknowledged he will need support in what is likely to be a protracted legal battle.
"I will need a lot of help and support. If nothing else, maybe we can slow down this swarm of locusts that has descended upon this city," Jones said.
Tim Redmond contributed reporting to this story.