Oaklash is another great reminder that queer performance does exist outside of San Francisco.
Organized by Beatrix LaHaine and Mama Celeste, the annual Oakland-based performance spectacular returns for its fifth year with a full week of live shows, in-person and virtual panel discussions and workshops, and more—Mon/23-Sun/29.
For the first time ever, the extravaganza will also include a queer film festival at the New Parkway and a block party on 9th and Broadway in historic Old Oakland.
I spoke to LaHaine and Celeste about Oaklash's must-attend events, the challenges of growing the festival year after year, and the importance of supporting queer artists across the Bay.
48 HILLS What inspired you to found Oaklash? And why is it important to center the event in Oakland as opposed to SF?
BEATRIX LAHAINE We initially saw Oaklash as an opportunity to highlight the East Bay as a drag hotspot and hub and inspiration to drag all over the country and around the world. It all started here, you know? Like our Friday night kick-off party this year is happening at the White Horse, which I'm pretty sure was the [oldest, continuously operating gay bar] in the entire country. They're celebrating their 90th year in Oakland this year. There's such a rich history of drag and queerness in the Bay Area that we just want to show the world.
Oakland is my hometown. I was born and raised here and honestly, I started getting sick of having to go to SF all the time to do drag. For a while, even though so many of us live in the East Bay, San Francisco was where all the opportunity to perform was. That's why I wanted to do something in my hometown—to bring people to us for a change and to have people experience how amazing it is here.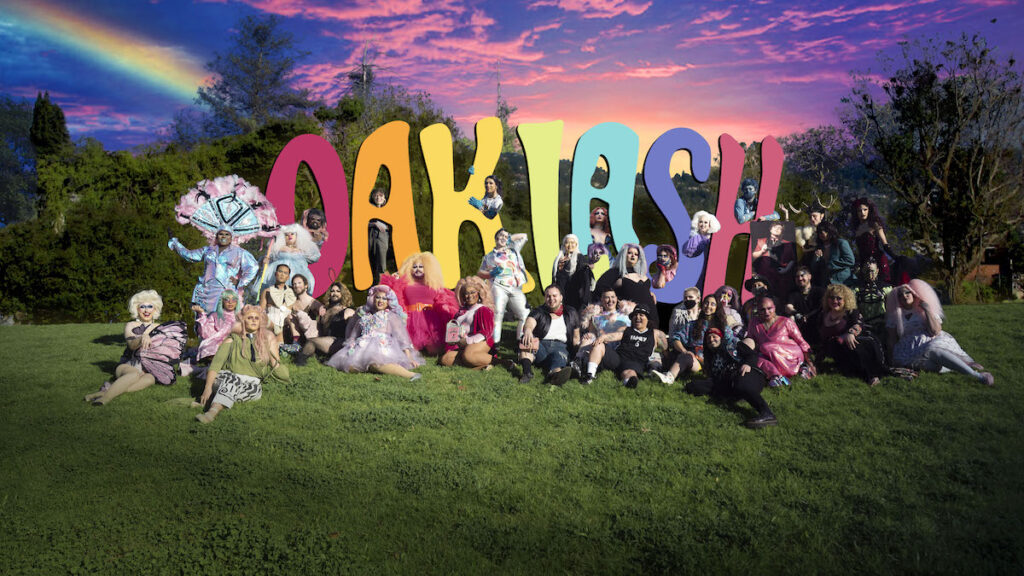 48 HILLS What would you say are the must-attend events at this year's Oaklash?
BEATRIX LAHAINE You definitely don't wanna miss Saturday's Block Party on the 28th! It's our big comeback to in-person events and a big welcome home for the drag community in Oakland. There will be two stages, one for all ages and one for folx 21+, and over 60 back-to-back nonstop drag and queer performers. It's the biggest thing we've ever done in the history of Oaklash—and it's everything Oaklash is going to be from here on out!
48 HILLS When you were considering performers and hosts from among the 200+ applicants, what made the chosen ones stand out? Who, in particular, would you like to highlight?
MAMA CELESTE One of the best decisions we ever made with Oaklash was that Beatrix and I are not the only people who select the lineup. Each year we put together a group of local drag producers to curate the festival—people from all scenes: queens from the Castro (Adriana Roy), weirdos from SOMA (Nicki Jizz), reigning drag kings (Meatflap), legends of the East Bay (Kaikai B Michaels)—and their job is to help pick as diverse an array of artists and performers as possible.
We want everybody to have a chance to perform at Oaklash one day, and that means inviting as many newcomers to the scene (Bonita Rose, Melanie Sparks, Translucent) as veritable staples of the Bay Area drag scene (Glamamore, Carla Gay, Rahni Nothingmore) and as many out-of-towners (Gothess Jasmine, Mojo Carter, King Perka Sexx) as local musicians (Vibemusik, Dollii, AroMa), etc., etc. It's all about creating a show where you get a little bit of everything and a taste of what you might find any given night at any venue in the Bay.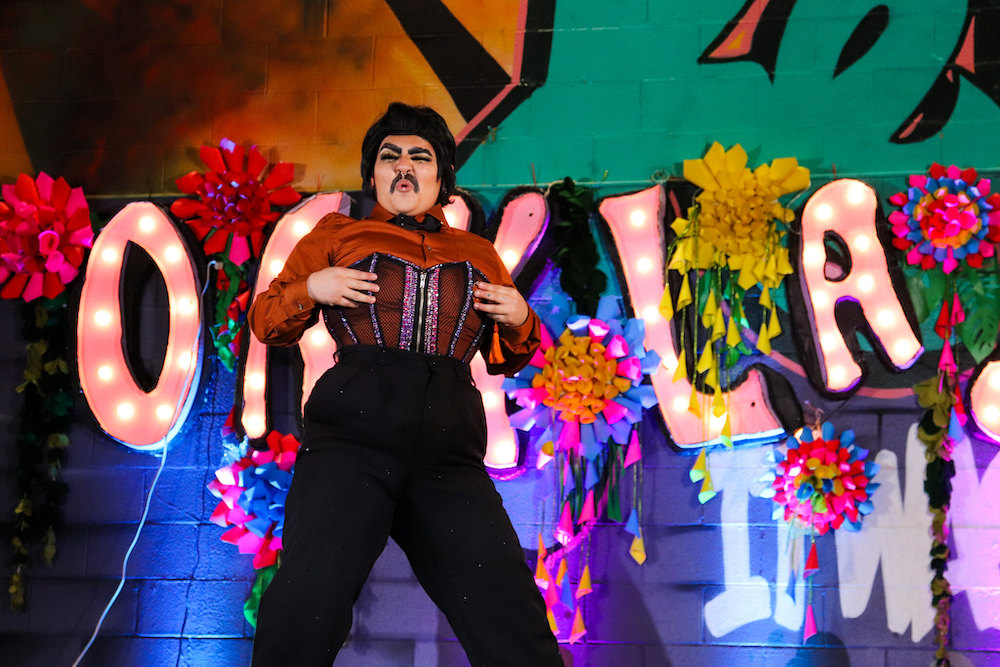 48 HILLS Talk to me about expanding the event to include a film festival and block party.
MAMA CELESTE It kind of just felt like time, you know? If we want to be a real festival, it was a logical next step to take Oaklash to the streets. Stop hiding away in 21+ bars and underground venues and show off all the amazing drag here in the Bay to the public. It's been a huge learning curve and a lot of red tape to get through but we're doing it!
The film festival is a love letter to the last few years of digital drag and how much amazing art and innovation happened at that time. We wanted to put all of that creativity onto the big screen and we're excited to contextualize this new medium for drag performers, musicians, and queer creators as a serious art form.
48 HILLS How has Oaklash evolved and grown overall since its inception in 2018? What are the challenges of keeping it going and growing?
MAMA CELESTE When we started Oaklash, we were faking it till we made it. And at this point, I think we might have made it. We've always been driven by the love and support of our community who come together each year to bring this thing to life, but getting funding was hard at first. Now we have grants from the California Arts Council and the City of Oakland as well as a list of amazing sponsors who have joined in on the fun and have allowed us to make the majority of this year's events free and accessible to anybody who wants to attend.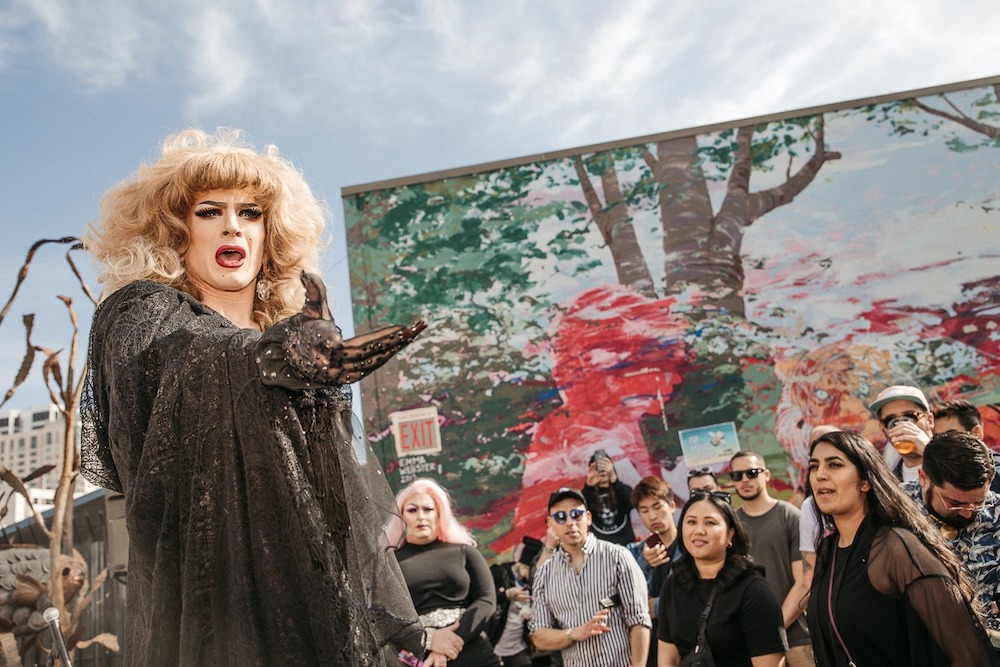 48 HILLS Could you see adding year-round events?
MAMA CELESTE Now that the festival is entirely self-funded, we're going to be raising money at our events so that Oaklash can create programming and resources for the queer community in the Bay Area all year round. We have a lot of visions for what this could look like—more parties, gatherings, and celebrations, of course! But also scholarship programs, mutual aid funds, skill-sharing opportunities, and professional development resources for artists that are severely lacking right now.
So many queer artists are being priced out of the Bay Area and our mission is to create an environment where drag and queer performers can thrive here in San Francisco, Oakland, and beyond!
48 HILLS Where do you hope to take Oaklash in the coming years?
BEATRIX LAHAINE We need to create more space for queer art and celebration in Oakland. I could imagine us one day creating a drag-owned space like Oasis but in the East Bay.
But right now, we're dreaming of how to make the festival bigger and better each year. I mean, what's bigger than a block party? Coachella? I want Oaklash to be the next Treasure Island Music Festival, the next Treasure Island Media. I want drag to have stages as big as music festivals do. And I want more than just drag. I want more queer performances, more music, and bigger venues. 
Oaklash Drag & Queer Performance Festival, Mon/23-Sun/29, Free-$15. Tickets and more info here.