Blooms are blooming, and we are feeling summer approaching. Here in San Francisco we are getting beautiful, sunny (tho breezy) weather. It is nice getting out after being stuck inside because of COVID and the winter. Let's enjoy it while we have it.
I started out the spring with the 2nd Annual High San Francisco Cannabis Scavenger Hunt hosted by Collective High on April 16. The starting point was Moe Greens, a fantastic dispensary just off the Civic Center area on Market near the Bill Graham Civic Auditorium.
Teams met, checked in and received nine clues to different places that have a cannabis history in the city. Our job was to solve those clues, make our way there, snap a picture of the representative on the site from a sponsoring brand and then post it to Instagram with the appropriate tags and hashtags.
Last year, Team Puff (me and my buddy Veronica Guevara) came in last, but we had a fantastic time because it was our first time out of the house for an extended amount of time after isolation. What we did not have on our side was the speed of a car.
Well, we were prepared this time! I borrowed a car and was ready to rush Team Puff wherever we needed to be. We solved those clues and headed out to Vapor Room nearby and then over to Westfield Mall to Joy Reserve, then out to Excelsior to Urbana, across town over to Apothecarium on Market and over to the other Urbana location on Geary.
We then headed up to the Marina and then the madness of Fillmore on a Saturday afternoon. Finally, we hit the Fig and Thistle Apothecary in Hayes Valley and zoomed our way back to Moe Greens, the finish line.
I am happy to report Team Puff came in 8th and 9th. Afterwards, we sat back in a comfy booth in the smoking lounge of Moe Greens, enjoyed victory pizza and went through our gift bags as we got nice and high! What a fun time.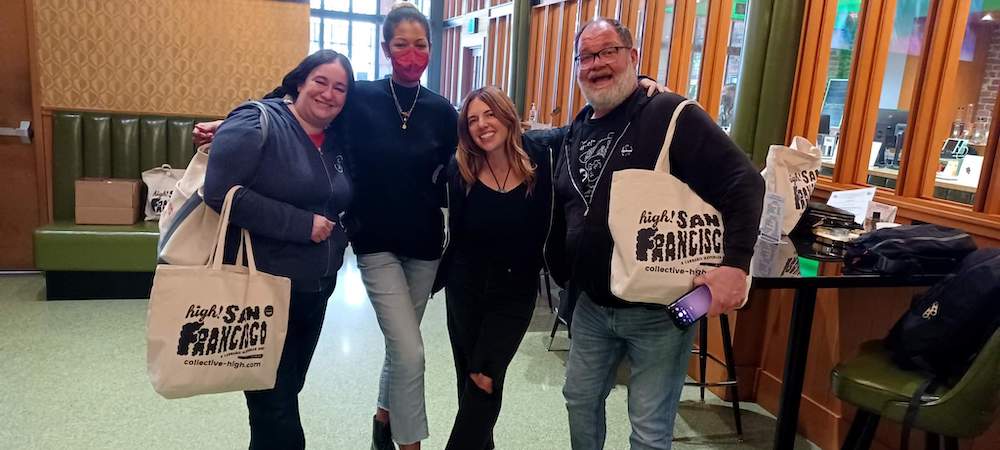 Collective High has hosted several fun cannabis parties around San Francisco in the last two years, many of them at The Academy on Market in the Castro. If you are interested in what they are doing or want to scavenger hunt next year, contact them through their website or on Instagram @collectivehigh.
After the excitement of the scavenger hunt, I jetted across the country to New York City to produce my first show there for rock goddess Maria Konner at Pangea and found myself there for 420. We stopped by Club Cumming in the East Village and ran into a 420 party hosted by HoneySuckle, a new cannabis lifestyle magazine. Everyone was drinking and chatting, but there was one thing missing, the smell of weed! I was told, "Oh, that comes later," but I'm thinking, "This is 420 folks. Light up!"
We just don't know how good we have it here in the Bay Area. Sure, we have to deal with taxes and crazy licensing fees to sell, but we got the goods when it comes to anything weed.
According to the New York Office of Cannabis Management, "Cannabis is legal in New York for adults 21 and older, but that doesn't mean you can use it anywhere you want. Cannabis can be consumed in a private home or at a state-licensed on-site consumption site (coming soon). The smoking of cannabis is prohibited anywhere smoking tobacco is prohibited."
Not counting that 420 party, I actually did smell cannabis smoke everywhere I went. It reminded me of San Francisco pre-legalization, cannabis can only be found to buy in certain areas, but you smell it everywhere.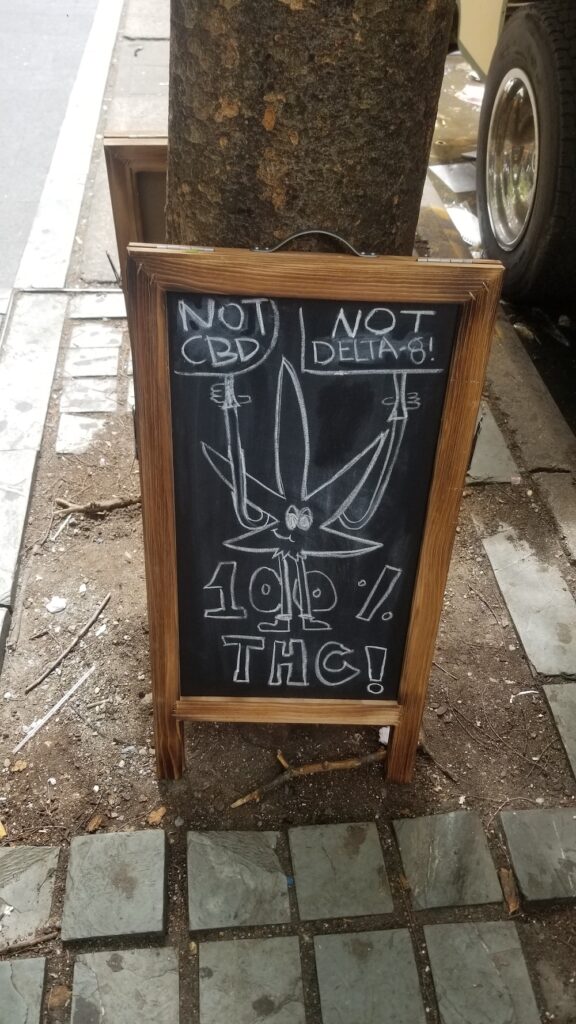 In order to purchase it, you have to find these mobile trucks. You also have to be careful because there are many nice storefronts selling CBD and Delta-8 derived from hemp than actual cannabis full of THC. They also give the hemp products names of popular weed strains to make you think you are getting the real deal.
I did find a truck called Feel Good parked in Brooklyn. The guys running it were super nice, but their menu was very small compared to what I am used to seeing at Bay Area dispensaries. There were six kinds of flower, three edibles, and four joints to choose from. They joked that all their weed was from Mendicino, and my responding thought was, "Yeah, but from what year!?"
The cannabis I did try was decent. It got me high but was dry and crumbly once you cracked open a bud.
In time, I think New York City needs a big Puff queer cannabis drag party from San Francisco to show them how it is done.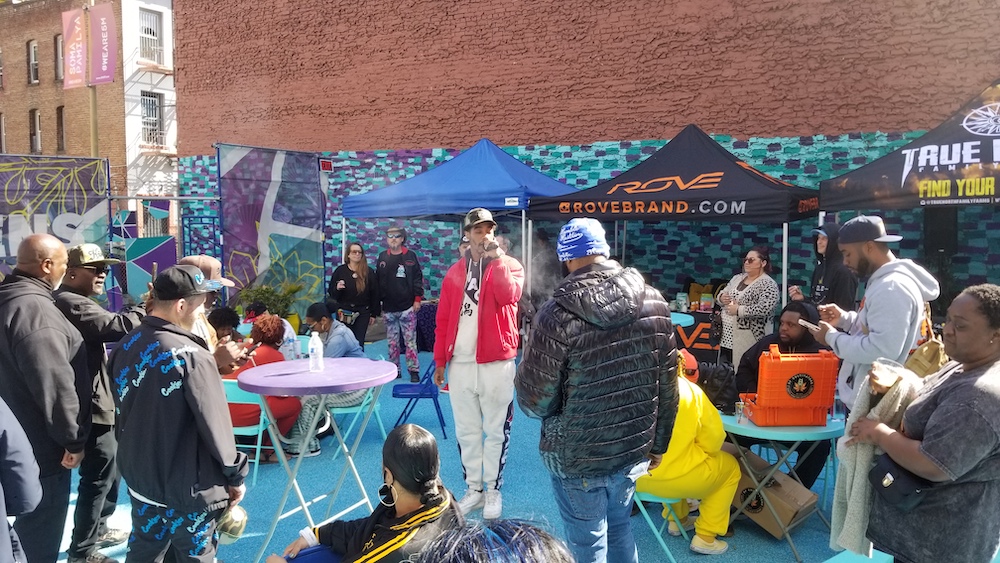 After Maria's very successful show and lots of eating and sightseeing, I flew back to San Francisco in time to catch the High Purpose San Francisco R&R Party at Kapwa Gardens on Mission Street near 5th Street and the Barbary Coast dispensary on April 30. It was a chill party, a post-420 celebration hosted by Emerald Farm Tours.
It was a beautiful San Francisco day and there were around eight booths from different cannabis companies giving out samples. I got a few joints and a cannabis infused beverage and sat down with friends who were there. We smoked out, chatted and caught up.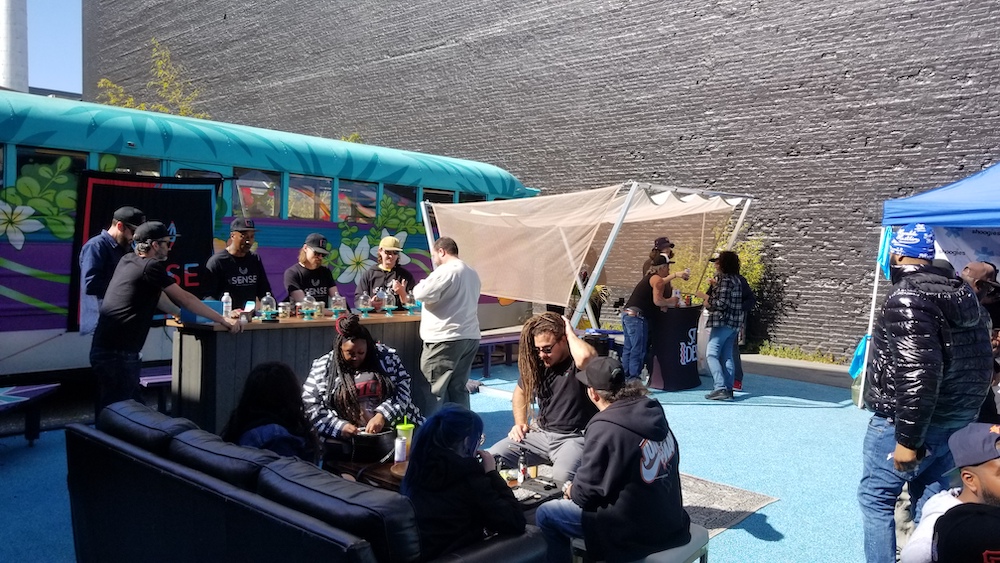 There was a mix of the old and young with a DJ playing some nice grooves. Victor Pinho, the owner of Emerald Farm Tours, was going around and dabbing people out with his portable Puffco Peak and making people feel welcome. There was musical entertainment and a raffle. It was a super fun smoke sesh, and a great way to get back to the Bay Area cannabis community after being in NYC.
Cannabis culture is alive and blooming with the spring season all over the country. You just need to get out there to enjoy it! Please be careful and mask up when in a large group. New strains are popping up, so stay vaxxed, masked and mindful of where you are going. Just don't let it keep you inside and away from the fun.
Now it's time to light up!