How much can art heal? How do we grieve through art? How should we remember? Big questions that will be confronted, I'm sure, when a huge section of the NAMES Project AIDS Memorial Quilt—3000 panels, the most ever shown together—blankets Golden Gate Park's Robin Williams Meadow, Sat/11 and Sun/12, to commemorate its 35th anniversary.
One of the greatest collaborative art projects of all time, the quilt is also a grand poetic epic: Each panel measures 3 foot by 6 foot, the size of an average grave (and grave warmer, a soft and thoughtful blanket). But each leaps up from the ground with dazzling color and quirky personality and funky folk art and even music—saxophones, pianos, almost an entire chorus at one point—a blossoming doorway into short, vibrant lives. It's very hard to take in more than one at a time.
I come from an era when you sewed your own quilt panel in your head many nights. That hasn't quite passed, there will be an unveiling of new panels at the closing ceremony, but what a strange and undeserved privilege it is to grow old. In that sense the quilt is also a slap in the face: Do something! (A double-punch if you remember that we just lost millions to a disease, and no one has stepped up to remember those lost in such a permanent way. Can you imagine the outrage?)
Yes, yes, I'm tired of old gays talking about that time, too. Sometimes it seems that for some of us it's all we have, that trauma. So this is your one chance to survey the emotional enormity of the epidemic while we're too choked up for once to jibber-jabber on and on about it. Just buy us a drink later, and thank the goddess for this Quilt. Don't forget your hanky.
MORE EVENTS OF NOTE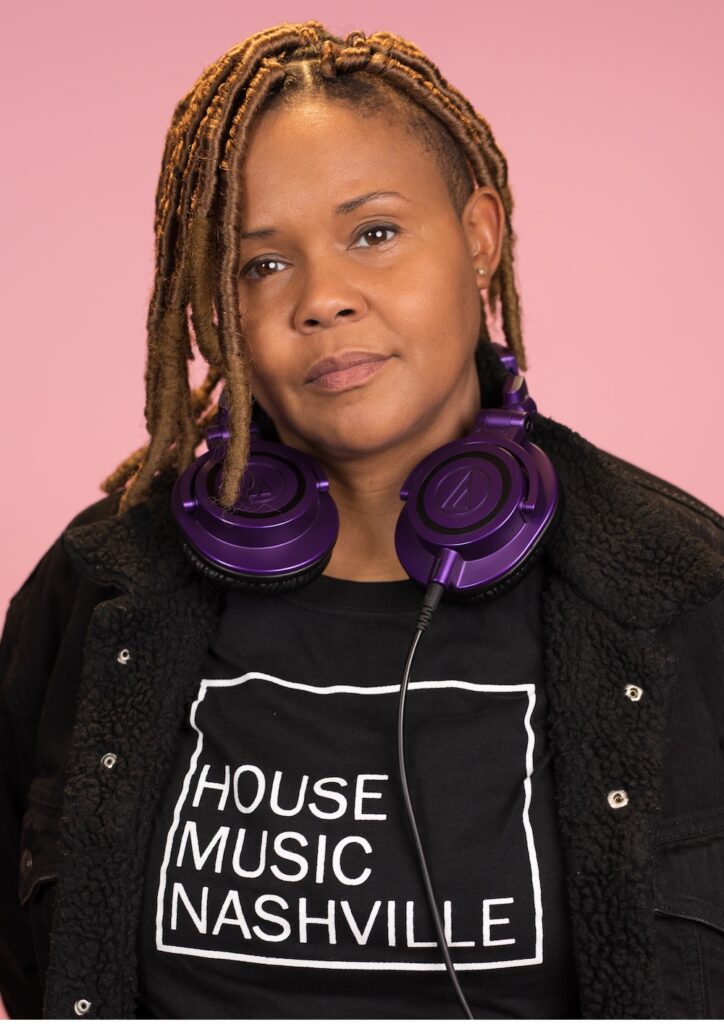 THU/9: QUEER FROM HERE Photographer Lauren Tabak has been documenting the queer community for years, most recently with her Queer From Here project, in which she travels the country recording queer peoples's in-depth statements about who they are and snapping their lovely gayfaces (see the powerful statement by DJ Jane Dupree, pictured, here). She'll be showing the series as part of the Exploratorium's After Dark: Pride—Untold Stories night. 6pm-10pm, Exploratorium, SF. More info here. Tabak is also showing a selection of Queer from Here images through June 30 at Oakland's queer-women-owned Friends and Family bar, which is just a great to patronize all around!
THU/9: ESG PRESENTED BY HARD FRENCH AND PUBLIC WORKS Even if you know nothing about this legendary 1970s women-led funk outfit from New York, you've heard their music sampled thousands of times in hip-hop records, house tracks, and commercials. The last time i saw them they brought down the house, a true elder transmission of soul. That was at a Pride party by the delectable Hard French crew, and the same magic is sure to strike twice at a larger venue (more room for dancing!). 7pm, Public Works, SF. More info here.
THU/9: JUNGLE ROT Proud admission: Nothing sounds better to me right now than Death Metal (with immersive, pounding techno a close second—hey, I just got back from Detroit). Kenosha, Wisconsin's Jungle Rot are excellent grand-daddies of the form. They've been pummeling away since they formed 30 years ago and released their first demo Rip Off Your Face in 1994. Internal Bleeding opens up. Join me in the pit? 7:30pm, DNA Lounge, SF. More info here.
FRI/10: I KNOW WHAT'S BEST FOR YOU: BENEFIT READING FOR THE BRIGID ALLIANCE Our very own Caitlin Donohue reads with Anisse Gross, R.O. Kwon, Caille Millner, Alia Volz, and editor Shelly Oria from new anthology I Know What's Best for You: Stories on Reproductive Freedom—very timely!—to benefit advocacy org Bridge Alliance. 7pm, Green Apple Books, SF. More info here.
FRI/10: EIKO ISHIBASHI The Japanese multi-instrumentalist absolutely floored me with her full-length jazz suit tribute McCoy—the detective from "Law & Order." Her output ranges from indie-type albums to soundtracks for bigtime films like the Oscar-nominated Drive My Car from last year—always with scintillating intellect and a shimmering ambiance on display. Can't wait to see what she has in store live. 9pm, The Lab, SF. More info here.
FRI/10: AURAT Delicious lost-world gothy vibes from this LA outfit, led by Pakistani American Azeka, who embraces the Urdu language like a global underground Siouxsie, or a mountain-siren Lisa Gerard. They're opening up for LA's excellent Sacred Skin, who hit a sweet spot of indie-electronic retro bliss. 8:30pm, Rickshaw Stop, SF. More info here.
SAT/11: JUNETEENTH ON THE WATERFRONT Join MegaBlack SF, Foodwise, and the Port of San Francisco for this lovely looking, early celebration of Black freedom and community power (Juneteenth is officially Sun/19). Music by DJ Lonnie of BFF.FM and tons of vendors and fun, family-friendly activities…. plus of course food! Peaches Patties, SF Black Wallstreet SF, Gumbo Social, A Girl Named Pinky, The Mf'n Vegan, so many more my mouth is watering already. It's free! 9am-2pm, Ferry Plaza, SF. More info here.
SAT/11: BREAKING DOWN WALLS This benefit for Ukraine humanitarian aid features a cavalcade of terrific performers, not least is my hilarious friend Dhaya Laskhminarayanan as emcee. You'll get music, dance, comedy, theatre, poetry, and animation, all in the effort to underline our shared humanity. As mastermind organizer Ron Mark of Metro Film and Arts says, "We want peace and hope, and I created Breaking Down Walls to give the world a brief window to look into and see what we can do to better understand each other." 7pm-8:30pm, Cowell Theater, Fort Mason, SF. More info here.
SAT/11: FLEETMAC WOOD 10TH ANNIVERSARY TOUR It's been "a Decade of Dreams, Decadence, & Disco" for this beloved party, bringing healing musical bewitchery and plenty of flowing shawls to the dance floor with classics and remixes from the ultimate '70s band, plus adjacent tunes and perfect grooves. Cock your top hat and pull up your platform boots for this one. 10pm, Midway, SF. More info here.
SAT/11: ALL ABOUT EVIL: THE SPECIAL EDITION SCREENING WITH HOSTESS PEACHES CHRIST This COVID-delayed 10th anniversary screening of Peaches Christ's horrifically hysterical All About Evil, starring Natasha Lyonne and a cast of fabuloids, is finally happening, with an extravaganza of drag performances, quiets appearances, and Peaches' usual pandemonium of fun. 7pm, Victoria Theatre, SF. More info here.
SUN/12: SYMPHONIC III: REJOICE This sounds terrific: On the occasion of the Berkeley Symphony's 50th anniversary (and Beethoven's recent 250th), we'll be treated to Beethoven's Ninth Symphony—that's the one with the "Ode to Joy" in it—with a new libretto composed by former US Poet Laureate Tracy K. Smith. "Smith's text presents a radical call for equality and freedom. A favorite for many, Beethoven's Ninth Symphony reflects Berkeley Symphony's vision to resonate with the cultural demand of current times and place, and create a greater sense of belonging for all," says the Symphony. Also featured: the world premiere of "Rise" by Berkeley composer (and passionate gym bunny!) Jimmy Lopéz Bellido. 4pm, Zellerbach Hall, Berkeley. More info here.
SUN/12: PHILIPPINES INDEPENDENCE DAY FESTIVAL One of my favorite nightlife people, Fran Boogie, is co-hosting this Filipino extravaganza with 20 Filipino owned small businesses and food vendors, plus music and entertainment. You can find me stuffing my face with lumpia. Noon-5pm, District Six park, SF. More info here.
SUN/12: HOLY FUCK "Canadian electro-rock outfit Holy Fuck play dance music without modern electronic equipment, instead preferring to use standard rock instrumentation as well as unconventional devices and machines"—and I can attest that it really does work, and is wiggy as hell. 8pm, Starline Social Club, SF. More info here.
SUN/12: PULSE MEMORIAL A memorial of a different kind, and shockingly relevant in the face of the latest explosion of mass shootings. The Castro LGBTQ Cultural District is hosting this Latinx-led commemoration of that terrible 2016 tragedy in Florida, which darkly heralded a whole series of LGBTQ catastrophes from Trump's election to Ghost Ship, from which many of us are still tying to heal. Let's come together to remember the victims and show our resilience. 1pm-3pm, Castro and 18th Street, SF. More info here.