Under the Stars is a quasi-weekly column that presents new music releases, upcoming shows, opinions, and a number of other adjacent items. We keep moving with the changes and thinking outside the margins, nudging our memory that
San Francisco is a walking city by nature. Travel a few blocks, you'll hit a new weather pattern, a trending food topic, and hopefully Muni running on time.
But as we push through summer, an SF cloudy, windy one (I almost lost my hat last week, twice in one day, dammit Karl The Fog) you can still find music, unplanned.
In a park, an alleyway, or side street rehearsal from Extra Action Marching Band running through a set.
It's the ability to hear it.. that lets us know we are alive and still hustling to the beat.
Let's get it!
ELBOW GREASE "SPACIO TEMPO" RECORD RELEASE PARTY WITH DAVE AJU, SWEATERFUNK AT MONARCH, SAT/16
A large group of us, including Bay Area native Dave Aju and current Los Angeles resident Marc Barrite, went to the now-defunct Mighty (now The Great Northern) to see Theo Parrish DJ on an arbitrary night in the aughts. By chance, we encountered Theo Parrish outside as he observed patrons (mostly women) enter the space wearing sneakers. We had a 30-minute polite talk with the artist, who among other things said that paying attention to what the audience was wearing on their feet provided important information about how to build the DJ set. You should keep an eye on the women's footwear—an old Duke Ellington ploy. That will guide you in decphering if people came to dance.
Thus, the music is always the focus.
The duo are behind the label Elbow Grease—the name is an homage to Barrite's late father, a jazz musician. "Got something that needs to get done, big or small? Elbow grease" was the phrase Joe Barrite would recite like any father would.
As Aju informed us last year: "A driving principle of the label output always was to diminish the limelight on the maker and have it be more about the individual tracks or pieces of music themselves, free from human ego, which may sound odd in the dance music realm, especially today. But I've always been a fascinated and passionate lover of how some productions just hit you different, and all the other signifiers—genre, location, label, artist, etc., to start macro and work inward, were ultimately secondary."
Now, a year later, Aju has released the amazing single "Spacio Tempo" on the label and is celebrating the occasion at Monarch with Sweater Funk rocking the second floor. Idiom and Rodney will DJ alongside Barrite.
Dust off your sneakers. Get tickets here and purchase the single here.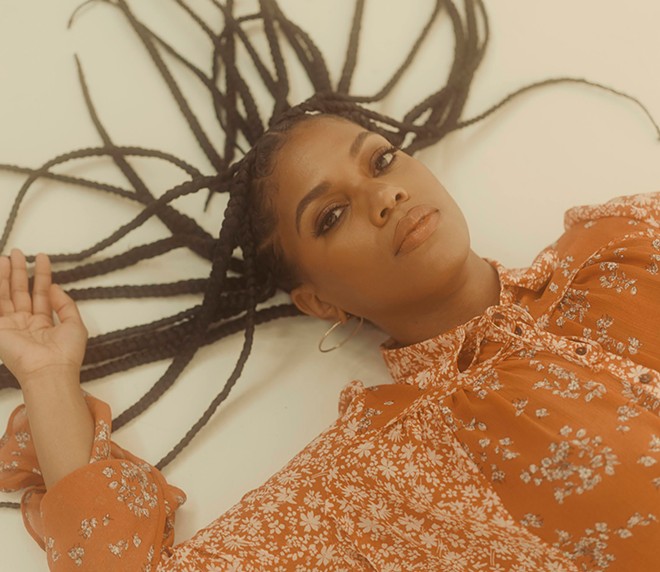 "TECHNO: A SOCIAL HISTORY" ON BBC RADIO 4, JULY 19
"Techno: A Social History," a new radio program that explores the history and influence of the genre, will debut on BBC Radio 4 in July. The three-part series traces the extreme migrations of the techno sound through time and location from its inception in Detroit in the 1980s.
As a caveat, "I did not write this documentary, but I am the narrator-presenter" tweeted DJ, writer, curator, and radio personality Ash Lauryn, who will shepherd listeners through the series, explaining, say, the importance of Kiev's club scene and how a Georgian club came to be the focal point for LGBT politics, among other topics.
At the Outside Lands festival in San Francisco last year, Lauryn, who fiercely supports Black dance music, "educated" the SoMa Tent to the point that revelers accented her set with sweaty cheers and chants numerous times.
The show will investigate the connection between techno and diverse subcultures and ponders why it serves as the soundtrack for so many distinct communities. Juan Atkins, Kevin Saunderson, Honey Dijon, Nastia, Richie Hawtin, and several others add their voices to the program as well.
Get updates here.
TOUCHING BASS PRESENTS SOON COME
One of London's most significant musical collectives is Touching Bass. The synergistic entity unites contemporary music producers from all around the world and encompasses more than simply a club night, concert series, NTS Radio staple, and label—it's a whole platform. This movement of sorts has evolved into a focal point where outsiders' voices can be heard through soul, dub, jazz, and other futuristic sounds. It is led by Errol and Alex Rita, two of the most renowned selectors London has to offer.
New 22-track compilation Soon Come, which is divided into "night" and "day" moods, has arrangements made for the living room, proper dancefloor, or any other location where curious listeners are open for what's next. The group Cowrie, which consists of spoken word artist Britta B and producer Pursuit Grooves, along with DJ Harrison of Stones Throw, Ego Ella May, and Clever Austin of Hiatus Kaiyote are just a few creators who contribute to the project.
Out now, you should purchase it here.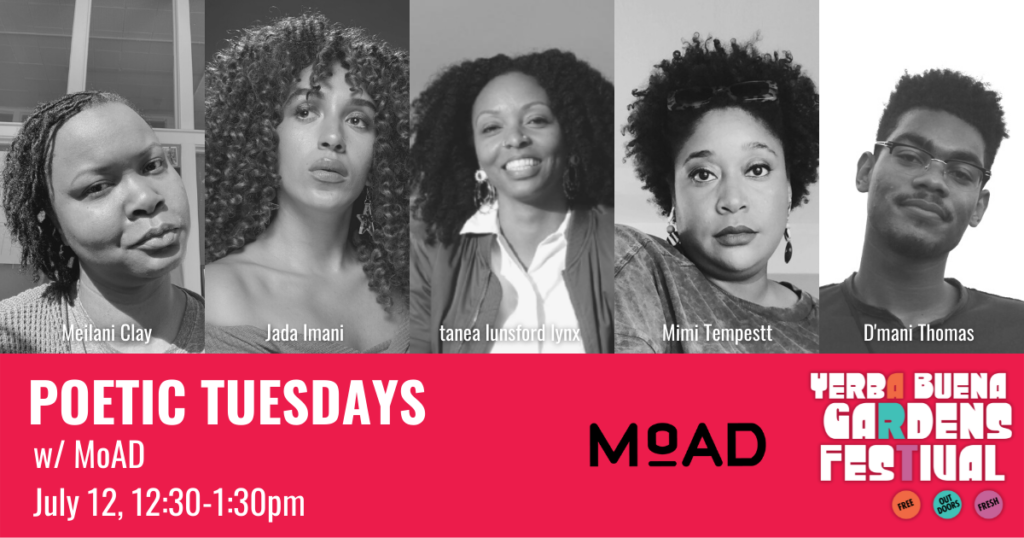 POETIC TUESDAYS WITH MOAD AT THE ESPLANADE AT YERBA BUENA GARDENS, TUE/12
Forget Wordle. You don't need a word game on the internet to engage yourself actively in life.
Have an hour to spare? Cool.
Nia McAllister's Poetic Tuesdays with MOAD is your weekly haven for engaging with works that enchant, inspire, and enliven the senses while getting you through that long lunch break (it takes place at 12:30pm)
At the Yeurba Buena Gardens Esplanade, Meilani Clay, Jada Imani, Tanea Lunsford Lynx, Mimi Tempestt, and D'mani Thomas provide evocative pieces of encouragement while you breathe in some clean air and feel the warm sunrays on your skin.
Go here for more info.
NOISE POP PRESENTS L'RAIN AT RICKSHAW STOP, AUGUST 7
Taja Cheek, alias L'Rain, a singer and artist from Brooklyn, had a quantum leap year in 2021 with her album Fatigue, an inward-looking, stylish communique that talks to the culture with personal allusion.
Not one to overexplain; you either understand it or you don't.
Its innovative approach, which blends R&B, gospel, and post-punk influences, earned it being mentioned on many Best Albums Of 2021 lists.
But her brilliant, and I do mean flawless work, on Helado Negro's live rendition of "Gemini and Leo" was the finishing touch that, at least for me, made the whole package clear.
That secure footing L'Rain offers on bass, with hints of James Jamerson's subtlety, may be credited for the smooth wave of rhythm that permeates throughout the entire arrangement.
You can see more of that expertise when Cheek performs at the Rickshaw stop in August.
Purchase tickets here.
DESTROY BOYS WITH JUICEBUMPS, GREAT AMERICAN MUSIC HALL, SUN/17
Alexia Roditis, Violet Mayugba, and Narsai Malik comprise the blunt-speak punk trio Destroy Boys. Originally from Sacramento but now residing in San Francisco, they write crushing radiant anthems that capture the everyday struggle of just being human. In one years time they've graduated to headlining a show at Great American Music Hall. Fame comes quick… but don't go by my word. Green Day's Billie Joe name-checked them in Rolling Stone. They've earned the opportunity.
Juicebumps, a local DIY supergroup that has been featured on 48hills multiple times, is a band that personifies the very essence of strange wave; its herky-jerky rhythms and otherworldly compositions constantly bring the house down during their live performances.
Think OSEES ferocity, built with unknown tape loops and audiovisual ephemra.
This is a bill not to miss. Get tickets here.
STONES THROW & FRIENDS: PEANUT BUTTER WOLF, J ROCC AUGUST HALL, AUGUST 12
Stones Throw Records, which was established in 1996 by "The Wolf"—Peanut Butter Wolf, a native of San Jose—releases music that he, the head of the label, likes. Not what he considers to be in style, trendy, or just safe. It's developed its own distinct culture.
Post-punk, disco, hip-hop, and electronic music all fall under this umbrella genre that was created on sound rather than on superficial trends. The Wolf, aka Chris Manak, makes each release decision based on instinct. With its audacity and boldness, the label consistently unearths fresh and established artists that many companies would never consider.
J Rocc is a producer, performer, and well-known DJ who sends a passionate message to his homeland of Los Angeles. The Vinyl Factory just listed his A Wonderful Letter as one of its favorite albums of 2022 thus far. Released on Stones Throw, it's a yesterday/tomorrow presentation of hip-hop. The way it bullet trains through eras and modes, it's one of that infrequent albums—not playlists—that is street and polished; J Rocc reaches everybody without compromising the message. The stuff of legends, y'all.
When both artists come to August Hall here in SF on August 12 and get behind the decks, get ready for a show that pops with that "hit you in your chest" correctness.
Purchase tickets here.
KABWASA, "THIS JOB"
Rapper and vocalist Kabwasa from Watsonville creates instantly catchy soul music.
In his on-the-spot earworm "This Job," which promotes the idea of enjoying life while working to raise mental health awareness, Kabwasa creates hooks that hint at his potential as a pop star.
Follow and support here.