The great thing about being asked "What's so great about SF theatre?" is that no matter how smug the inquirer, I have no shortage of answers to give. Case in point: Name another major city in the world where it's normal to see two notable companies open two trans-themed plays in the same week—one in the country's first Transgender District? I'll bet your list is a short one.
The first of the two was produced by a company that's had a rough go of it lately, even by Bay Area indie theater standards. It seems that every time I've written about Cutting Ball these past two-plus years, it's about the experimental company's Zoom plays (Utopia and the Mugwumpin collab Phantasmagoria) or how the still-ongoing pandemic upsets their plans. Sure, other companies have lost key staff, had COVID-related closures, and cancelled or delayed long-planned shows, but Cutting Ball seemed particularly prone to them. Hell, their last show "premiered" during an apparent perfect storm of all those events.
So, when their first live show in nearly three years (since Ways to Leave a Body in January 2020) was preceded by the house manager imploring the vax-required audience to keep their masks on—"Over your nose and under your chin," she said—for the safety of the cast, you knew from where she spoke. (CO² levels during the performance would top about 1816ppm, which is oddly unsurprising, given EXIT on Taylor's infamy with air circulation.)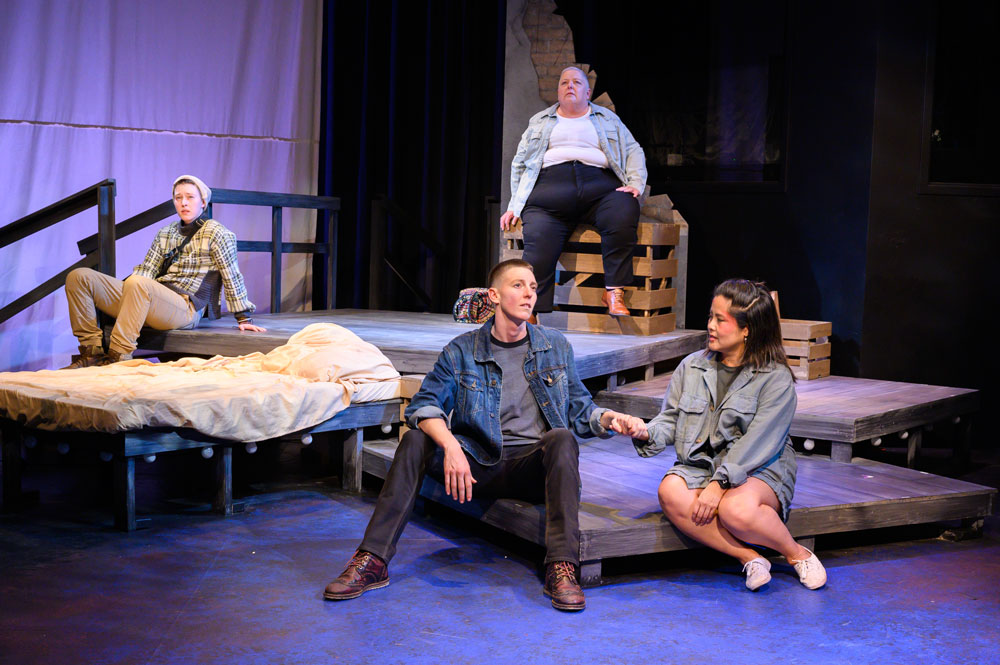 The play is Sylvan Oswald's Pony (US premiere through November 13), a surreal trans spin on the classic "ex-con walks into town" story. The eponymous lead (Fenner Frank Merlick) wanders into town looking for work, but instantly catches the eye of local girl Marie (Julie Kuwabara), despite Marie already having a boyfriend. Marie's apparent fetish for details about gory crime scenes doesn't make the situation any easier. What's more, Pony's arrival raises concern amongst their case worker, Cav (AJ Davenport) and outright resentment from Marie's friend Stell (Lauren Dunagan). As if that weren't enough, a young man named Heath (Kian Johnson) soon arrives, like ghost from Pony's past.
It's to Kieran Beccia's credit that their cast stays pretty anchored when the play seems unstable. Oswald's script starts off in Sunset Grill territory before tossing "murder-mystery" and "abandonment issues" into the stew. It doesn't all work and the ending is yet another where it seems the author gave up after writing themselves into a corner. But where the genre tropes clash, what does work is the human drama throughout.
Both Oswald's script and the cast here are strongest when their characters openly ponder the minutiae of identity and the power of choosing one's own name. Out lesbian Cav (played sympathetically by Davenport) has no shortage of answers for Pony when the latter starts to squander their post-prison life, but Cav is at a loss when Pony's transition makes Cav question whether she could do the same. Heath's dogged determination to find the person who changed his life makes sense when you realize that the missing person probably doesn't even know that had such an effect. It's these moments that keep us hooked throughout.
And again, a good cast doesn't hurt. Fenner Merlick has always been one of those flown-under-the-radar performers that Bay Area companies don't often remember, but is always able to give a reliable performance. For those us familiar with their work, it's tempting to say that the tortured Pony is the role they were born for, but that would be selling them short. I'm not familiar with the work of Julie Kuwabara, but she wisely brings a sadness to Marie when the character could easily fall into parody. Despite playing such a conniving character, one might want to root for Lauren Dunagan's Stell, if only because the alternative is absolute misery. Kian Johnson's turn as Heath has echoes of his performance in The Kind Ones with the Magic this year, but it's just as sympathetic.
As staged on Vincent Chau's set—which I wrote down as being "almost an MC Escher-style backwater porch"— Pony is a play about identity that never fully finds its own. It has interesting characters to follow, but it occasionally comes off as Oswald wanting to tell several stories and unable to decide which gets priority. It's an uneven play about unusual circumstances, but it was nice to sit for a (COVID-safe) Cutting Ball play again.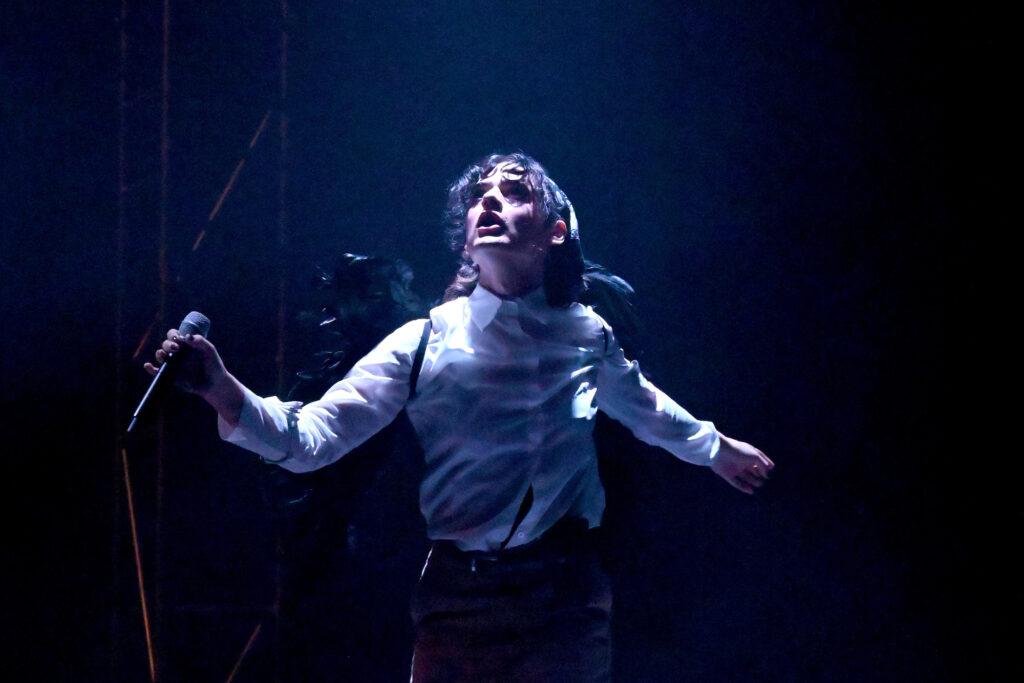 The second play was the another musical where I was disappointed to not have the option to buy the album—and the other play was also a world premiere. Writer/co-composer Adrienne Price and her collaborators have been working on The Red Shades: A Trans Superhero Rock Opera (world premiere through November 5 at Z Space, SF) since 2017, and it shows: There isn't a wasted note in a single tune. Plus, the Sarah Phykitt-designed set, a series of ascending platforms that form a horseshoe around the live band, is meant to resemble a specially-made concert stage. Even the curtain speech features a disclaimer that "This is not some hoity-toity theatre show. This is a fuckin' concert!" That simultaneously becomes the show's biggest strength and its biggest stumbling block.
It's San Francisco 1966, and being queer is still a crime. Having run away from her abusive family in Reno, trans girl Ida (Carmen Castillo) heads to the City by the Bay to reconnect with fellow "mental patient" Sherry (B. Noel Thomas). Sherry's something of an all-around mother figure in The City's underground queer scene, coaching Ida through the ins and outs of navigating the Tenderloin, and giving her a place to stay alongside transfemme Genevieve (Chris Steele) and dom Tommy (Ezra Reaves). As the new family frequents several clubs, bars, and the Compton Café, they're the targets of continual harassment by SFPD and the wicked Sheriff Lear (Adam KuveNiemann), so Sherry shows Ida how to turn her frustration into an actual super power. The fact that so much of this happens at the Compton Café is no coincidence either.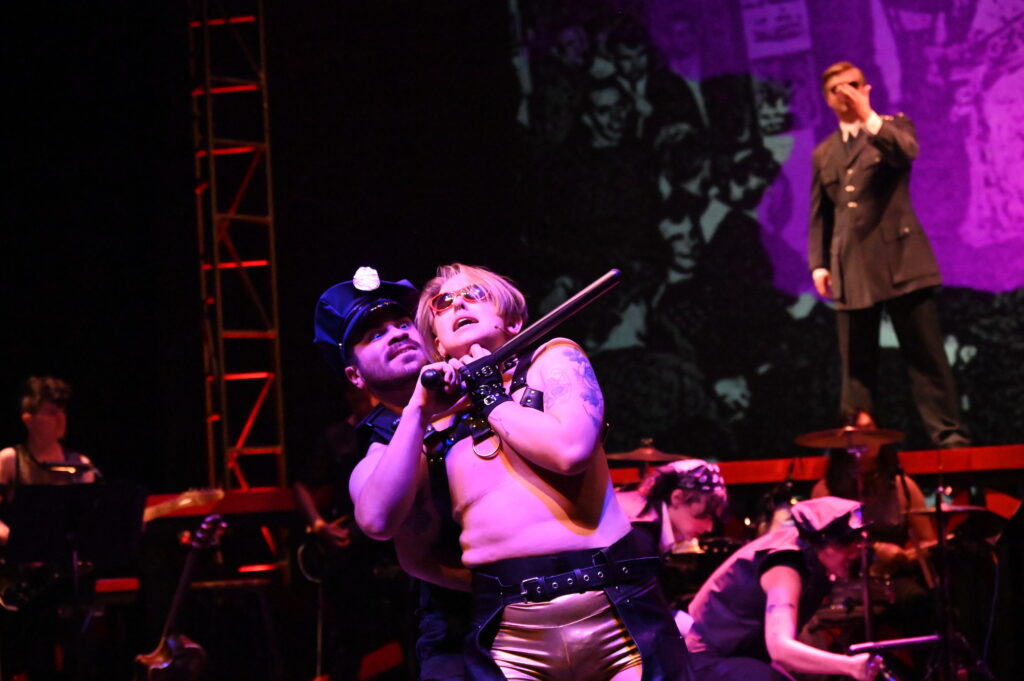 Here's the thing about The Red Shades: Even if it weren't set in 1966, it would still be a clear throwback to the specific sort of concept albums from the era that later became musicals (think Tommy and Jesus Christ Superstar). The problem is that it works far better as a concept album than as a proper play. If one were to just listen to the songs on their own, then hurried plot points (Ida's time in Reno, being on her own in the Tenderloin, her quick adjustment to life with Sherry & Co.) could be forgiven because we'd be too swept up in the music to need too many specific details about how the story goes from one point to another. Getting lost in the music would be enough on its own. But with the creation of a proper show comes the need to thread the needle through every narrative seam.
The result is a script with great moments and scenes, but feels like it wants to be at least twice as long (the show runs over two hours with an intermission) to better flesh out its characters. As it stands, the current version skips over things like Ida's time in a mental institution (her father tries to have her deprogrammed) and the hows and whys of everyone's powers. The only one of the latter that gets definitive showcase are the reality-bending powers of "witch" Genevieve. It's great when Sherry tells Ida that the titular red shades will help the latter better focus her gifts, but once this element is introduced, it doesn't quite fit with the grittiness of most of the first half.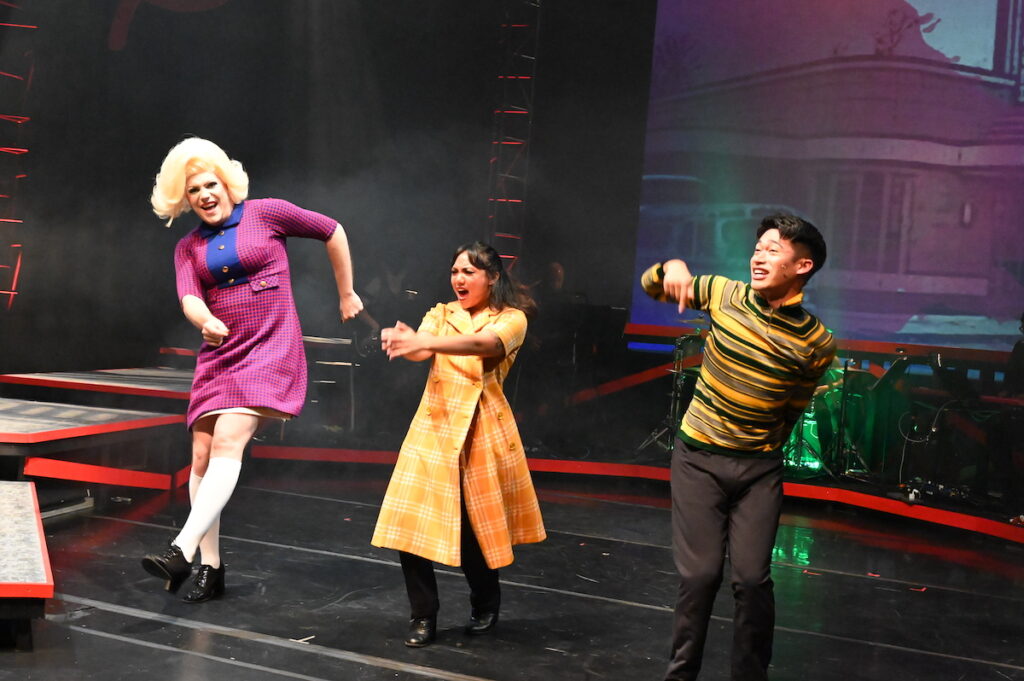 Fortunately, directors Rotimi Agbabiaka (a talented actor and drag artist in his own right) and Edris Cooper-Anifowoshe play up the crowd-pleasing nature of the story, with frequent cheers throughout and inevitable jeers whenever the SFPD characters showed up. The duo clearly want their cast to make as ample use of Phykitt's stage as possible, which means exploring the space from every angle. They encourage they cast, band, and even the audience to swing for the fence to make a night to remember.
They mostly succeed, though Carmen Castillo's delicate voice is easily drowned out, even wearing a mic. I thought it might be a technical error, but it seems more likely that Castillo just doesn't have the pipes to pull off the role. That's a shame when she shares so much stage time with Thomas, who makes Sherry less a character than a force of nature. Still, the entire cast is worth watching. Though the book for The Red Shades doesn't quite hold together, the cast performing it are having a blast and the music accompanying it is enjoyable from start-to-finish.
It had somehow eluded me that Z Space had altered their COVID protocols, still requiring proof-of-vax, but masking masks optional. Fortunately, my front row-left seat seemed to be the most masked-up section of the opening night show, with CO² levels hovering around 720ppm all night, eventually peaking at 805ppm. And I'm glad I keep a pair of Slide earplugs with me at all times, as they proved as necessary as my masks that night. (Generic ear plugs are offered at the box office.)
These two trans-themed SF shows are by no means perfect, but that's what's great about amplifying marginalized voices: it gives them the freedom to be imperfect.
PONY's US premiere runs through November 13 at Cutting Ball's EXIT on Taylor, SF. Tickets and further info here.
THE RED SHADES' world premiere runs through November 5 at Z Space, SF. Tickets and further info here.