This is Good Taste, a weekly meet-cute for Bay Area food. In this edition, I scroll through 12 months of my camera roll to share the dishes that made me briefly tune out the world and roll my eyes in the back of my head. Here's what I selected from each month: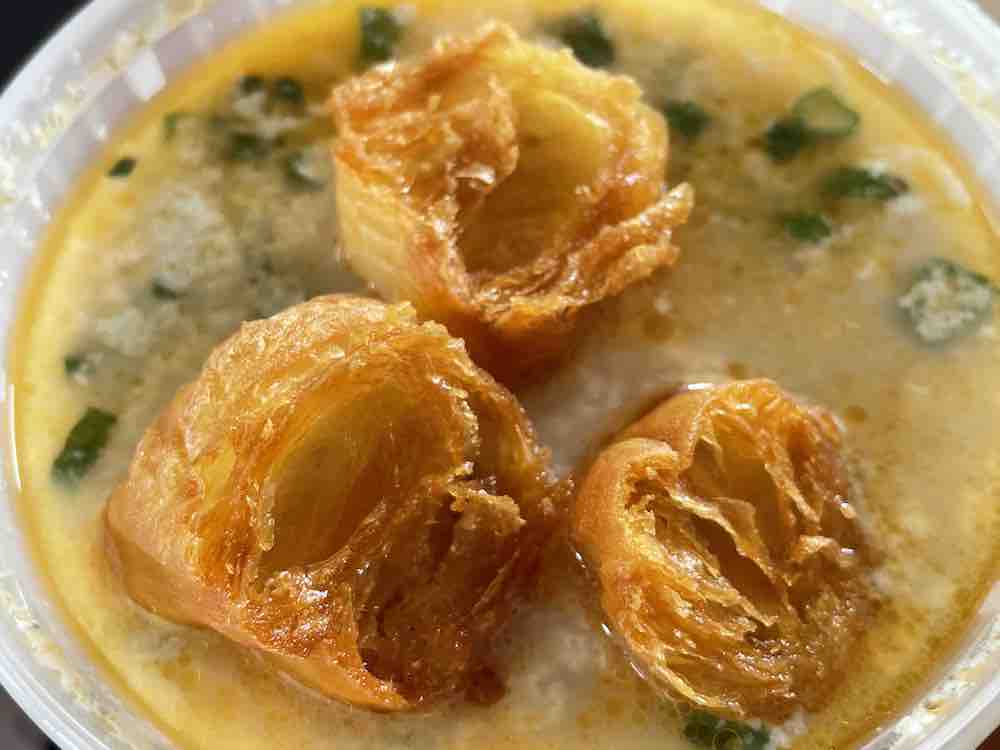 January
I learned right at the beginning of the year that my favorite dishes on the menu at Dumpling Specialist aren't actually dumplings. If I recall correctly, I did a whole little dance and almost levitated around my living room when I took a sip of the savory soy milk and crunchy nuggets of youtiao, or Chinese donuts. The sweet and sour fish is also a sleeper hit.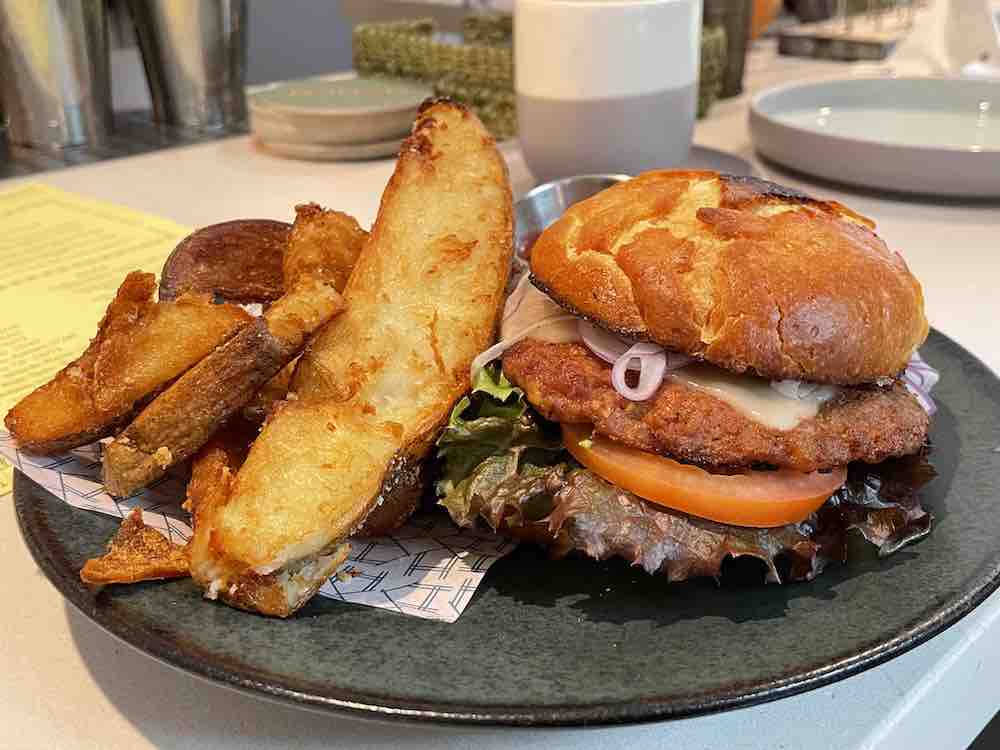 February
ABACÁ, which is Chef Francis Ang's popular Filipino restaurant in the Kimpton Alton Hotel, launched brunch service at the top of the year with deluxe sweets and a flavor-packed chorizo burger served on a buttery pandesal roll with some of the best crispy-on-the-outside and soft-on-the-inside steak fries I've ever had — and there has been a lot of research. I was later invited for an overnight stay at the hotel during the summer and saw Padma Lakshmi filming in the restaurant for a 2023 episode of "Taste The Nation," so it's about to get a whole lot more attention.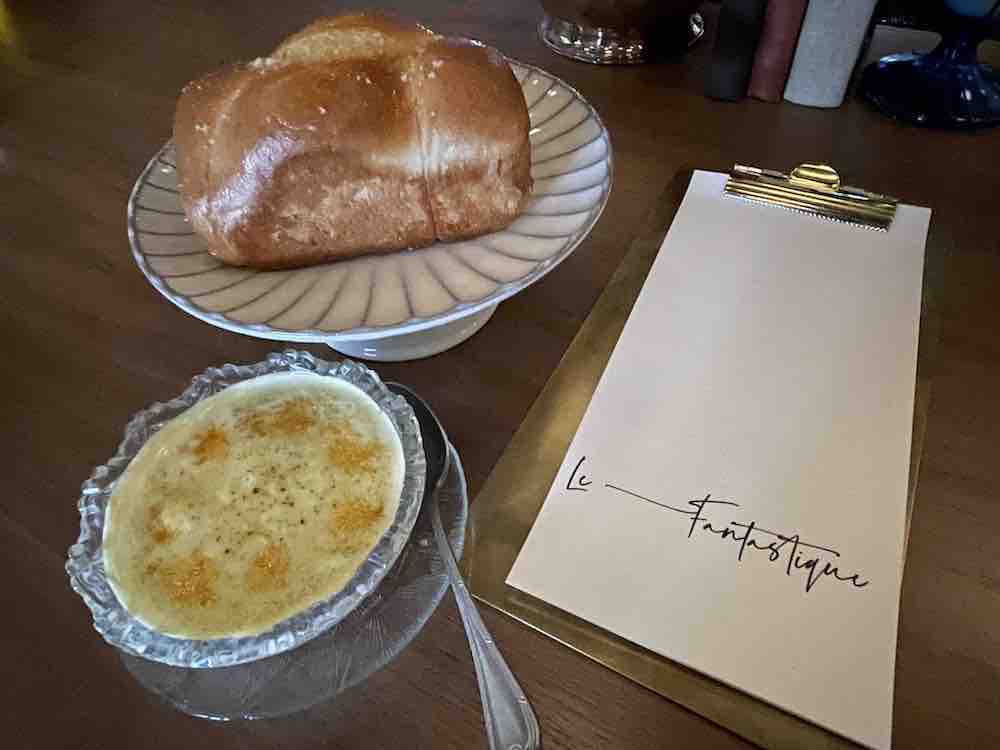 March
Sometimes, a loaf of pillowy soft bread served right out of the oven can upstage more complicated dishes. But when the crudo and wine bar Le Fantastique does so and sweetens the pot with a dip made of hot, bubbling Gruyère with chunks of lobster—well, you'll be daydreaming about it all year.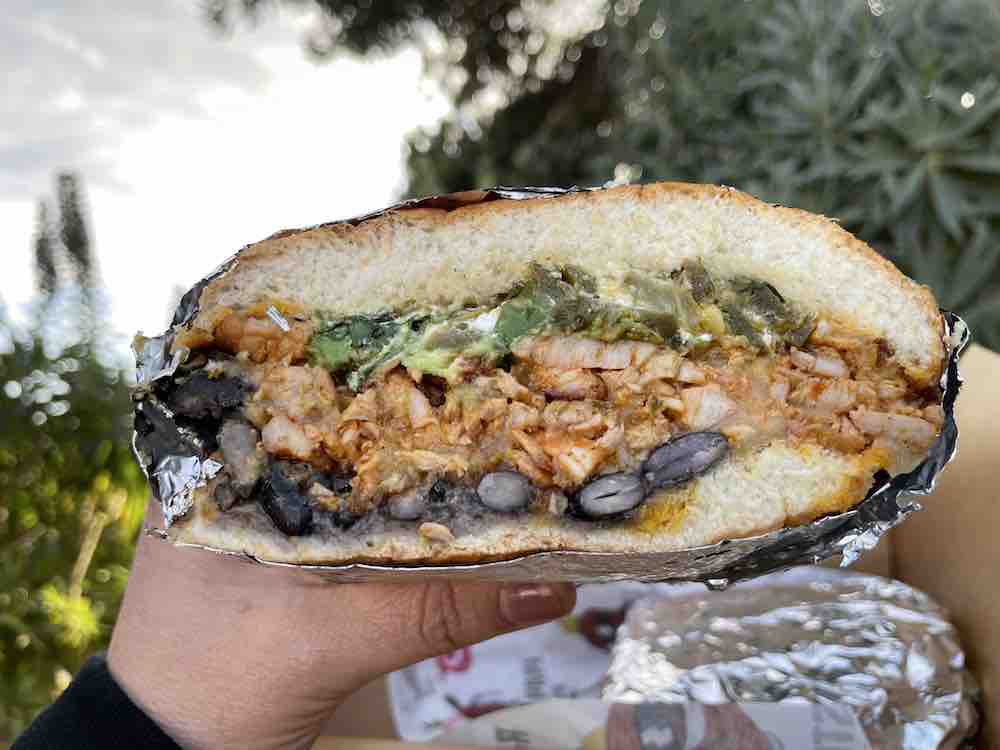 April
I got to DJ at Off The Grid in April, and my gigs luckily coincided with nights that Al Pastor Papi was serving these giant tortas, which take me two days to eat and are even better than I remembered. When Al Pastor Papi decided to park and serve permanently at Spark in November, he entrusted me with the scoop on how the future is looking.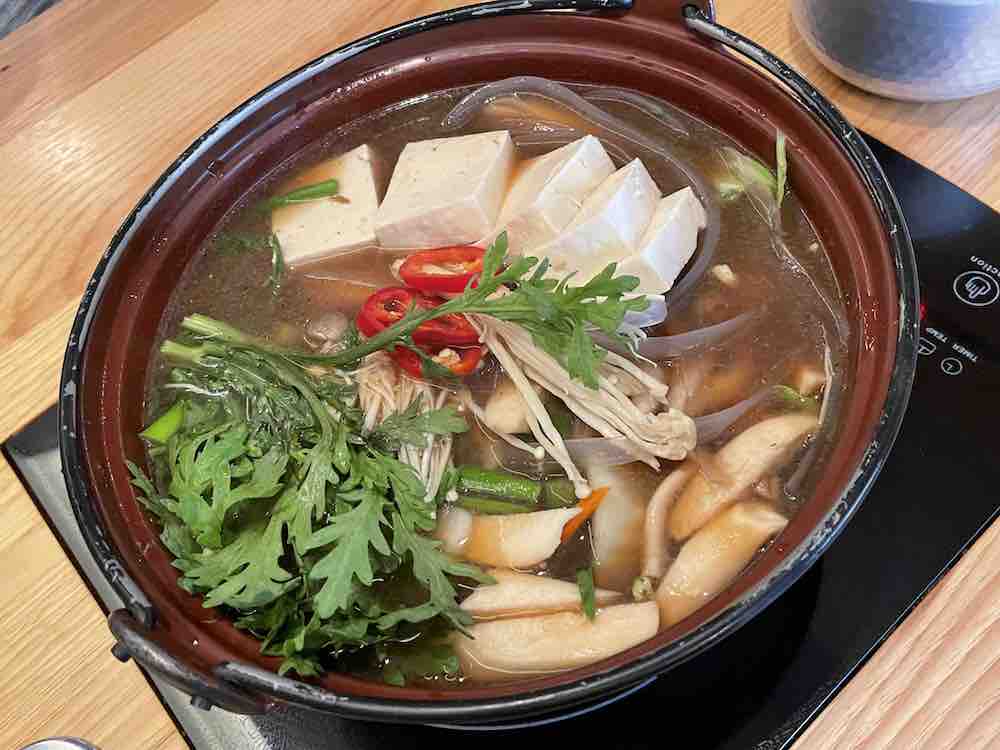 May
Ilcha bubbled onto the scene with Korean drinking food in the spring, and when I was invited in for a slurp, I couldn't get enough of the bulgogi jeongol, a hotpot with Wagyu, mushrooms, Napa cabbage, onions, carrots, tofu, japchae, rice cakes, and chrysanthemum in a lovely sweet broth. This is a fun place to gather around a soup or stew and a tower of pork belly bossam and oysters.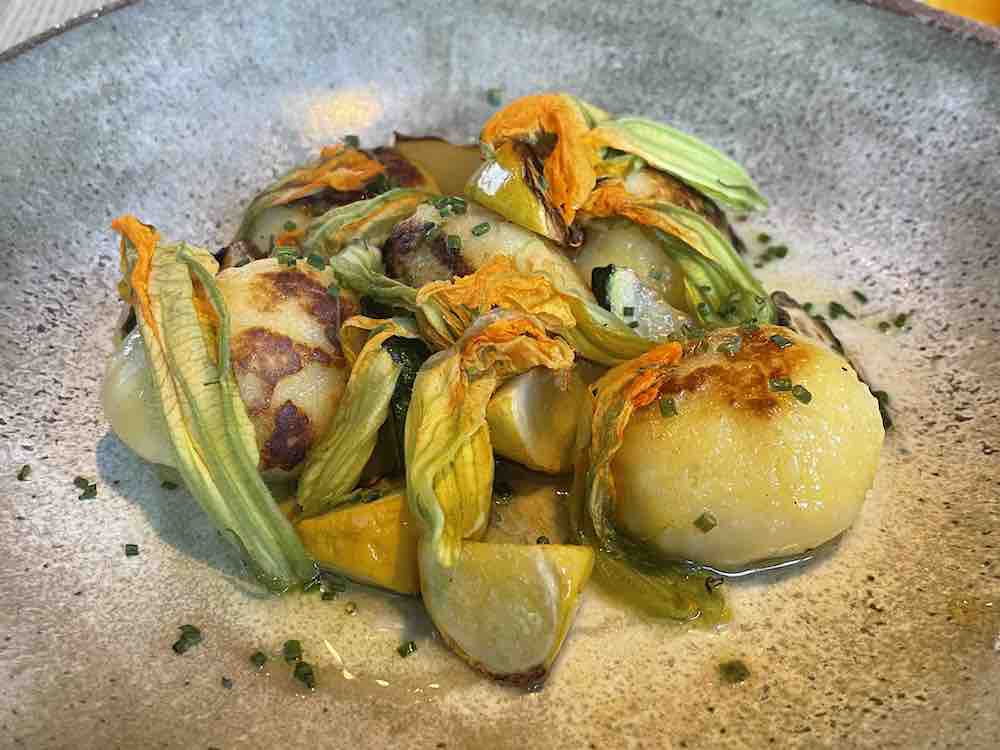 June
Chefs and partners Lori Baker and Jeff Banker became partners of Maybeck's and brightened up what used to be a steak-centric menu with new sweet and savory staples. I'm always enamored by Baker's tall cakes, but I wish I could sleep on pillows made of Banker's ricotta-black pepper gnudi with Meyer lemon beurre blanc and summer vegetables.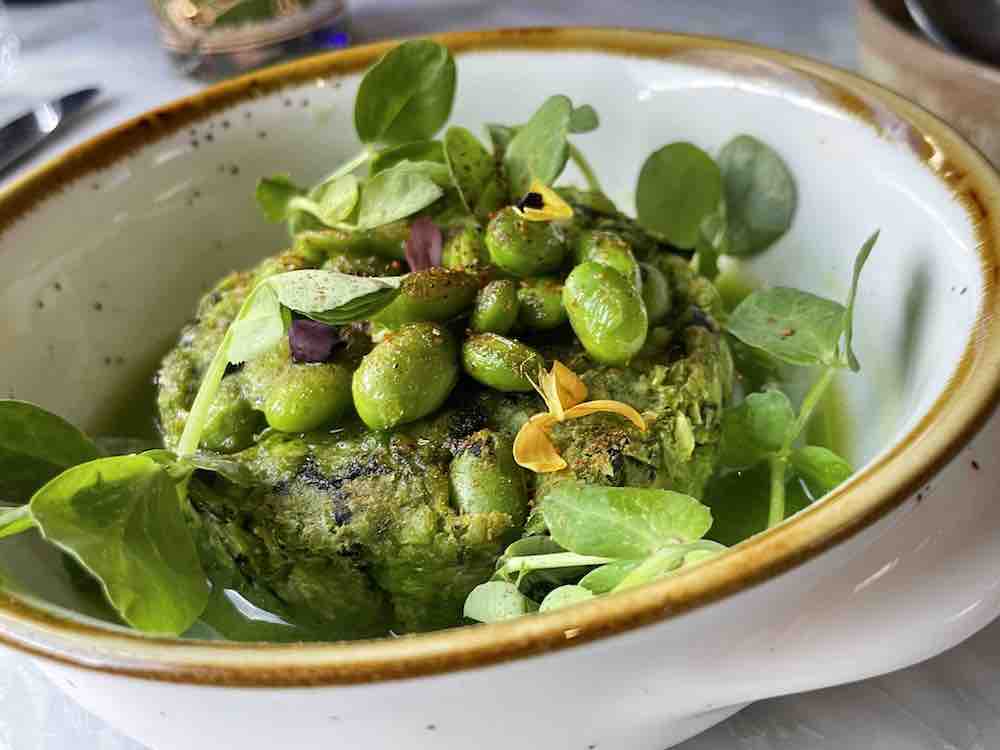 July
ROOH restaurants in the Bay Area share a soul with New Delhi, but California produce is treated with the utmost heart. It may be eye-rolling to call a dish a revelation, but an actually hearty edamame and sugar pea kebab made with fava beans, pea tendrils, and quinoa has made me rethink the grain altogether.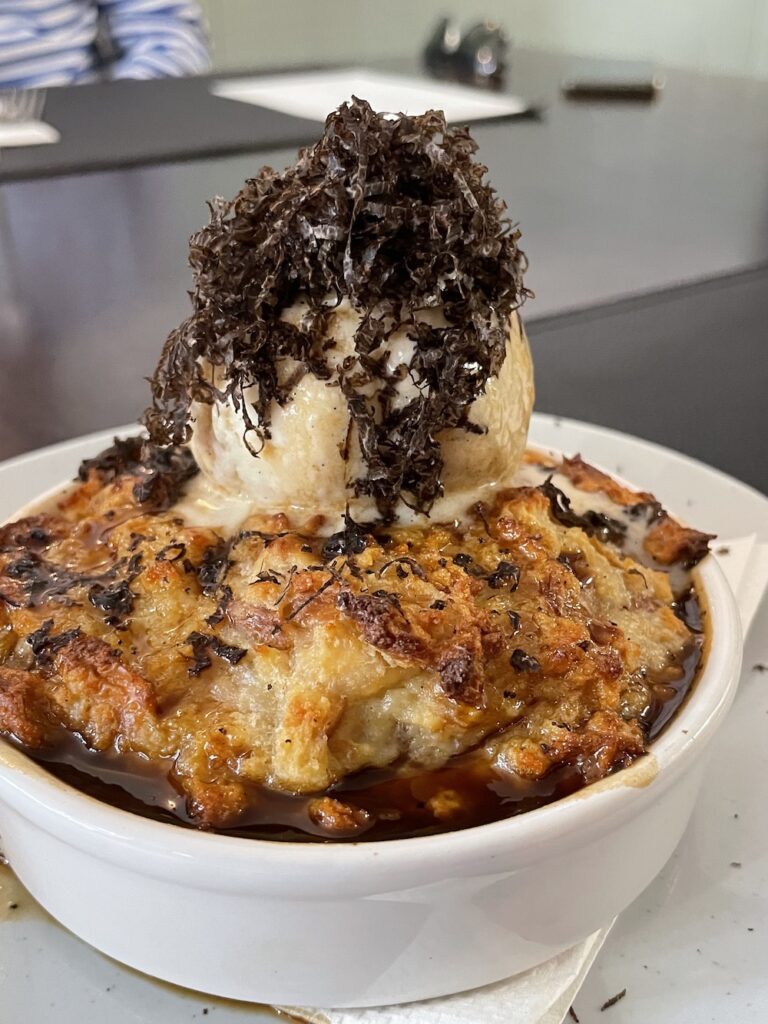 August
Les Éléments hosted several multi-course dessert tastings this year in advance of an official opening in February, when you'll be able to experience a tasting menu as well as à la carte items multiple days a week. Here's hoping that the soufflé bread pudding with summer truffles, burnt vanilla ice cream, and an ingenious dessert version of a rich demi-glace comes along for the ride. In the meantime, the spot is offering beignets for pickup on December 21 to 23, if you want to be the popular kid at the party.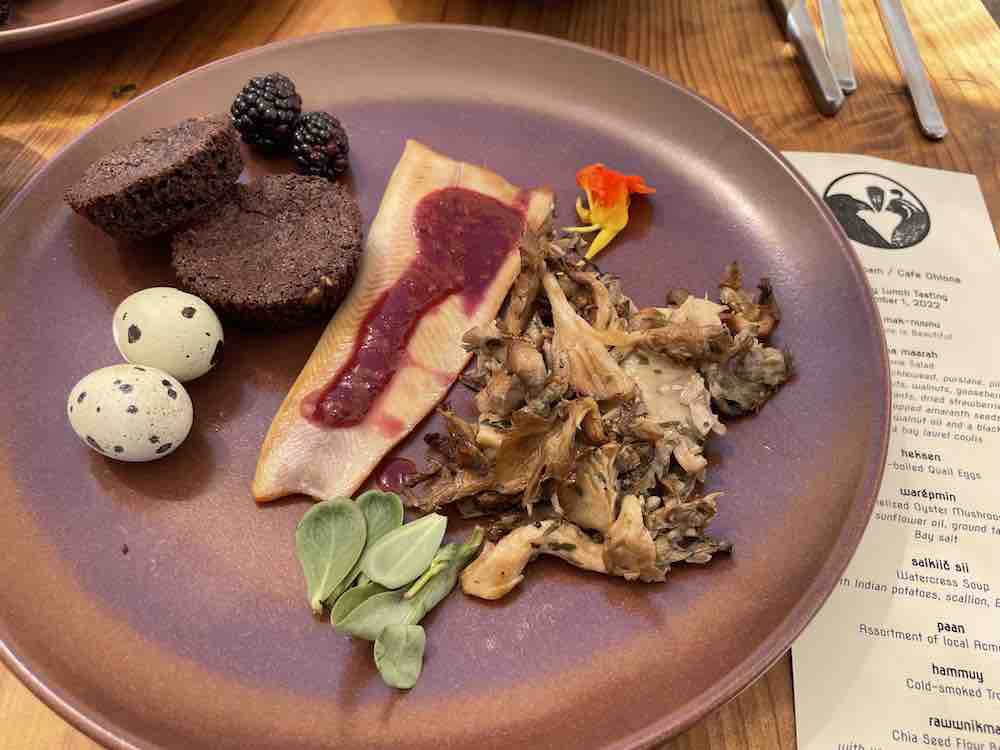 September
As I've written all year, the most important opening of the year in my book is 'ottoy, the Cafe Ohlone collaboration with the Hearst Museum at UC Berkeley that's much more than a restaurant. After attending a preview in April, it was exciting to score a reservation for the first lunch service in September, and taste partners Vincent Medina and Louis Trevino's food again. A cold smoked trout was topped with a coulis of blackberry and bay laurel and served with the hardboiled quail eggs that you'll always see on the plate here. After taking a break in solidarity with striking academic workers, 'ottoy will be back in mid-January.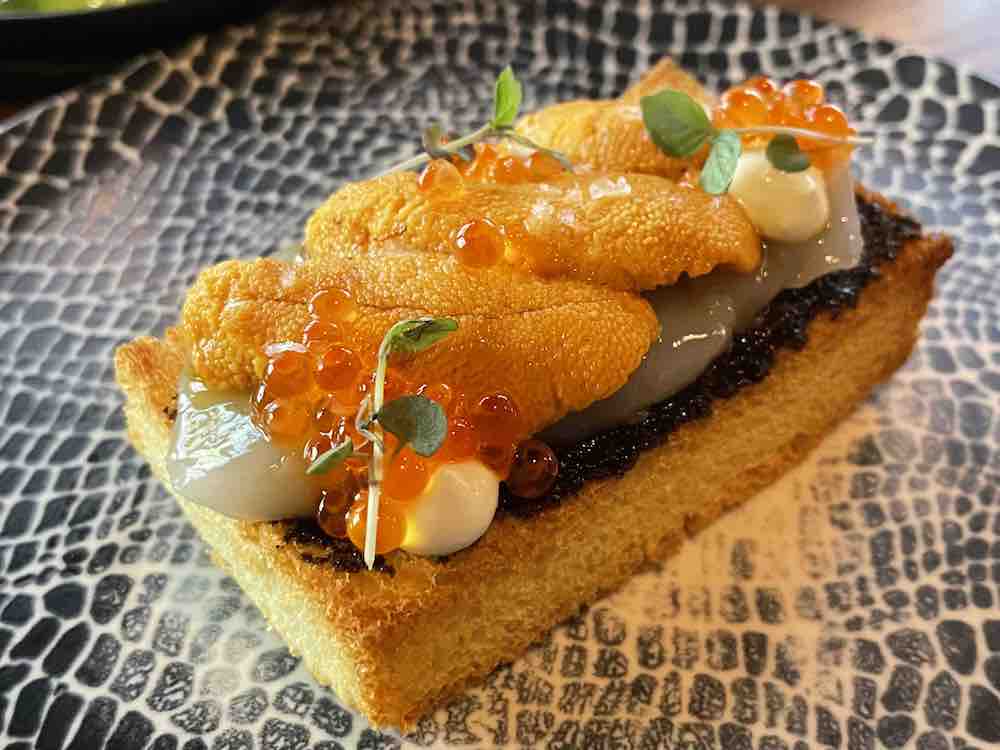 October
Uni is on everything, everywhere, and it's served to me during a lot of media (a.k.a. comped) meals, so I don't tend to buy it often. But I'd personally shell out again and again for the pleasure of experiencing teeny-tiny uni scallop buttermilk toast at Bansang, served with a soy yolk sauce, seaweed puree, and trout roe. The upscale Korean restaurant, a fancy sister of the nearby Daeho Kalbijjim & Beef Soup, opened in April.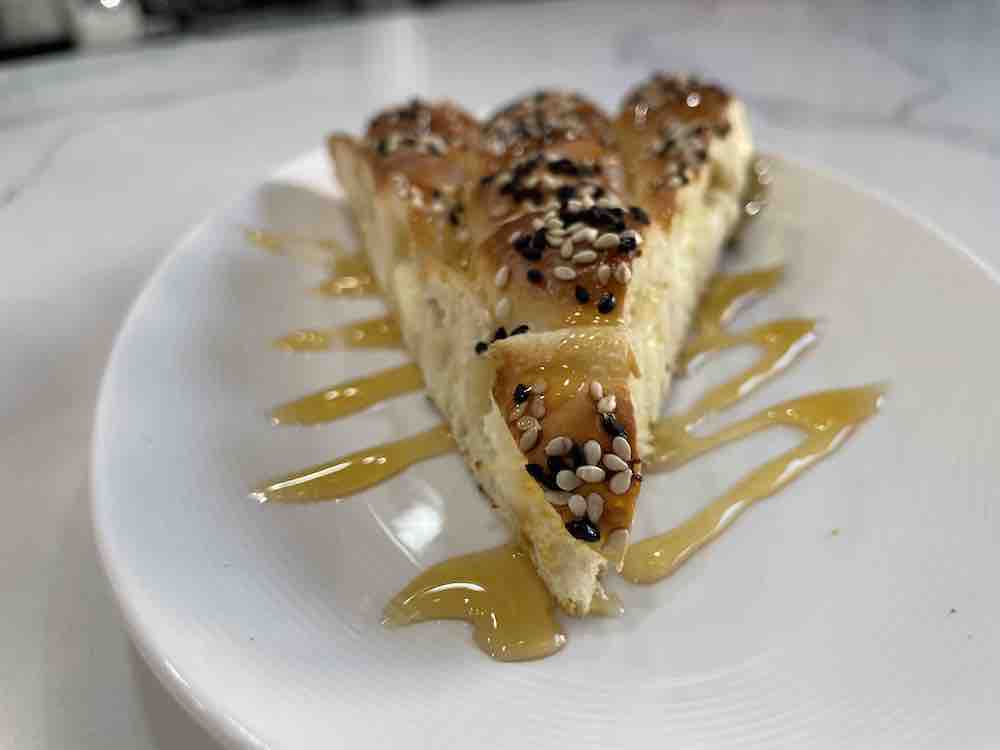 November
Delah Coffee is the essential stop on the fantasy dessert crawl that I created in honor of Muni's new Central Subway extension, which will run daily as of January 7. You can't go wrong with a cup of coffee or tea paired with any of the Turkish delight confections on display, but you'll be remiss not to get the bee bites, a slice of Yemeni honeycomb bread stuffed with cream cheese, warmed, and drizzled with honey.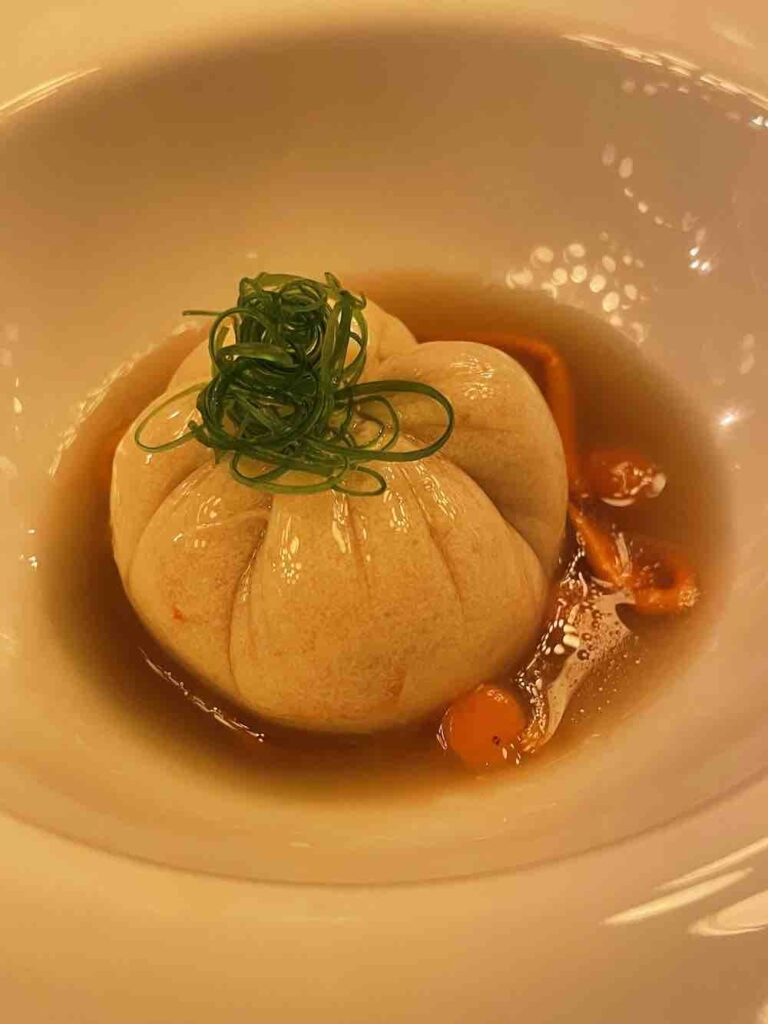 December
Last week, I was invited to preview Gilda's Salon, a new 11-course dinner series by Jason Fox at the Proper Hotel that serves just 10 guests in a private dining room on Friday nights. There were many highlights in what's currently a seafood-focused menu, but I can't stop thinking about a deceptively simple parcel of handmade sesame tofu filled with pristine pieces of lobster in a chilled mushroom broth. I was also particularly dazzled by a scallop-wrapped shrimp mousseline dumpling that is Fox's nod to dim sum.
Suffice it to say that this was a well-fed year for your Good Taste columnist, and I'll work just as hard for you next year, too!
Keep the food party going at Tamara's site California Eating.