In the face of rising anti-drag and anti-LGBTQ+ legislation and sentiment—most of it especially directed toward trans people, which seems to be conservatives' new distraction/grift strategy—a "Drag Up! Fight Back!" rally and march from City Hall to Union Square is planned for Sat/8, 11am-3pm.
Now, in the wake of yesterday's horrible news about Heklina's passing, organizers say the event will also honor the renowned local drag icon.
March co-organizer and longtime Heklina gal-pal Juanita More told me:
"This Saturday at the Drag Up! Fight Back! March & Rally in San Francisco, LGBTQIA+ people, and our allies will come together to show the world how we feel about the proposed and passed legislation against our community nationwide.

"We will honor Heklina as a leader who helped to create a family within our community. She gave us space to express ourselves. We will celebrate her as the icon and mother to many that she was."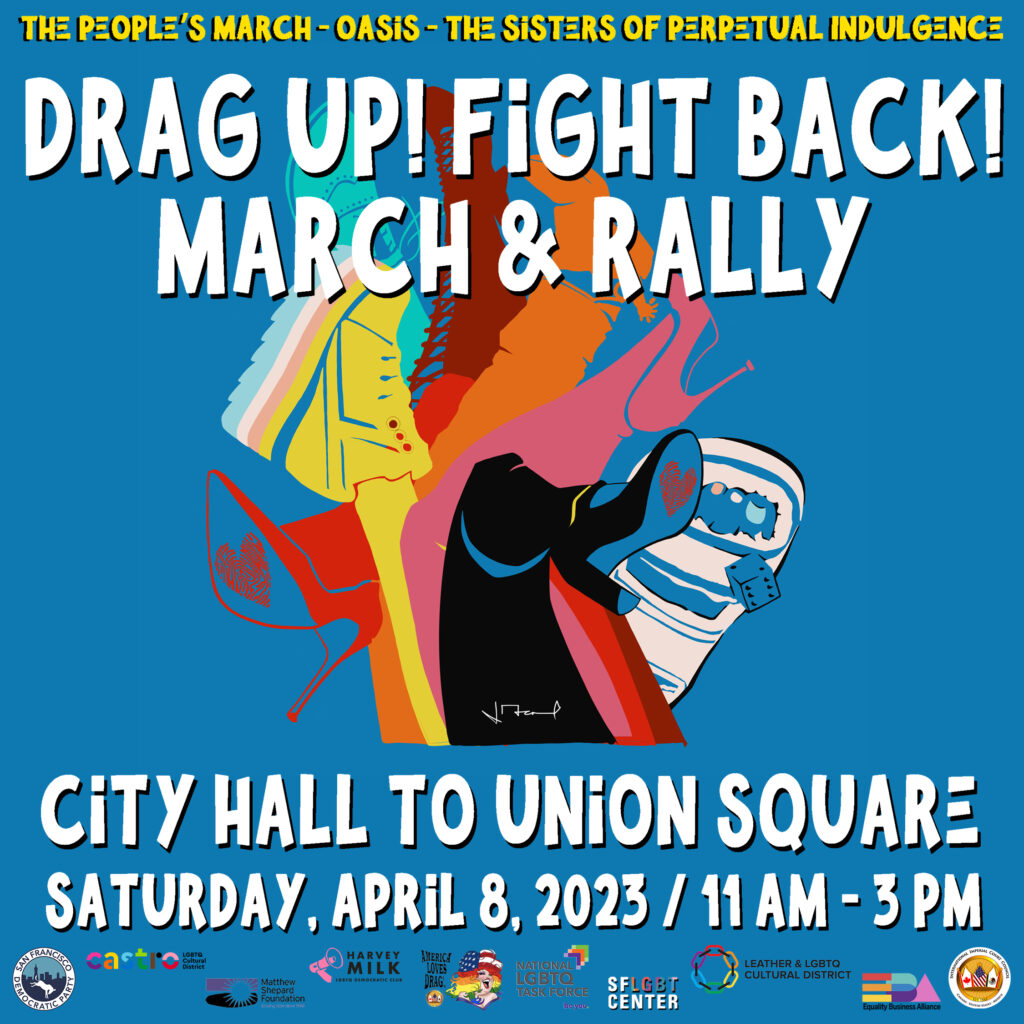 Participants are encouraged to dress up in their most vibrant drag and show up for LGBTQ+ rights and visibility.
*Sun/9's Easter in the Park and Hunky Jesus Contest with the Sisters of Perpetual Indulgence—Dolores Park, noon-4pm—will also celebrate Heklina's life in its own festive, communal way.*
Here are the posted details about the "Drag Up! Fight Back!" Rally and March:
DRAG UP! FIGHT BACK!
A Rally, March, and Live Show in protest of recent anti-drag and anti-trans legislation.
THIS IS NOT A DRILL
Our community is under attack! Legislation has been proposed and passed in states nationwide, targeting gender-affirming care, drag performers, and queer culture. Our stories are being banned from public libraries, our trans kids and their parents are being criminalized, and any acknowledgment of our existence is being outlawed in classrooms. Right-wing GOP Christian Nationalists and extremists are calling for the "eradication of transgenderism," while governments worldwide are passing some of the most diabolical and heinous bills calling for the imprisonment and even death of LGBTQ people.
Now is the time for all LGBTQ people and our allies to unite and Drag Up! Fight Back!
Saturday, April 8, 2023
11:00 am RALLY, San Francisco City Hall.
12:00 pm MARCH City Hall to Union Square
12:45 pm LIVE SHOW in Union SquareThis is a call to action for everyone who believes:
DRAG IS NOT A CRIME!
QUEER AND TRANS RIGHTS ARE HUMAN RIGHTS!
WE MUST PROTECT TRANS KIDS!
WE MUST FIGHT FASCISM!
Let's do this San Francisco style! Feel free to express yourself in your most authentic way. Drag is encouraged but not required. Make signs. Wear comfortable shoes. Make some noise and be joyous! Let's show the world who we are. This event is organized by The People's March, Oasis, The Sisters of Perpetual Indulgence, and the San Francisco Democratic Party.
Big thanks to our sponsors!
San Francisco Democratic Party
Castro Cultural District
Matthew Shepard Foundation
Harvey Milk Democratic Club
SF LGBT Center
Leather & LGBTQ Cultural District
The International Court System
Equality Business Alliance
National LGBTQ Task Force
Equality California
San Francisco AIDS Foundation
The Transgender District
The San Francisco AIDS Foundation
Harvey Milk Foundation
National GLBT Network
National Center for Lesbian Rights
The San Francisco AIDS Foundation
BAAAHS
Imperial Council of San Francisco
Grand Ducal Council of San Francisco