Preservationists who want to save the existing interior of the Castro Theater faced a major setback today when the Board of Supes, by a 6-4 vote, agreed not to landmark the seats and raked floor.
Sup. Rafael Mandelman moved to strike from the preservation bill language that specifically protected the movie-theater-style seating and floor.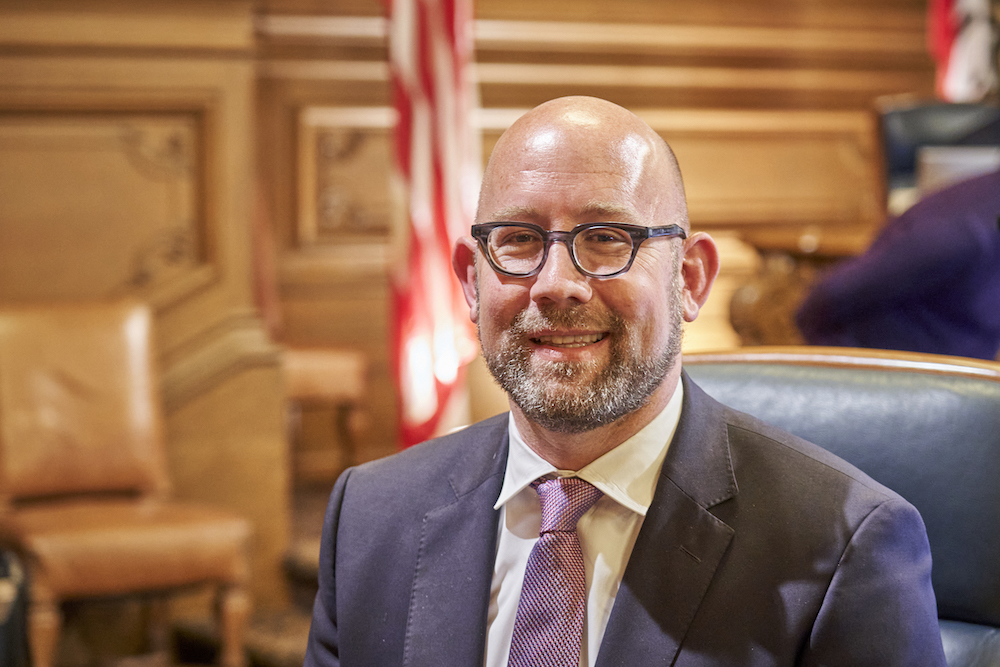 The debate made clear that it was about the plans of Another Planet Entertainment to turn the historic venue into a nightclub with live music and a bar. Mandelman argued that the preservationists were working "solely to kill the APE project."
Sup. Aaron Peskin, who opposed the Mandelman amendment, said that it's "nothing short of tragic" that the preservation efforts "incited rancor," and that a promoter "intentionally spent money to stoke it. … APE can't succeed without support from the community."
Sup. Dean Preston said he was "surprised by some of the arguments against landmarking the interior." He said he wasn't convinced that APE needed to tear out the seats to operate a viable facility.
Nevertheless, a narrow majority gave what amounts to an approval to APE'S plans.
Voting in favor of APE's approach were Mandelman and Sups. Ashsa Safai, Catherine Sefani, Matt Dorsey, Joel Engardio, and Myrna Melgar. Voting no were Sups. Dean Preston, Shamann Walton, Connie Chan, and Aaron Peskin. Sup. Hillary Ronen was absent and excused.
The promoter certainly saw it as a nod to the new plans. From David Perry, APE's spokesperson:
Thank you San Francisco Board of Supervisors. Everyone who treasures the Castro Theatre, the Castro neighborhood, and the film and LGBTQ programming that is so much a part of both should be grateful tonight. An irreplaceable international icon now has the ability to be preserved, restored and to evolve for this and future generations.

Peter Pastreich, executive director of the Castro Theatre Conservancy, said:
The Castro Theatre is a beloved landmark and a vital community asset and should be treated as such. Today's vote, indicating the Supervisors' willingness to see San Francisco's last movie palace desecrated so that a for-profit organization can make more profit, showed a lack of understanding of the Castro Theatre's broad cultural significance that we very much regret.

Stephen Torres, on behalf of the Castro LGBTQ Cultural District, said:
The Castro LGBTQ Cultural District takes seriously its role in the preservation of our cultural and historic legacy —especially in times when safe spaces for the LGBTQ community, especially our most vulnerable, are disappearing. Although we are disappointed that the Board of Supervisors did not take this opportunity to mandate proper stewardship over a threatened community asset, we will continue to support the broad coalition of community stakeholders as they seek to ensure that community self determination. We are grateful to the supervisors who have stood by our position.
From President Jeffrey Kwong, on behalf of Harvey Milk LGBTQ Democratic Club:
When the Castro Theatre was first proposed for landmark status, Harvey Milk understood that landmarks are about bringing neighborhoods together. That they are accessible to seniors, to families, to people with disabilities, and people from all walks of life. That they must be considered in the context of history and cultural heritage, not economic opportunism. Today's vote is a departure from that sentiment, in service of a corporation that has stoked division among our community during a moment of fragility. We will continue to work to ensure that community access to this landmark is preserved, and to prevent irreversible harm to this beacon of queer hope.
The deal is not done: Now it shifts to the Planning Commission and Historic Preservation Commission, which will consider Thursday/8 the "Certificate of Appropriateness" application for APE's proposed renovations, which include:
restoration/conservation/repair of interior historic features; removal of ground floor level seats, installation of tiered levels with chair lifts at the ground floor auditorium, installation of four counters, stage alterations, restroom improvements, construction of a new one-story rear addition, installation of a new HVAC system, rear stair replacement, and installation of a new front security gate.
The Planning Commission will also consider a permit for nightlife/entertainment and bar use for the site.
That hearing will include public comment, which I suspect will be extensive. It starts at 10am. UPDATE: The Thursday hearing has been been cancelled and will happen at a later date. I will keep you posted