Self-taught artist Dave Yoas is a veritable tin man. Cutting, disassembling, and hand-stamping the material until it forms part of colorful, detailed collage works, the artist shares his world of flamboyant characters who take up residence in a riot of color and vivid re-imaginings. Yoas brings iconic vintage objects into a contemporary light by addressing sociopolitical themes, tucked inside eye-catching nostalgic whimsy.
Of particular interest is his use of antique lithographed tin (more familiarly, tin-litho) toys. Designed on sheet iron that's been plated with a protective layer of tin then decorated using cost-effective offset lithography, tin-litho toys originated in Germany in the late 1800s. The technique was later adopted in Japan and the United States. These collected objects are the starting point for assemblages by Yoas.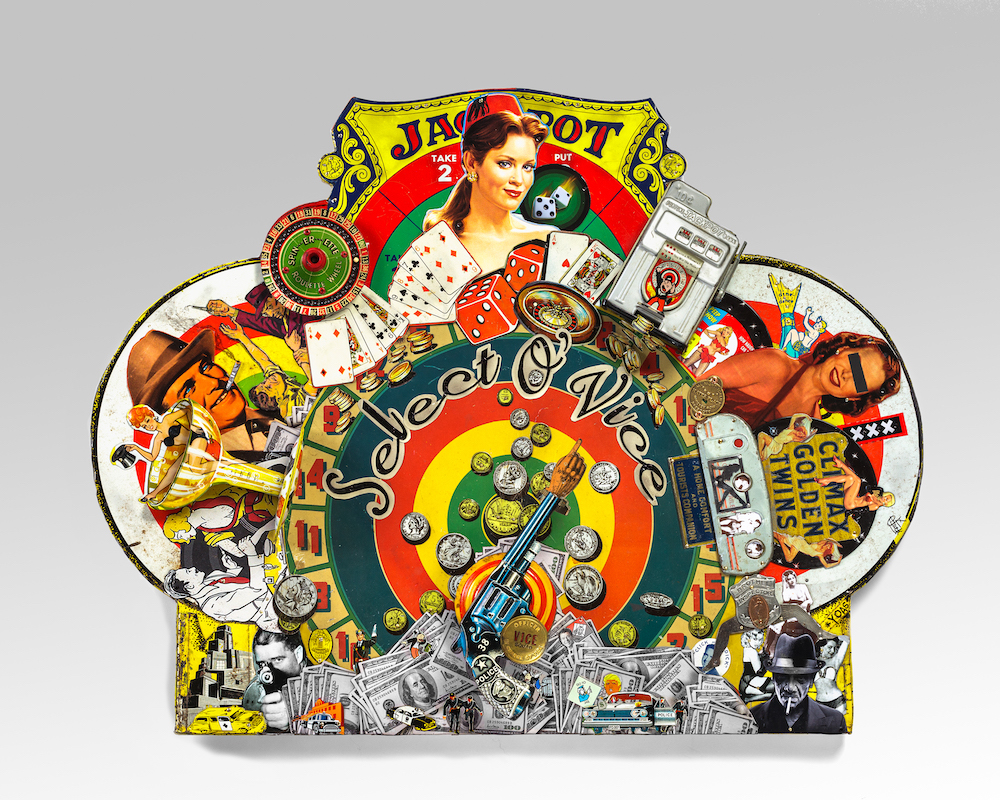 Born in Berkeley and raised in the East Bay town of El Sobrante, where he currently resides, Yoas was introduced to hot rod culture and Mad Magazine as a teenager, and cites illustrators Big Daddy Ed Roth and Don Martin as inspirations. Yoas remained in Northern California to study sociology at the University of California, Santa Cruz (graduating with honors in 1971) then traveled to Europe and the Far East. Observing the colors, the architecture, and the patterns of other cultures, Yoas savored their influence. After a year of travel, he decided to settle down in the Netherlands, where he lived for three years.
"During my stay in the Netherlands, I was part of a family that had two practicing artists and two who did art in their spare time. I had never been exposed to working artists, I had never considered art as a career choice, and I didn't have time to think about it, because I had to find a job," Yoas told 48hills.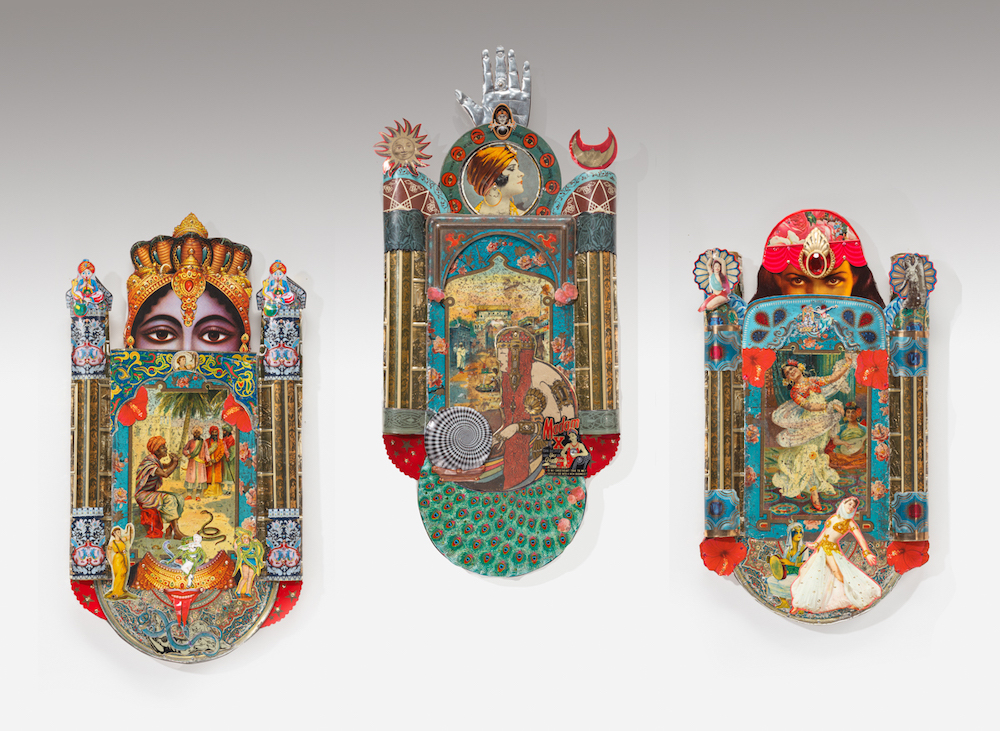 He took a job loading and unloading airplanes at the airport outside Amsterdam, while visiting local museums and learning about the history and art of the Dutch. Yearning for the home of his youth, he eventually returned to California, earning a certificate in parks management in 1985 from UC San Francisco and working as a park ranger, a park Supervisor, and a parks manager in the ensuing years.
"I learned to direct tasks and get work done through others, but I felt that I needed a creative outlet, something that I could control from start to finish, and I started working in low fire ceramic sculpture. I switched to tin collage over 25 years ago. Once I started with tin, I knew that I had finally found my passion," Yoas said.
In fact, it was during a trip to New Mexico that Yoas first became interested in the material. Through exposure to various examples of tin art from the 1840s to the present day, he discovered hand-stamped tin artworks housing lights or saints. During that same trip, he came across artists who were using upcycled tin containers in their work. In a kind of marriage of folk art and fine art, a new direction emerged for Yoas.
"I decided to try to combine the hand-stamped tin with the upcycled tin artwork that I was seeing. Because I am largely self-taught, I'm always experimenting and learning on the fly," Yoas said.
His East Bay garage studio is chock-full of his works from floor to ceiling, in a space that resembles a museum from another era—an old curiosity shop, a secret grotto, or even a carnival attraction filled to the brim in wondrous objects. Rolling down his sleeves, Yoas gets to work stripping away old cans, toys, boxes, and other found materials that contain intriguing themes, patterns, and colors. He then transforms them into narrative tableaus. His method of subtraction, addition, and overlapping infuses each piece with his own brand of insight that originates from personal experience, social commentary, and humor.
"My inspiration can come from almost anything," Yoas said. "Over the years I have been inspired to create my narrative pieces by a tin image I've seen or by a phrase I might hear. The thrill I get from my work is from seeing my idea realized. I come up with an idea, collect the tin from various sources, and bring it to fruition."
His recent exhibitions include group shows at the Uma Gallery in Oakland, the ARC Gallery in San Francisco, and The Dime Gallery in Chicago. Yoas is represented by Transmission Gallery in Oakland, and his upcoming show titled "Play Time" will be on exhibit from September 7 through October 21, with an artist reception on September 9 and artist talk on October 7. His catalog "Dave Yoas: Individually Twisted, Welcome to My World of Tin," featuring 35 pieces with accompanying essays will be available for signing at both events. Yoas is also working on a series of new works as an inquiry into shooting galleries and children's war toys.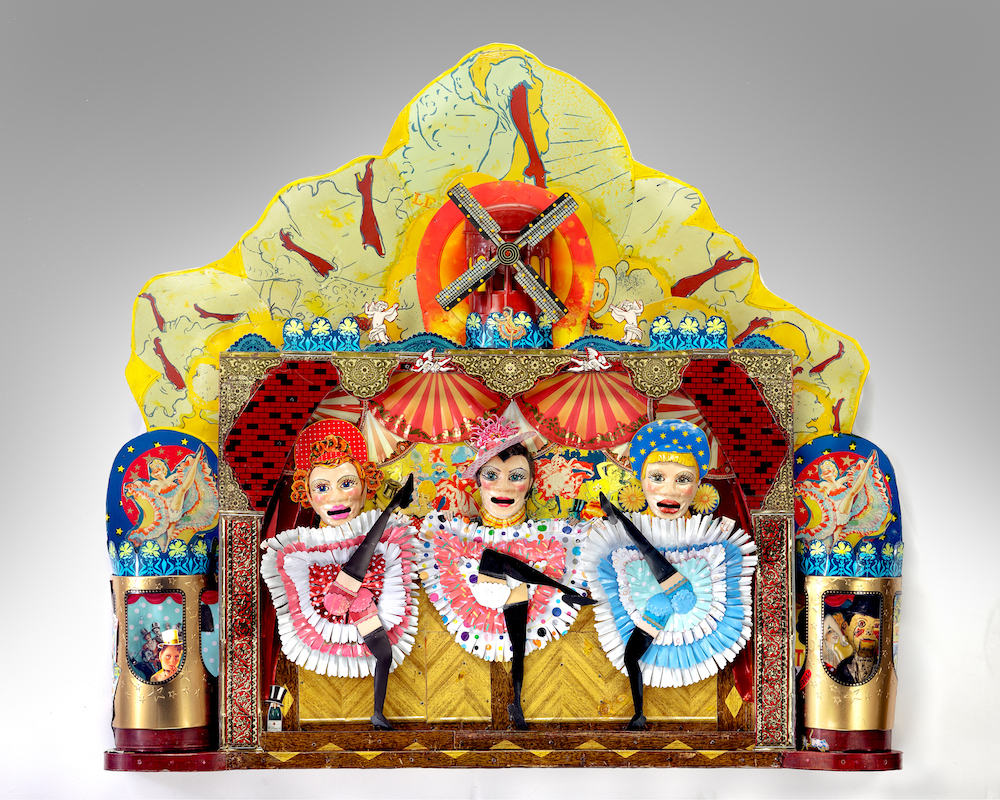 Ruth Santee, artist and owner-director of Transmission Gallery, says that Yoas, "transforms vintage, mid-century tin-litho objects into socially biting commentary. There is a quirky attraction to the often non-PC awkwardness of old tin-litho toys and novelties from this bygone era. Yoas takes the antiquated and turns it on its head!"
Yoas has seen a thing or two and making art helps him sort it all out—during the pandemic, his work titled "Anti-Social Distancing" almost built itself, he said. He hopes that his works in turn will offer an opportunity for others to feel engaged and affected.
"Having spent my youth in the '50s and '60s and now watching the 2000s [sic] unfold, I find that it helps to cope with these strange periods if I express a little of the surreal nature of what I have observed," Yoas said. "Whether it's contemplating the mid-century space race, or the relative nature of time and truth, each observation can be grist for the art mill of my mind."
For more information, visit his website at daveyoas.com and on Instagram.