It's Under The Stars, babe. A quasi-weekly column that presents new music releases, upcoming shows, opinions, and a number of other adjacent items. We keep moving with the changes, thinking outside the margins.
Let's boogie.
THE STRANGERS, "MOVIN'" FROM THE STRANGERS
There is an old album by an infamous American rock band from Champaign, Illinois, called REO Speedwagon titled You Can Tune a Piano, but You Can't Tuna Fish. 
I have always loved that title.
Just because you throw three talented musical individuals into the studio does not mean you will have something of quality. However, Hervé Salters of General Elektriks, Leeroy (formerly of Saïan Supa Crew), and Lateef The Truthspeaker (formerly of Blackalicious) have banded together in pure futuristic alchemy.
"Movin'," the first single from their debut self-titled release feels like an uptempo hip-hop affair that fell out of Q-Tip's demo tapes for The Renaissance circa 2008. I am saying that out of love and praise. It is really rare for an artist or group to nail that punch-funk uptempo hip-hop vibe without sounding corny. "Movin'" by The Strangers makes you want to listen for more.
Pre-order here.
KENDRA MORRIS, WHAT ARE YOU WAITING FOR (KARMA CHIEF RECORDS)
Nine Lives, Kendra Morris' fourth studio album from 2022—and first with Karma Chief, a subsidiary of the experimental soul-funk imprint Colemine, home to Ghost Funk Orchestra, Black Pumas, and a starting ground for Neil Francis—seemed to have changed something in the artist's creative oeuvre. Finally, a progressive imprint, with experimental verve from tip to tail, made that vocal and musical intellect comfortable to explore.
Her plucky new album, I Am What I'm Waiting For, feels deconstructed in all the right ways. Morris is a veteran who can sing soul into Soundgarden with those spectacles eye-fucking you in the front row as if to say "Oh, you didn't know?" This new record capitalizes on that breadth of vast musical knowledge, so much so that she actually picked the guitar back up. The lead song, "What Are You Waiting For," feels punky and jazzy all at once. Not many can do that, but Kendra Morris just did.
Grab it here.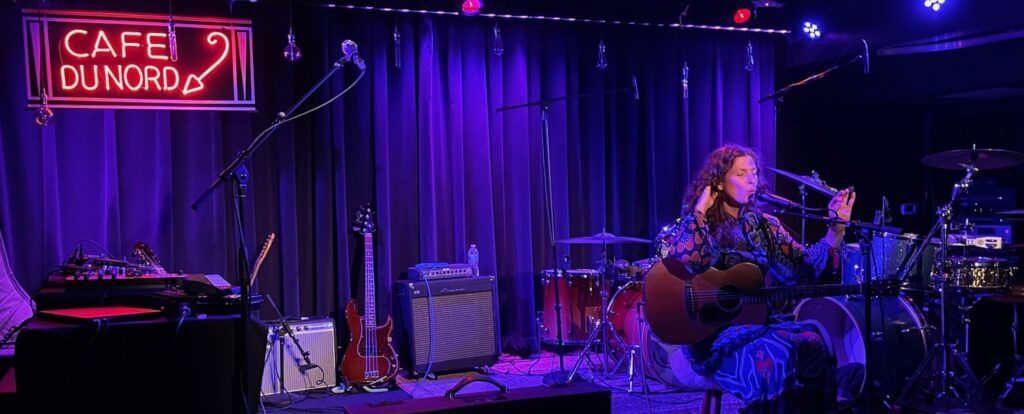 JAIME DRAKE
The LA vocalist's forward-facing grin exudes grit. During an opening set at Cafe du Nord on August 9 for Kiltro, Drake soldiered on for an inspired set with her dog Moxie on stage, armed only with her guitar, while rude patrons at the bar talked loudly. Throughout the entirety of her set.
But that time-traveling voice overcame the distractions.
I had hoped for the bossa nova stylings of her 2022 sophomore album New Girl but left with a newfound respect for an artist who forged on in an unfavorable setting. She cherry-picked selections from that album, as well as new songs, including one with a mention of afternoon 'shrooming' and other eclectic creations. Dude, she's a trippy warrior for sure.
Drake mentioned that she would be driving four hours to her lodging spot after the gig in San Luis Obispo. Despite it all, there is no denying that her voice can hum, chide, harmonize, and transform darkness into performance gold. It was a folky 40 or so minutes where she sang mantras, did this thing with her hands and ears to get in tune, and a number of other quirky things. But never quit.
BRONTEZ PURNELL, NO JACK SWING (DARK ENTRIES + PAPI JUICE RECORDS)
There was a time, long before the Internet, when hip-hop and new jack swing were at odds. 
As Ice Cube once rapped in his old negro spiritual, "You can new jack swing on my nuts." 
The two dominant black musical genres were about to engage in a fierce battle, akin to a Montgomery boat deck brawl.
No Jack Swing, the debut electronic album by Brontez Purnell, celebrates the original version of the electronic 808 "Amen Break," taken from The Winstons' song "Amen, Brother" before it was transformed into drum 'n bass infamy. The Southern-raised, Oakland-based queer musician and writer incorporates poems from French boys, gospel tapes from his childhood Baptist choir, and the sound of records skipping on his bedroom turntable to create a lo-fi instant classic that emphasizes the message:
"Ghosting is a clear form of communication."
Pick it up here.
JUICEBUMPS, JUMBO (ROCKS IN YOUR HEAD RECORDS)
"Weird Wave"—that's how the eccentric Oakland-based post-punk band, Juicebumps, struck me when I saw them live a couple of years ago. Their herky-jerky arrangements were rhythmic and otherworldly, and their live show was intentionally chaotic – planned lunacy. Their antics, costumes, and theatrical aesthetic heightened the anticipation of their fans while leaving the uninitiated bewildered, questioning the reality of what they had just witnessed. Their new album, Jumbo, will be released in October on the local label, Rocks In Your Head Records.
Catch them at Thee Stork Club in Oakland on September 2.
More info here.