True to his stage name, John Doe admits that even after 45 years in the music business, he is still a bit of an unknown quantity.
"For example, I love show tunes and RuPaul," says the 70-year-old cofounder of legendary punk band X and solo artist.
He attributes these unexpected interests to coming of age in early-'70s Baltimore where gay liberation was growing and moviemaker John Waters and his creative cohort (whom he argues exist in the same Venn diagram as show tunes and RuPaul) held court.
Doe even credits the proto-punk attitude of Waters' Dreamlanders film family for giving him the confidence to change his hard-to-pronounce Czech name, John Nommensen Duchac, to John Doe.
"That'd be cool," he remembers thinking at the time. "It'd be like Diva or Divine."
For Doe's latest release and 10th studio album, the stripped-down, story-driven Fables in a Foreign Land, the singer-songwriter goes back another 80 years—to a pre-Industrial 1890s America. It's also here that he returns to his folky musical roots.
Born from backyard jam sessions with bassist Kevin Smith and drummer Conrad Choucroun during lockdown and with writing assists from the likes of Exene Cervenka (X), Shirley Manson (Garbage), and Louie Pérez (Los Lobos), the 13-track LP chronicles a hero's journey on horseback across vast, rural landscapes to the Pacific Ocean. Like many who headed west during this era, the protagonist is fleeing a troubling past for an uncertain future.
When we chatted earlier this month, Doe, a former Bay Area resident of both Fairfax and Richmond, was eager to travel from his current home base in Austin, TX, to San Francisco to play the Hardly Strictly Bluegrass festival (Fri/29-Sun/1 at Golden Gate Park, SF).
In advance of his appearance here (Sun/1), I spoke to the acclaimed musician about time-traveling on Fables in a Foreign Land, nostalgia for San Francisco's early punk days, and why he's glad his musical contribution to the blockbuster classic The Bodyguard never caught fire.
48 HILLS What's it like to return to San Francisco—especially to perform at an event like Hardly Strictly Bluegrass?
JOHN DOE San Francisco is one of the only cities that makes me sad because it's changed so much, and there are no more working-class people. But I understand that that is what happens, and it's happened all across the country.
But performing at Hardly Strictly Bluegrass is an honor and a treat because there's so much good music—and it's all free. [The festival's founder] Warren Hellman was one of the good guys with his philanthropy. The fact that it continues is just a gift and miracle.
Also, Golden Gate Park is one of the greatest places. It's the center of some universe. And so putting a free show there is fitting, and looking up at all those trees and all the happy people is the opposite of playing some dark rock club, which is OK, too. You can't have it all gravy.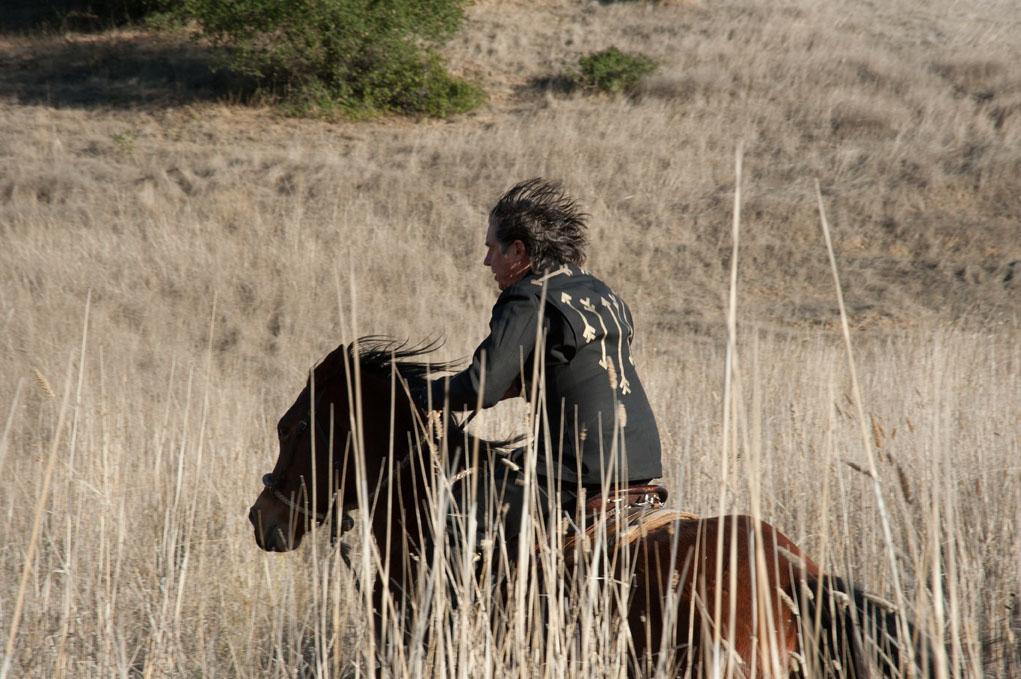 48 HILLS You've said you wanted to take a less-is-more approach with Fables in a Foreign Land. What does that mean to you?
JOHN DOE More straightforward lyrics, more folky country chords, and fewer instruments. All three of those combine to let each element speak so that there isn't a keyboard padding something.
All these things are just choices. It's all salt to taste, and the songs interested me as something that I've never done and wanted to do. I'm not anything more than a rhythm guitar player, so it gave Kevin, who plays bass, and Conrad, who plays drums, a lot of space and latitude. That's how it manifested in this project.
48 HILLS The track "After the Fall" is about your burgeoning spirituality. What inspired this change?
JOHN DOE Other than getting older, seeing similar events that seem to have connections to each other. You think of something, and then it happens; you have these coincidences that don't seem coincidental; and you have a feeling of something bigger. If I believe that something is going to happen and then it does, it makes me feel more grounded and happier.
48 HILLS You've said that the new album is partially about nostalgia. What do you have nostalgia for?
JOHN DOE The San Francisco X first went to in '79. I get nostalgic for places in Los Angeles. I think you get nostalgia as long as you don't live there. I don't think it's a bad thing as long as you don't stop what you're doing and pine for that moment which is gone. It's inevitable so you just have to deal with it and make the best of it by putting yourself in a place that you enjoy enough.
48 HILLS You've written two books about the LA punk-rock scene. I'm curious to hear your impressions of SF's sister scene back in the day.
JOHN DOE It was much more political and much more serious. But I thoroughly enjoyed it. And it was because San Francisco was dangerous then. It still is—but it was tough. Los Angeles was easier living. It wasn't as cold or dark. There's a dark energy in the San Francisco bands. But I loved all of them: Avengers, The Offs, The Dils, and The Mutants. So it was rich. Very rich.
48 HILLS Tell me about your experience playing Mabuhay Gardens.
JOHN DOE We played twice. I remember the first time. I went into [promoter and emcee] Dirk Dirksen's office and argued with him about how many people were there and how much we were supposed to get paid because he grossly underestimated how many people were there. Eventually, he kicked in another $100, which was a real success.
48 HILLS Speaking of getting your due, I've always felt that you were robbed when your version of "I Will Always Love You," featured in The Bodyguard movie, didn't receive nearly as much attention as Whitney Houston's or Dolly Parton's. Did you think it would get more?
JOHN DOE I didn't have any illusions that I was anywhere near as good a singer or as talented as Whitney Houston or Dolly Parton. I'm not that delusional, Joshua. Come on.
The reason I sing that song is because [the film's producer] Jim Wilson, Kevin Costner, and I were closer friends back then. Jim asked if I would do this, having no idea that Whitney Houston would sing it as well.
They made some cassettes of the recording that we did that they sent out to country music stations. And they all called back and said, "This is great but we're still playing Dolly's version—so never mind." It's like, cool. I would, too.
48 HILLS But at least if your version had been on the official soundtrack…
JOHN DOE But then maybe I'd be a rich asshole and wouldn't be invited to Hardly Strictly or care to do interviews—and that wouldn't be any fun. I'd be miserable. I'm sure of it. I love my life. I have a beautiful upper-middle-class Bohemian life. And I'm so fucking grateful and fortunate, so it's all good.
48 HILLS Getting back to Fables in a Foreign Land, one of your most interesting collaborations on the LP is with Shirley Manson on the murder ballad "Destroying Angels." What was it like working with the Garbage frontwoman?
JOHN DOE Uncharacteristically easy because we just hung out. She's very accessible, forthcoming, and straightforward, but also has a lot of experience and has lived a full life. So she knows what she's talking about.
It was great having someone who knows about the subject just because of their heritage. And I think Scotland is probably where murder ballads start. So someone who knows what they're talking about, has lyrical talent, tells a great story, and has all these images that I never would have come up with. Some lyrics lead the way. All you have to do is just not fuck it up, right? Like RuPaul says, "Don't fuck it up."
Hardly Strictly Bluegrass Fri/29-Sun/1, Golden Gate Park, SF. Free. More info here.