It's really no surprise so many children's tales result their author's trauma. From the gruesome origins of 'Snow White' and JRR Tolkien channeling World War I experience into Middle-earth to even Peter & Wendy describing children yearning to escape their normal existence, it's almost a requirement that the most memorable fantasy tales—particularly those for children—be based on something horrible in the author's life, no matter how much Disney dilutes them. No wonder revered author (and anti-Semite) Roald Dahl's poem about Cinderella mocks Disney-style whitewashing.
I'm not all that familiar with TH White's Arthurian novel The Sword in the Stone (except for, I admit, the Disney adaptation), but I am aware of the influence it, and the other stories of The Once and Future King, have had on fantasy authors that followed. Playwright Andrew Alty imagines the creation of the novel being nearly as eventful. His newly-commissioned Before the Sword (world premiere through October 15 at the New Conservatory Theatre Center, SF) is a Shakespeare in Love-type prelude that sees the eccentric author (Adam KuveNiemann) as the de facto Merlin to an awkward young lad who has yet to realize his potential.
The school boy in question is Freddie Wharton (Henry Halkyard), whom White meets as the boy is running away from bullies. This is the latest in a long line of schools for Freddie, who was kicked out of a revered institution for stabbing another boy—something you'd never guess when looking at this kid, who's probably afraid of his own shadow. Still, after getting to know the out-of-work drunk author, Freddie convinces his adoptive parents—Great War vet Jonathan (Mark P. Robinson) and housewife Hannah (Kim Donovan)—to let himself be spared any further bullying by letting White tutor him.
Jon is hesitant, but Hannah is encouraging. Although Freddie seems to be responding well to the tutoring, this couldn't have begun at a more conspicuous time. For one thing, the Whartons seem to have made friends with neighbors the Reynoldses, vicar Roger (Jeffrey Hoffman) and wife Clare (Radhika Rao), though Hannah's interest in Clare seems to be more than neighborly. Roger has also asked Jon to give the eulogy of the village's upcoming Armistice Day parade, something that threatens to re-open wounds Jon had thought long-since healed.
Most of all, the events will force the Whartons to confront some uncomfortable truths surrounding Freddie's adoption; and all of this will provide White with a great deal of literary inspiration.
Perhaps the strongest element of Alty's play, in addition to the author's organic use of old British vernacular, is its portrayal of PTSD in a time when it didn't even have a name. This was an era when it was considered normal for the average citizen, especially war veterans, to simply drink their way through unacknowledged pain rather than deal with all that Freudian guff. Sadly, that attitude continues to this day, but society has at least been wise enough to develop a vocabulary for the conditions and the means with which to deal with them.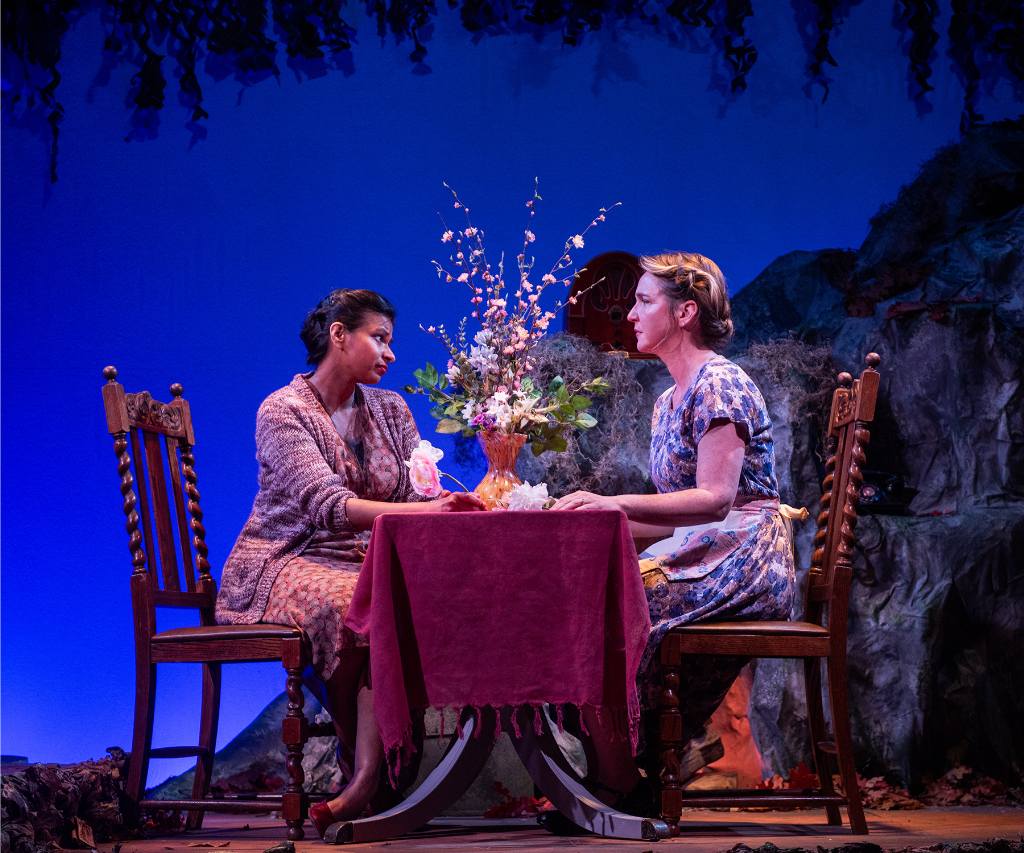 I do have to raise an eyebrow at its portrayal of the budding romance between Hannah and Clare. It's established pretty early that Clare came to terms with her queerness years ago, hence the "beard marriage" to Roger, but 1940s housewife Hannah has her queer awakening rather quickly. I don't doubt that she's had the feelings before, but she goes from happy homemaker to "ditch-Jon-and-move-in-with-Clare" in record time.
Mind you, their romance is very sweet and well-portrayed by both actors, but this was an era when queerness was still illegal and classified as a mental illness. Hannah doesn't seem struggle with any of that. I know we see Jon being an absolute shit, but that's still pretty fast.
Also odd is that the play never deals with White's own supposed queerness. I understand that it remains a subject of debate amongst scholars, colleagues, and relatives decades after his death—and, I imagine, it's one of the reasons NCTC commissioned a play about his life—but the White shown here is all but asexual. At one point, Jon falsely accuses him of being attracted to Freddie (points to the play for pushing back against that bullshit stereotype), but White is otherwise a blank slate in terms of his sexuality.
Still, both Alty's script and Ed Decker's direction make White and Freddie's mentor-pupil relationship endearing. Also working in Decker's favor are all the performances (though KuveNiemann would occasionally be grating) and the technical collaboration. Incidentally, David Kasper's woodland set, which seamlessly serves as every indoor and outdoor location, and Christian V. Mejia's lights reminded me of Ridley Scott's Legend in their aesthetics. That actually seems appropriate.
I saw the show during its only Enhanced Safety performance, requiring masks, vaccine checks, and reduced seating. In the lobby before the show, I overheard two ushers discussing the safety measures. One is apparently a regular of City Arts & Lectures and noted that a planned Sept. 27 event with Leslie Jones had to be cancelled because Jones caught COVID. "It's still out there," he said. Indeed it is, which is why I was grateful for the enhanced safety and the fact that my Aranet4's CO² levels seemed to peak at 788ppm for the night.
Before the Sword is one of those curious stories that tries to fill in the blanks of history, but winds up bringing up a few more questions of its own. Overall, it's a lovely tale with fine performances and assured direction. It's just seems to gloss over key details that deserve explanation—which is odd, considering that the final scene between Freddie and Jonathan goes on a bit too long. Nevertheless, what the production does show is nice to watch.
BEFORE THE SWORD's world premiere runs through October 15 at the New Conservatory Theatre Center, SF. Tickets and further info here.