"We get some really good cannabis from Maine," I kept hearing from people on my visit to New York City. I never actually caught sight, much less smoked, any of that elusive cannabis from the Pine Tree State—but I did manage to get the weed I needed to survive the week. I was in town producing the Cockettes sold-out show at Joe's Pub and needed weed.
It had been a year since I bought pot out of an ice cream truck in a hip Brooklyn neighborhood. At the time, that menu consisted of a chalkboard and a notepad, with hand-written strain listings and prices. Since then, New York has seen the cannabis legalization voters approved back in 2021 kick into high gear, with NYC's first licensed dispensary opening in December.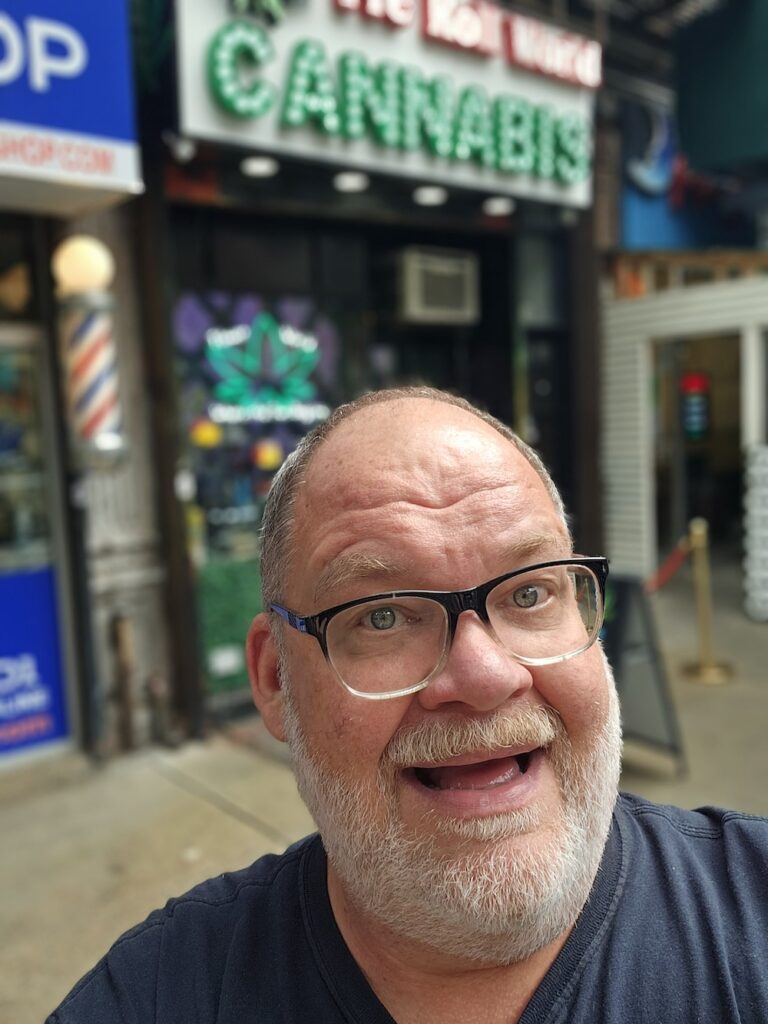 I had read that legalization efforts in New York have run into several snags, which has kept a good number of dispensaries from opening. A veteran's group filed a suit against the state's equity laws, which give those with previous cannabis convictions preference when it comes to who gets cannabis business licenses. An anti-cannabis group called the Cannabis Impact Prevention Coalition has filed two lawsuits against the legality of selling cannabis in New York. With all this controversy swirling, I knew would be interesting to see what the cannabis scene was like on my brief visit.
The street performers in Washington Square Park had me transfixed—yes, I had finally gotten stoned on my first day in New York. We had arrived in town that afternoon, and I met up with my friend Jaden who worked in the park as security for a cannabis cart. He pulled out a nice stoney pre-roll. I would expect no less!
People were juggling, skating, doing stunts, and all kinds of entertaining stuff in the park. It was almost enough to take my mind off the heatwave. Despite my years of roasting in Texas, I am now a West Coaster who loves the cool temps and balmy breezes. When my plane touched down in New York, and flight attendants announced that the local temperature was 95 degrees, I raised my hand in confusion—I didn't think I heard the flight attendant correctly. But they were not wrong! By the time I got to Washington Square, the pot helped a lot though, as did the shenanigans dancing before me.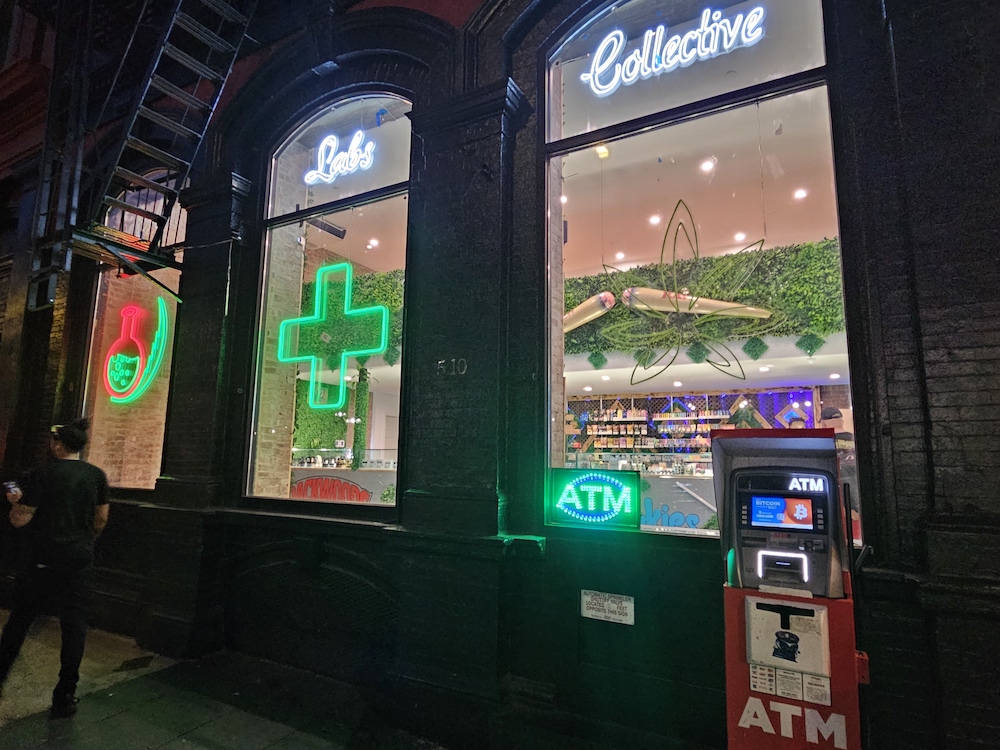 Next on the agenda was ice cream and finding a dispensary. The ice cream was delightful on my stoned taste buds as we walked down a Greenwich Village street to a headshop. There, I was shown a notepad with about eight scrawled strain names and some prices. None of them looked interesting to me, nor from Maine, so I passed and just bought a generic joint, which was handed to me loose, with no doob tube.
On our way back, we ran into what would be comparable to a San Francisco dispensary. We didn't have to show ID. The guy was super nice but didn't seem to know much about strains or the different brands. There was still no weed from Maine, but the kicker was that almost all the weed was from California. There were the brands I knew, like Stiizy, Raw Garden, Alien Labs, Connected, and a lot more. I wasn't sure how fresh any of it was, but it was funny to see almost all brands I knew from home.
The prices were not terrible. We got an eighth of generic Sour Diesel for around $35, and it was just fine. I also took them up on their buy-two-get-one-free joint deal for $25. This time, the joints were stuffed in a generic eighth zip bag, which bent them. I missed my pile of back-up doob tubes at home. The joints did their job though.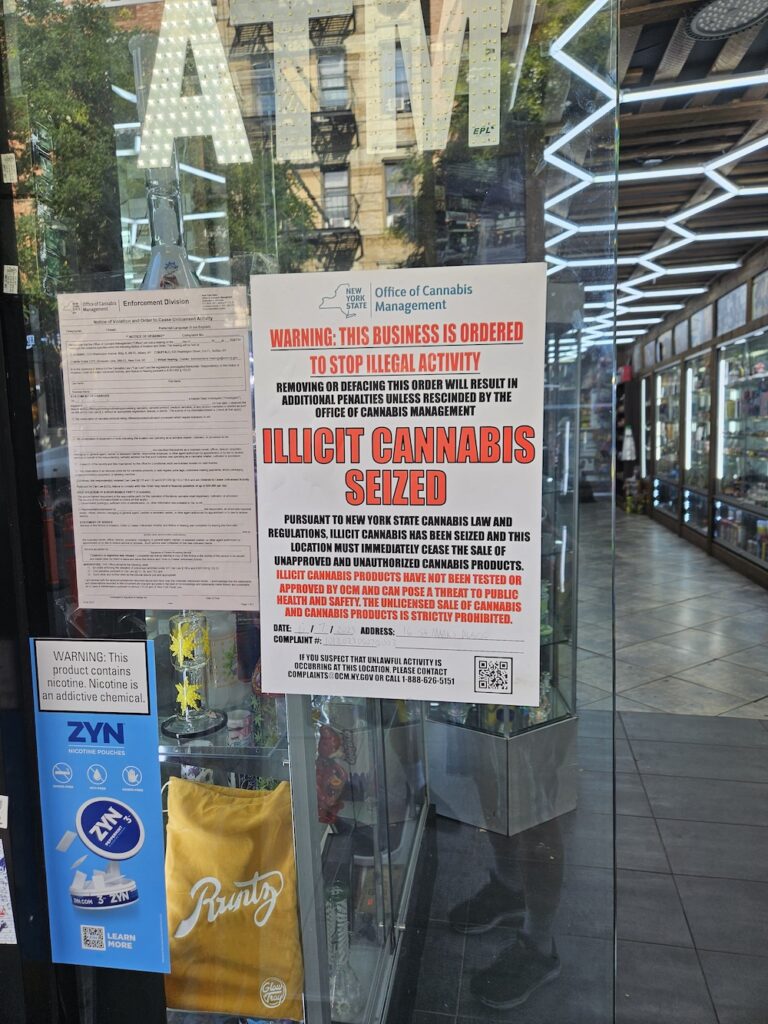 After that night we would hit up cannabis shops all over town, including ones in Times Square. Some were legit and similar to the one we had found the first night. We were never asked for ID. Others were head shops with a stash under the counter. I saw several "Police Seizure" stickers on those businesses. There were also really nice CBD shops that name their Delta-8 hemp products with cannabis strain names. No thanks.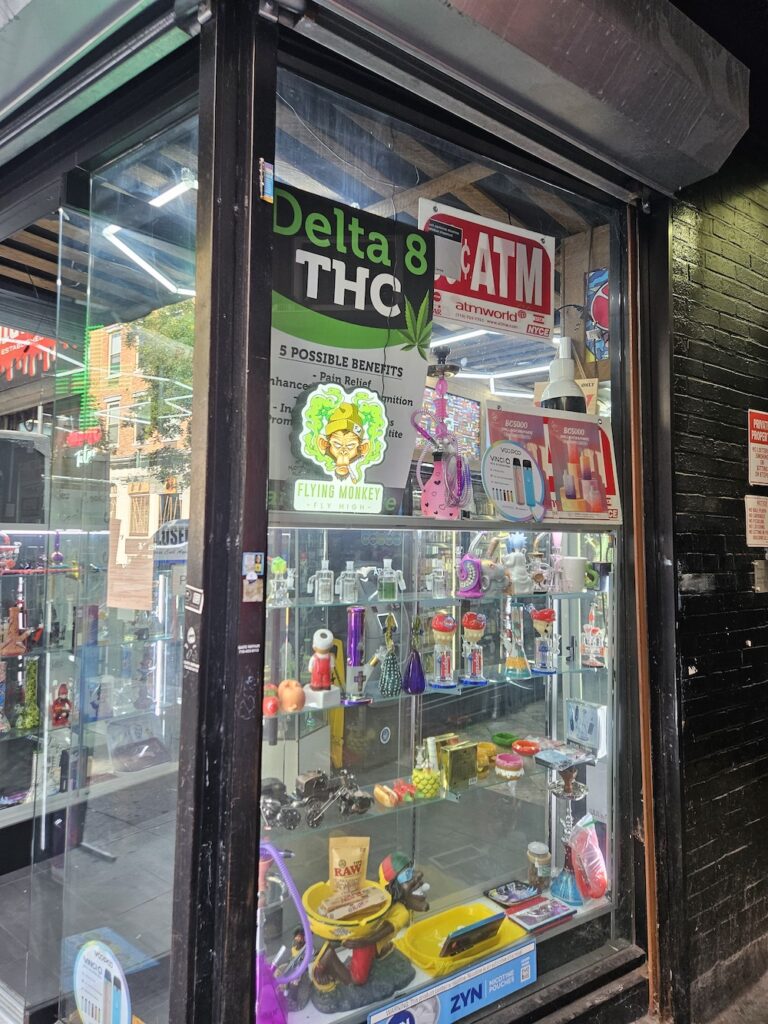 All in all, we easily stayed stoned—mostly on California weed—while we were in New York City. It is obviously still a market in the making. It will be interesting to see how things progress once the lawsuits are settled. It is a shame the state is experiencing so many growing pains—we may still have our own problems with over taxation and licensing, but we are way ahead of New York.
I'm happy to be back home smoking great local pot and enjoying the vast array of choices that our dispensaries and smoking lounges provide. But I'm also looking forward to my next trip to the Big Apple—and hey, maybe even a stoner road trip to Maine.
Now it's time to light up.