As the Cockettes took to the stage on Saturday, September 9 at Joe's Pub for a performance of "The Cockettes Second Cumming" to a sold-out house, history was made over again.
More than 50 years ago, San Francisco's famously wild drag performance troupe had an infamously disastrous opening night in New York City. The press was blistering; famous celebrities walked out holding their noses in contempt at the hippie debacle they witnessed. Why? The Cockettes were too experimental and rebellious for the old Broadway crowd. That anarchy would later be embraced by the punk crowd on their way in—not the "Mame" and "Funny Girl" crowd who were expecting another "Hair."
Fast forward to 2023. Punk happened, several times over. John Waters, a Cockettes acolyte, just received a star on the Hollywood Walk of Fame. Cockettes singer Sylvester is a disco saint. Cockettes founder Hibiscus has inspired several generations of fabulously free-spirited, outrageously fashionable queer young people. New York's taste for underground entertainment has vastly changed. Would it at last be ready for the Cockettes?
Enter original Cockette Scrumbly Koldewyn, with a vast array of his memorable music from all the Cockettes shows and revivals, and an amazing group of performers including Matt Bratko, Noah Haydon, Steven Satyricon, Ellie Stokes, Bonni Suval, Anthony Wayne, and Birdie Bob Watt who have kept the bawdy Cockettes tradition alive.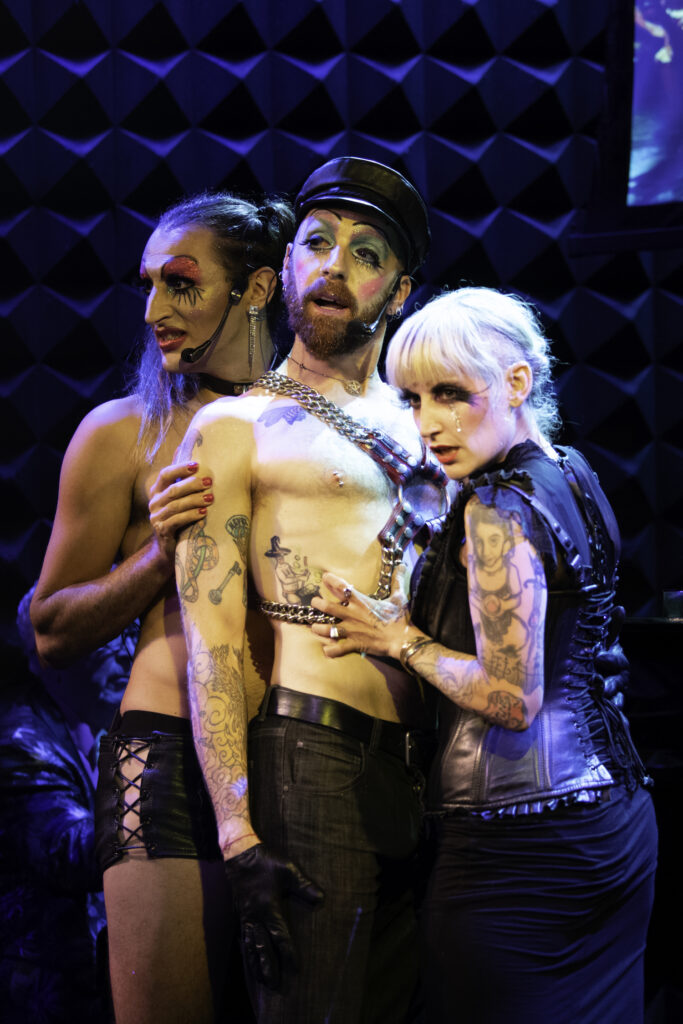 The group rehearsed for over two months every Wednesday at the Mission Police Station and St. John the Evangelist Episcopol Church on 15th Street, taking apart every song, lyric by lyric, and polishing it to its brightest sheen. They were worried how a New York crowd would accept the show. Sure, they had been selling out Oasis SF and PianoFight Oakland to enthusiastic crowds who knew and loved the Cockettes and their wacky history, but how would the Broadway crowd react?
As the producer, I told the group to always remember we were selling these songs to a brand new crowd. The New York audience had never heard songs like "A Crab on Uranus," "Come Eat Me," or "Too Decadent For You." So it was up to us to enunciate every lyric in order to educate everyone as we led them through the show. We had to teach them to love these songs as much as we did. 
The group took their task very seriously. For the last month of rehearsals, we just ran the show over and over again, along with the many costume changes. When the Cockettes first came to New York, the press made hay over the rough edges and spontaneous, raucous feel of the show. We were going to have this down pat while still staying buoyant, so when the stress and nerves hit come showtime, the troupe would be ready. Staging, choreography, and flow were constantly practiced.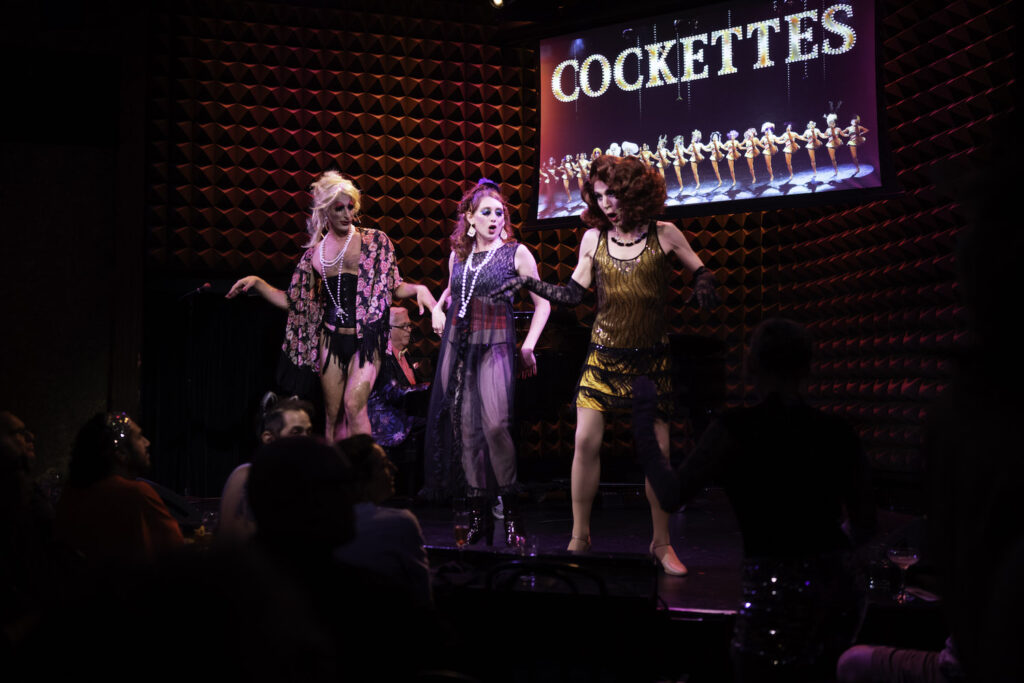 It had been a long road to get to New York, specially for a bare bones troupe of longtime performers. We started the necessary Go Fund Me campaign, sold beautiful silver glitter-beard t-shirts of Hibiscus designed by James Jeske and David Lawrence Hawkins, hosted a piano bar Cockettes sing-along and silent auction at the Cinch Saloon, and threw two karaoke parties at The Legionnaire Saloon in Oakland.
Thanks to the donations and support from our friends and community, we were able to cover most of our flight and production costs.
Rehearsed and ready to go, we flew to New York City in early September and were greeted by a heatwave. We persevered through hot, muggy subway stops and cold, blasting air conditioning, rehearsed at San Francisco expat Maria Konner's 33rd floor apartment overlooking Harlem and the East River, and dined together in Little Italy while enjoying a jazz quartet.
The next thing we knew, it was show day. I know we were all excited and nervous as we entered the venue at noon for our sound check and tech rehearsal. I went over the show schedule with Noah and our tech guy John. Our special guests Peter Mintun and Anthony Wayne showed up and ran through "Jaded Lady." At this point, I got that feeling that we were going to have a great show. I could feel the confident energy of a group ready to go.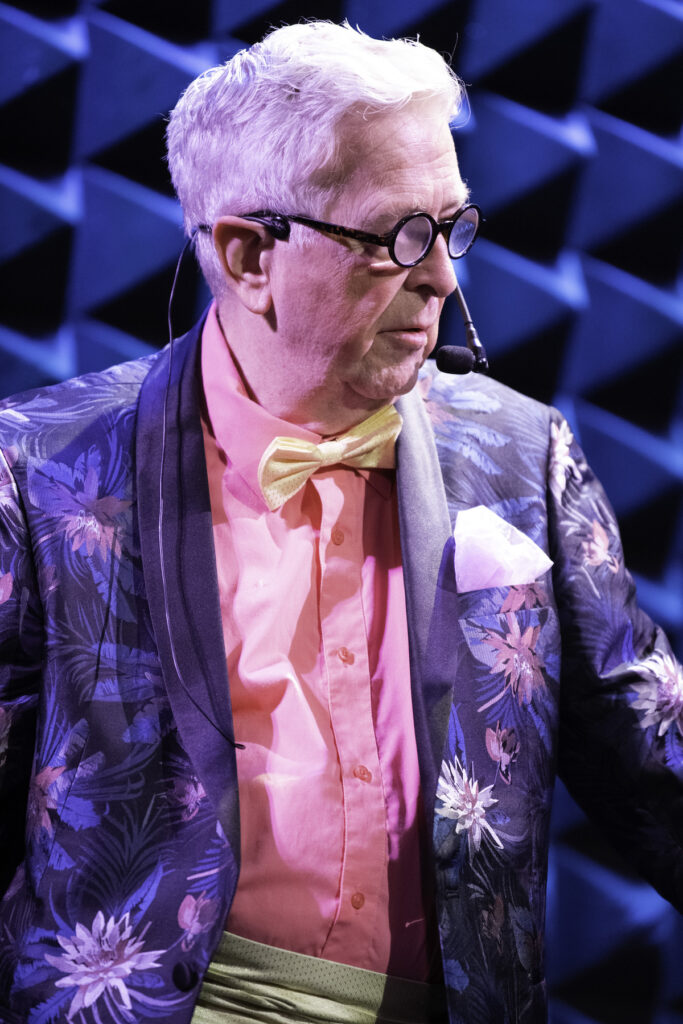 That night from our dressing rooms, we could hear the show before ours finishing, and we knew the moment was near. The Cockettes were about to make their "Second Cumming." Russell Blackwood and The Thrillpeddlers took a couple of Cockettes shows to New York over the years, but this was only the second time The Cockettes, now the Neo-Cockettes, would take the New York stage. And not just any stage, but Joe's Pub, the place where Broadway stars held their solo shows. This was the ideal place to celebrate the music of the Cockettes and Scrumbly Koldewyn.
(Funnily enough, I just wrote a quick note to Joe's Pub as a lark when I was investigating places to perform in New York. Joe's Pub eagerly responded the next day wanting to schedule a date. It was one of the easiest gigs I ever booked.)
Bam. There I was onstage welcoming a very eager crowd. They were ready for an amazing show. I got off the stage. I could hear the opening video start as I shot out from backstage to stand in the back of the theater and take it all in.
The show kicked off in high gear, and it never let up. Number by number, each performer was in top form. The audience loved every minute of it with rapturous applause after every song. I even saw people getting up and jumping up and down clapping after several numbers!
After the show, I was selling t-shirts in the lobby and people came up to the table and told me how much they loved it. This was not just them thanking me and walking away, they were beaming, so energized by what they had just seen.
What a successful night! No longer would the Cockettes be known in the Big Apple for their disastrous 1972 opening night, but by the night that they sold out Joe's Pub with a triumphant return in 2023.
The next evening, the troupe performed to an eager audience at Don't Tell Mamas Cabaret and ended the run with "Cockettes On the Silver Screen" at the Anthology Film Archive where we screened highlights from Cockettes Are Golden (2021) and Tricia's Wedding (1971), the only original Cockettes film.
The screening was surprisingly successful with an audience of over 60 people on a rainy Monday night. There was a lively Q&A afterwards, and the cast met many fans in the lobby who had questions about the Cockettes and wanted to follow us on social media.
Watching Scrumbly give his email to an eager, young fan summarized the success of the trip for me. Yes, we conquered Joe's Pub with a show we could be proud of, but most importantly, we spread the love and words that began with Hibiscus, Scrumbly, and all the other Cockettes who came before us. We reached out to the next generation of weirdos and inspired them. I can't wait to see what they come up with!