Metallic-symphonic crossovers are hardly new in an area steeped in both classical and rock history. Perhaps the most famous recent example: Metallica's live versions of its hits with the SF Symphony fill stadiums, and those S&M recordings have gone several times platinum, even winning a Grammy.
But what happens when a generation that grew up with these musical genres thinks deeper than mere fusion (no matter how exciting), and actually absorbs the structure, feeling, and, yes, catchy melodies of progressive metal and ecstatic rock forms like shoegaze into their work?
Jens Ibsen, winner of the 2022 Emerging Black Composers Project, will present one of the results when his piece "Drowned in Light" premieres with the Symphony Sat/11 and Sun/12, as part of its California Festival series. The 15-minute, electric-guitar-driven work—whose name itself conjures the sublime grandiosity of something a Finnish death metal band or a feedback-drenched '90s Creation label signee would toss off—delves into both the "intellectual stimulation" of progressive metal and Ibsen's own diverse musical influences.
"I pride myself on being a chameleon stylistically," the wryly effervescent Ibsen said over the phone. "I grew up with drumming, my father was a drummer—he worked as a toxicologist, so I heard him play in biotech bands with work friends, also church band stuff, styles like samba and Candomblé, African diasporic music. And then there was music in the car, Brazilian music, a lot of Angelique Kidjo and singers from Ghana like Kojo Antwi. So I already had a diverse musical palate in my home, and a lot of what it had in common was this rhythmic drive to it. A dimension of what comes naturally to me as a composer is rhythm and groove.
"Something that I love about progressive metal is that, while it's driven by rhythm, it has an intellectual component in which it's structured in a very 'composerly' way," he said. "You have that intellectual stimulation that you can get from classical music, paired with the immediate somatic response of hearing big, booming bass, loud drums, crazy guitars. There's an immediate physical response that people have to that music.
"To a lot of people it's quite negative," he says with a laugh. "But to people like myself it's addictive. I can't get enough of it, it's like drugs to me."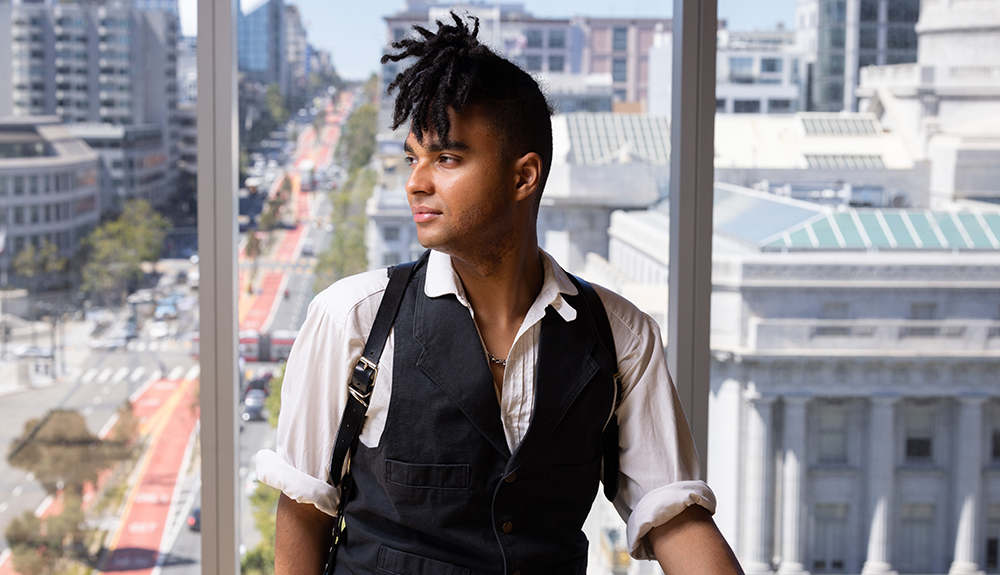 As a composer, the Bay Area-based Ibsen is the moment—so hot that offers from major arts organizations keep ending up in his spam folder. (Even word that he was the first sole winner of Emerging Black Composers Project prize came to him via an Instagram follow request from one of the judges.) As evidenced above, he comes from an incredible musical background. The child of a US father and Ghanaian mother, he was the first member of the Vienna Boys' Choir who was born in Africa, and his vocal talents have taken him around the world. He started composing a little over a decade ago, which "opened up a whole new world," and is currently working on an opera and several other ambitious projects.
The origin of 'Drowned in Light' has been directly in line with Ibsen's catholic tastes, right down to the name. "I was on a work trip to France and I just started hearing this music in my head. That usually doesn't happen, so those moments are invaluable. I kept hearing this little snippet, particularly this chorale melody that ended up becoming the backbone of the first movement of 'Drowned in Light.' At the time I was listening obsessively—which is a thing I do when I get into someone—to this UK band called Rolo Tomassi, particularly their more recent music. They used to be a more chaotic, mathy band like The Dillinger Escape Plan, but their newer stuff is quite different.
"They have a really talented female vocalist. She alternates between doing serenely beautiful, clean vocals and horrifying screams—and it is great," he said. "They're part of a movement of bands doing blackgaze, a mix of black metal and shoegaze"—San Francisco band Deafheaven was a pioneer—"and I love it. They have this track called 'A Flood of Light' that sounds incredibly beautiful, and as sometimes happens when I hear something I like, I thought, well, can I do something like that? Not copying it, but evoking the same feeling.
"I was just haunted by this piece that was coming to me, and thought, as soon as I get home, I'm sitting down in front of a computer and we're getting this done. The piece ended up becoming a rondo-like form, where you have this chorale refrain but you have these different episodes within it that foreground either the orchestra or guitar. It really is an electric guitar concerto, the first movement—it's kind of bombastic and builds quite a lot. I like to say the piece is a wedge shaped. It's starts really fat and formidable then tapers down to something more sedate and lyrical.
"So there are a lot of extremes going on. The second part is inspired by a song called 'Is It Really You' by the band Loathe, another blackgaze band that can write gorgeously serene ballads and then horrible, horrible-sounding music that I just love," Ibsen said. "I wanted to write a spiritual successor to that song: Could I write a simple pop-song form that gives me the same wistful nostalgia that song gives me?
"I tried my best. Now, let's see if it all works!"
SF SYMPHONY: "DROWNED IN LIGHT" Sat/11 and Sun/12 at Davies Symphony Hall, SF. More info here.