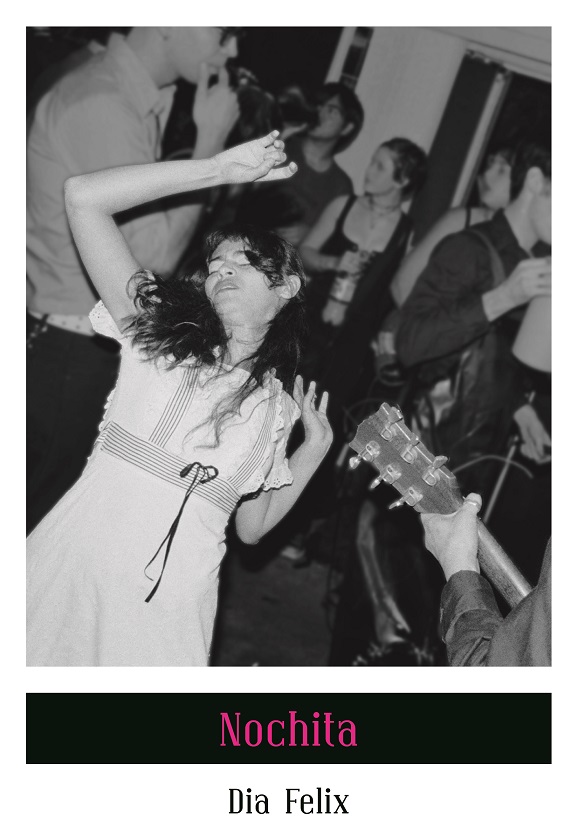 By Caitlin Donohue
March 123, 2014 — After the mother of the eponymous protagonist in Dia Felix's Nochita becomes a beloved New Age guru she dies young, leaving her young daughter with a downtrodden cowboy of a father, his consumerism-driven girlfriend, and a bedroom in a shack out behind the doleful couple's modular home.
At this rather low point, the only sympathetic character in Nochita's life is a hysteric and terrifying pig named Mr. Pinks. She dutifully feeds him fermented-garbage slop and wonders whether the swine's life would be better if she let him escape from his pen, pondering the certainty of his slaughterhouse destiny versus being the possibility of being splattered all over the road by a "three-ton truck."
Nochita, a sharp-tongued "old soul" of a preteen heroine faces a similar dilemma as Mr. Pinks. Will she have her considerable (guru-nurtured, after all) spirit squashed by a parade of inadequate adult caretakers, or will she run her chances on her own in the "glittering garbageless streets" of San Diego? In her young life, captivity has been interwoven with death – but can she guarantee freedom by trading a bad lot for an uncertain one? Advice by two in the cast of spirits who inhabit her mindscape: "You have to make your own world. And you can't trust adults."
Prescient as she is, Nochita seems to escape semi-truck annihilation, but finds as many dangers in flight as she does in paternal captivity. The road is hardly an easy one for a preteen whose family has disintegrated before her very eyes.
Felix's prose brings much to these squalid situations. Namely beauty, as in morning-after birthday party detritus discovered by a sleepless Nochita ("a chaotic mandala of crumpled napkins and paper hats") and wit. A neon sign for Senior Living San Diego awaits "all the restless seniors wandering the streets in the middle of the night, considering their next move." (more after the jump)

"I want to try having sex," Nochita reflects at one of novel's many sea changes. "Also I want candy and other things to eat, I want tampons, books, and other people, possibly friends. But I don't want any one of these particular things very strongly. Mostly I just want something else." Unlike Mr. Pink, Nochita can establish a life for herself beyond the gates of her pen.
The deceptively simple quest for "something else" is central among the books published by City Lights' Sister Spit imprint, a name familiar to any fan of the local feminist lit scene. The imprint's progenitor, author Michelle Tea, rose to Bay Area fame in the 1990s when she and Sini Anderson created queer and feminist-centric spoken word-performance event Sister Spit, a longrunning series that takes to the road for another one of its famously, fabulously shoestring national tours this month.
Tea pitched the publishing imprint to City Lights as a way to ensure more queer and feminist authors the bookbinding they're often denied. Felix herself, who makes movies and instructs teens in experimental filmmaking at Brooklyn's Reel Works also founded Personality Press in 2013, an organization that publishes small runs of slender "booklettes." So far, seven titles have made the Sister Spit cut, including as-yet unreleased transition memoir from Thomas McBee, an upcoming multiform memoir of growing up Haitian in Brooklyn by Lenelle Moïse, and Nochita, which is available at City Lights starting with Thursday's release party and more widely on April 1.
Judging from the Sister Spit books I've read so far, it's clear one of Tea's curational objectives is broadcasting voices from the road to a life lived on one's own terms. Felix's Nochita is but one of the imprint's army of heroines and heroes for whom traditional roles and expected timelines no longer serve, who are ready to stop pretending in order to strike out for a vague "something else." Health and wealth is not always forthcoming in these stories, but keeping it real is. Witness Ali Liebegott's Theo from Cha-Ching! (another Sister Spit imprint title) who moves to New York to escape her dead-end life in San Francisco.
Fans of stuff like this take note: on Thursday you'll have the opportunity to celebrate Nochita's book release with Felix and other Sister Spit luminaries at a party and reading at City Lights, where her book will be available for purchase for the first time. Furthermore, Sister Spit kicks off its upcoming national tour at the Elbo Room on Wednesday the 19th.
Nochita book release party
Thursday, March 13,  7pm, free
City Lights Bookstore
261 Columbus, SF
Sister 2014 tour kick-off
Wednesday, March 19
8pm, $10
Elbo Room
647 Valencia,