Victory for anti-displacement movement as tech company agrees to keep cancer center in building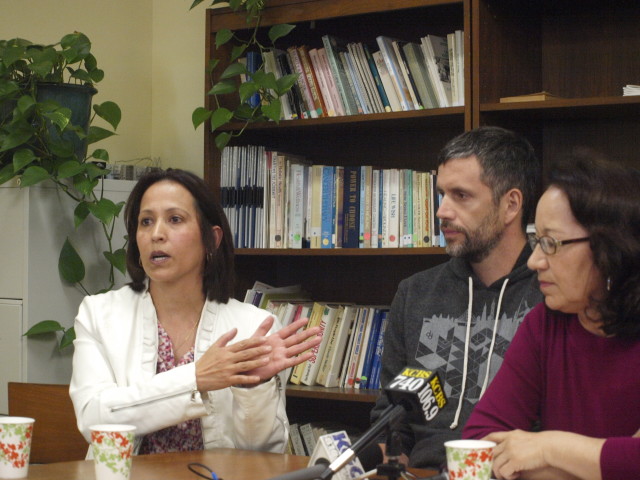 By Christopher D. Cook
FEBRUARY 26, 2015 — Circulo de Vida, the nonprofit Latino cancer support center recently threatened with displacement, will stay in the Mission District, moving to a new office space in the Bayview Bank building after weeks of community outcry and extensive negotiations with Supervisor David Campos and Double Dutch, the mobile apps firm that will occupy Circulo's old space.
At a press conference today, Campos highlighted the ongoing challenge of "how we as a community address the very real problem of nonprofit groups being pushed out," while praising the Circulo resolution for "setting an example for how companies and community based organizations can work together" to protect neighborhoods undergoing gentrification.
Circulo will move from its current 7th floor suite to a space on the building's 5th floor, which it will sublease from Double Dutch at least through the end of 2016. Carmen Ortiz, executive director of Circulo, said she and the group's many clients—Spanish-speaking individuals and families battling cancer—are "very relieved and happy" to remain in the neighborhood, which offers them familiarity, convenience, safety, and cultural connection.
Ortiz credited Campos, Double Dutch, and an "incredible" community response of letters and social media pressure urging the tech firm not to displace Circulo. Since she learned last November that landlord Vera Cort would not renew Circulo's lease, Ortiz had been in regular conversations with Double Dutch CEO Lawrence Coburn to seek an option within the building, she said.
Coburn, whose firm has been in the building since 2008, said his company has a "mandate" to be a positive force in the community. "We support the cause and we support Circulo…The important thing is they are going to continue their services without any disruption."
Campos credited Double Dutch and Circulo for their commitment to a resolution, while pointing to the larger crisis of displacement. "What happened with Circulo is happening across this city," where, due to a "hot commercial real estate market…groups providing critical services are being pushed out. We are losing so many great organizations in this city."
While the Circulo resolution is a unique instance of a company and a community group working together to avoid displacement, Campos called it "an example that I hope is followed. It shows that even in a very complicated situation with many players, you can come to a resolution."
Campos added that the Circulo case is a welcome interruption in the parade of bad news about gentrification and displacement. "As much as people want to talk about the divide between tech and the community, this shows they are one in the same, tech is part of the community."
One beneficiary of Circulo's services, 44 year-old Guadalupe Dumas, survived breast cancer and later fought off bone and lung cancer with the center's help. Circulo, she said, "supported me since my first day in the hospital," and helped her family as she battled cancer for nearly a decade; she is now in remission and credits the center for getting them through the experience.
Dumas noted that she personally knows 50-60 families who have been helped by Circulo, which, she said, needs adequate space to support families in need.
With more than 200 employees in its San Francisco offices, Double Dutch is growing fast, said Coburn, and may eventually outgrow the building's available space. Landlord Vera Cort, who owns numerous buildings in the city, previously told 48 Hills that she wants to keep Double Dutch as a tenant, and plans to make more space for the company by not renewing leases for a few other nonprofits in the building over the next year.
Coburn said Cort "tries to be very fair," adding, "we're going to do the best we can to not disrupt nonprofits." Coburn pointed to his firm's mandate, which states, "We live where we work. We refuse to turn inward, and commit to participating with gusto in the vibrant community around us. We share our time, resources, and collective imagination to advance causes that support and enrich our community."