Petitions on the street today; supporters need to gather about 14,000 in two weeks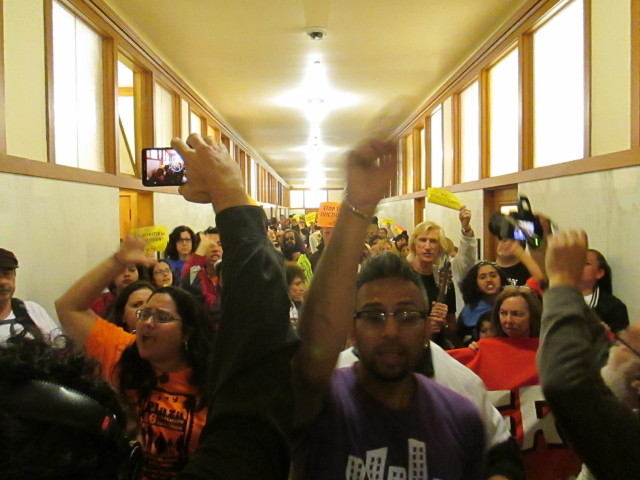 By Tim Redmond
JUNE 22, 2015 – A moratorium on market-rate housing in the Mission may be on the November ballot.
Although the supervisors narrowly rejected the plan, supporters in the neighborhood have filed for a ballot measure and were out gathering signatures today.
It will be a sprint: Proponents will have to turn in more than 9,000 valid signatures in just two weeks. That means collecting at least 14,000 or so, because some percentage are always invalid.
In other words, they will need about 7,000 signatures a week, or 1,000 a day. And so far, it's being done with volunteers.
But if the Mission community leaders, who are united behind the idea of a moratorium, can collect that many signatures in that time period, it will be a strong indication that city residents are fed up with the current state of planning and development and are ready for some dramatic changes.
The 2015 ballot is expected to draw a low turnout, with no serious, well-funded challengers taking on Mayor Ed Lee and no national races at the top of the ticket. That typically would not favor progressive causes.
But the moratorium seems to cut across political lines – and people who want to make a statement against the policies of Mayor Lee may see this – and the Airbnb initiative, which will almost certainly be on the ballot – as a way to express their anger.
On the other hand, developers, particularly those with a big financial stake in the Mission, may spend millions to defeat it.
Gabriel Medina, one of the proponents of the measure, told me that he knows the community will be fighting big money. "But we have been losing this battle for 15 years," he said. "And I think the city has heard the loud cry from the Mission that we need a housing balance. The people will always be outspent, but this is a major crisis."
He said that there will be paid canvassers in the next few days, and that volunteers are signing up at savethemission2015@gmail.com and coming to daily organizing meetings at 10am at 2301 Mission #211.
We'll know in two weeks if this makes the ballot.