People gathering signatures for rent-control repeal say they are working to improve rent control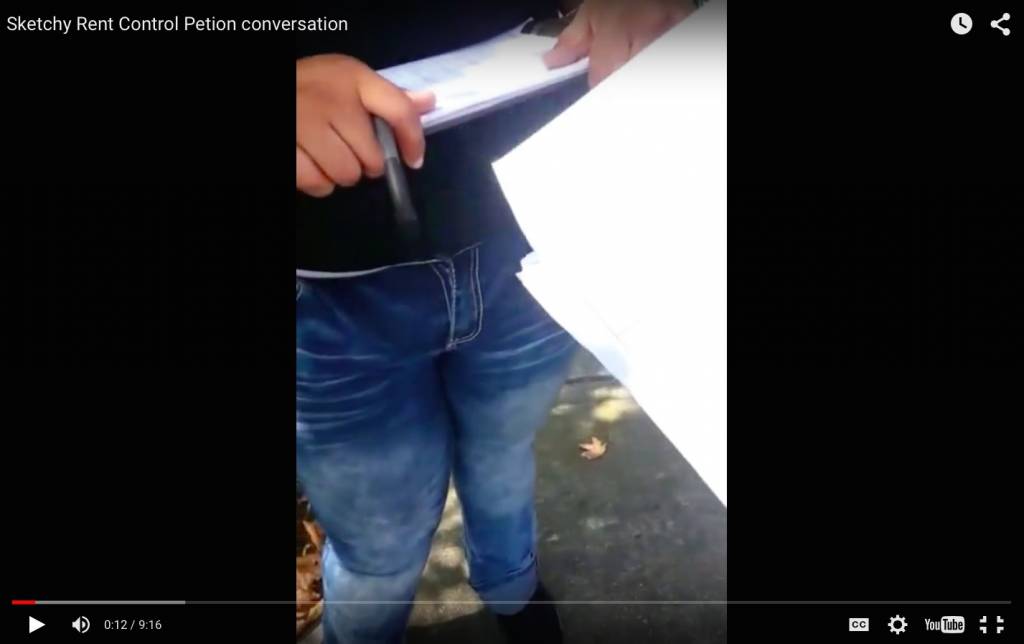 By Tim Redmond
SEPTEMBER 2, 2015 – Some of the people gathering petitions to overturn rent control in Richmond are telling voters that the repeal would actually promote tenant rights, videos sent to 48hills show.
It's still not clear exactly who has hired the signature team. Bay Area Petitions, a San Francisco company, is involved at some level. Sources say a Southern California group and a Sacramento operation known as Discovery Petitions are also contracted, but a man who answered the phone at Discovery today denied any involvement and it's not on the company's vendor voicemail.
At any rate, somebody's spending at least $75,000 to try to get the repeal on the ballot. And the people who are collecting signatures are, in at least some cases, utterly misleading voters.
There are only 10,000 people in Richmond who the measure applies to, one signature-gatherer says, and "we're trying to cover all."
The reason that not every building in Richmond is under rent control is because state law bans rent control on buildings constructed after 1979 and single-family homes.
The measure wouldn't cover anyone at all; it would end all rent control in the city.
The person collecting the signatures says that it's "backed by the mayor." But the mayor isn't paying the money; that, according to sources, is the California Apartment Association, a landlord group.
In the video, the signature gatherer says the petition is about "expanding rent control" and then calls her supervisor on the cell phone. The supervisor says "what we're doing is amending the current city ordinance as of now. … we want to amend it at the City Council … to cover all of Richmond."
One of the people being asked to sign wondered who wrote the petition. "Concerned Richmond citizens," the supervisor says.
Another Richmond resident, Erin Frenzel, described how a young man came to her door and said that he had a petition to "expand rent control."
"He didn't tell us who he was with," she says. "I honestly want my name off the rent control petition."
The problem, of course, is that rent control is popular in Richmond, and if the people seeking to overturn it were telling the truth, they wouldn't get many signatures. And the landlords are paying $12.50 a signature.
It's no unusual for people who are paid to gather signatures to shade the truth a bit; they make a living collecting names, and in this case, there's a fair amount of cash on the line.
But it's illegal to outright lie to the voters. And to say that this referendum measure will expand or improve rent control is just wrong.