If you want to understand one of the reasons San Francisco has a homeless emergency, consider the case of Ronald Lee, a Navy veteran who testified at a hearing today on plans for a declaration of emergency on homelessness.
Lee is now disabled and living on SSI. He gets about $900 a month in benefits.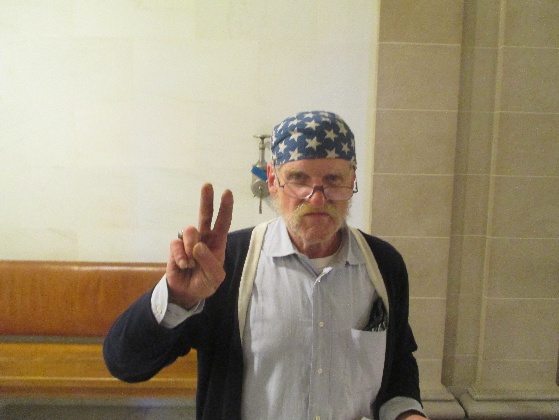 "I had a place for ten years," he told me. "I was evicted for no good reason. Now there's absolutely no place I can afford in the city, no place at all."
He's not looking for a fancy place, or even, as he puts it, a decent place. He'll take about anything he can afford – but there's nothing available.
So he's living in the shelter at Pier 80, hoping the city will help him find permanent housing – but with his income, the most he can pay is a few hundred dollars a month. He's still waiting.
The money he gets to live on is about the same as the government paid disabled people 30 years ago. Back then, you could live in SF on SSI; now, you can't.
Not unless you've been in your home for many years and have rent control – and haven't been evicted.
Lee's case fits all the patterns. He lost his place; he can't afford another one. He's lucky that the city might be able to use Veterans Administration benefits to help him, but there are thousands of others we face the same crisis.
One man who stood up to testify noted: "I've been in a state of emergency for five years. The minute people hit the streets, it's a state of emergency."
And as the testimony showed, it goes way beyond people's traditional images of homelessness. "We have a Muni driver living in a shelter," Tony Robles, from Senior and Disability Action, said. "He lost his home."
Tommi Avicolli Mecca noted that the biggest cause of homelessness in the city is eviction. "Evictions equal homelessness. We have to stop the evictions, now, period," he said.
Sup. Jane Kim reminded us all that before the days of Ronald Reagan, there was very little homelessness in American cities. There were, she said, more public housing units available than people looking for housing.
But the days when we could rely on Washington to save us are long over.
The mayor calls the Campos proposal nothing but political posturing, but as Campos said at the start of the hearing, the city "has not done enough."
He also pointed out that the mayor's office insisted there was no way to create new navigation center facilities for at least six months – and then shortly after his legislation was introduced, a site was identified that can open in June.
"Shouldn't we ask ourselves, can't we do better?" he said.
There are eight co-sponsors of the declaration, which means it's veto-proof – but it would be astonishing if the mayor actually decided to veto this measure.
Another Campos measure cleared the same committee today, one that would mandate gender-neutral bathrooms in all city buildings. On the same day that North Carolina is going in the opposite direction, with a viciously homophobic and transphobic measure, San Francisco moved a step closer to inclusiveness and sanity.
Both bills are likely to come to the full board next week.