Noman Coffee recently opened up in a shipping container on Duboce Street, proudly broadcasting the fact that its worker-owners were members of the SF artistic community.
There is approximately nothing new, though, about an SF comestibles retailer being staffed by drag queens, illustrators, painters, and writers.
In major U.S. cities (in big cities everywhere?), it is a well-known fact that the service and creative industries hold hands under the table. The chances that your hustling barback or assertive restaurant host spends their off-hours writing plays, DJing hip-hop parties or choreographing contemporary dance is quite high. Service industry tips give struggling creative types a chance at paying pricey city rent, while maintaining enough flexibility that they can still fit in late night gigs and studio time.
But Noman is making this partnership explicit in its promotional material, saying that when you come by for your morning macchiato, you'll be tended to by a member of SF's art squad. So reads its "About Me" on the website:
We are a small group of artists and baristas who have been working in our respective fields for more than a decade, we are passionate about the work that we produce and passionate about bringing that work to the public.
The shop got its start in early 2015 partnering with art collective Dart SF, doing pop-up coffee service at events until it finally found its fixed location in the Duboce Street food truck court.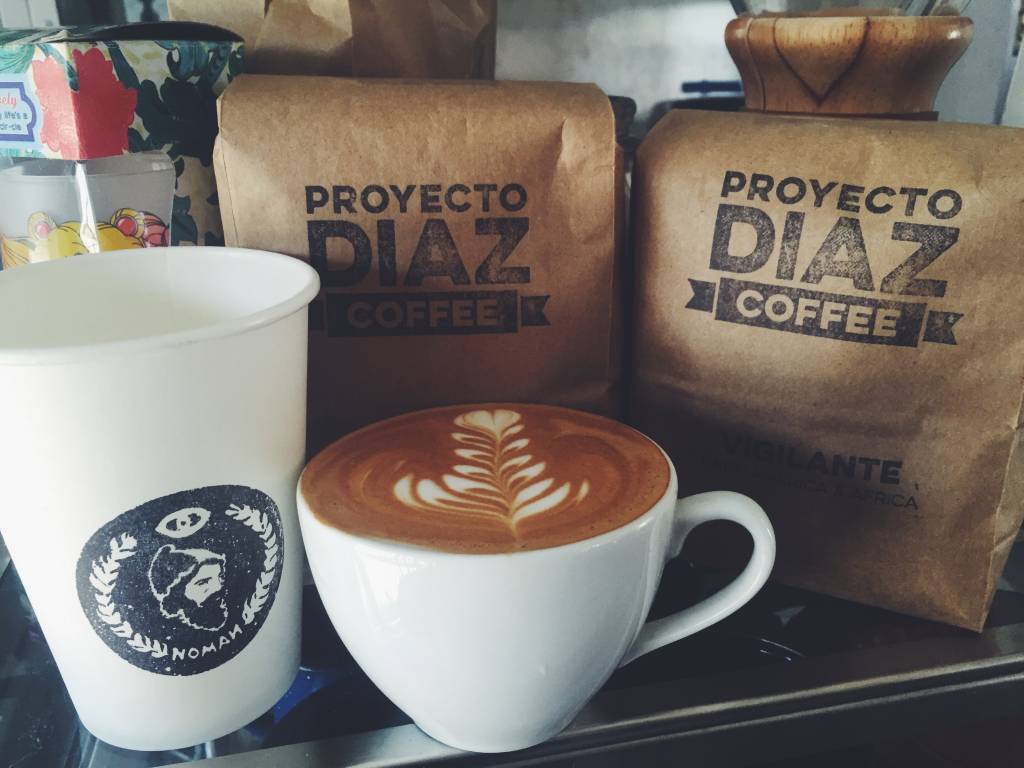 Staff serves brews made from the beans of Proyecto Diaz, an Oakland-based roastery that gets its raw product from the founders' Oaxacan homeland.
Make no mistake, the Nomen are no dilettantes — many have been in the coffee industry for years, and are excited to finally have a cafe to call their own after years of working for other people.
We wanted to get Noman's take on the intersection of the creative and service industries in San Francisco. To that end, we grilled collective members Diego Gómez (ex-supervisor at Starbucks and painter who performs under drag name Trangula Lansbury. Gómez also dabbles in "anything else you'll pay me for that doesn't involve our genitals, murder, or poo"), Alex Reyes (a photographer and writer), and Nick Danby (a former lead barista for Blue Bottle who also works in ink drawings and lino cut) on their mid-shift epiphanies, and the pros and cons of mixing art with professional caffeination.
48 HILLS Why open a coffee shop?
DIEGO GÓMEZ Few things thrive in a recession: drugs, booze & coffee — and I had most experience selling coffee. Also, my art career is not going Beyonce so I figured this could keep me from winding up in a cardboard box. Spare some change?
ALEX REYES Because a lot of people love coffee and it's simple. We're all a very different, but we all share two things in common. We all make art and we all drink coffee. These two things brought us together, so we thought why not find a way to use these two things we love to make us really happy and serve our community?
NICK DANBY I'd already been working in coffee for almost 10 years, and had managed shops for other people, and I was thinking about my future and my financial and life goals. I figured I had one of three options. One was pursue some form of schooling and get ready for a career change. The other one was to stay the course and get a job at a bigger company and start trying to climb the corporate ladder. And of course the last option was to try and open my own place. I hate school and corporate culture so that made it relatively easy to decide. Also, just the idea of creating a space where I get to do all the things I love and share it with the world and also involve my community makes me happy. I honestly love being a barista and I want to keep getting to do that but I can't imagine another 30 years of working for someone else.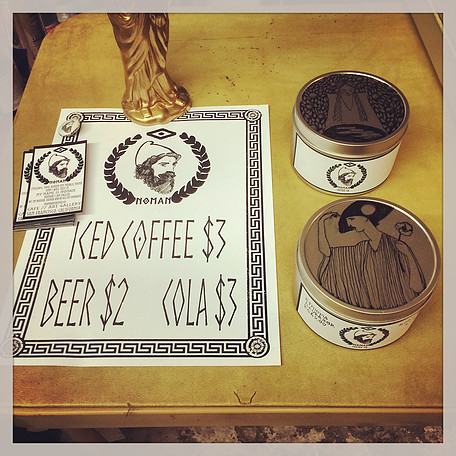 48 HILLS Why do so many SF artists work in the service industry?
DIEGO GÓMEZ I don't think it's just an SF thing, but the schedules tend to be flexible, you don't need experience, there's on the job training and you get tips — drag queens love tips 🙂
NICK DANBY It can be a great kind of place to work if you find the right spot. Of course it can be utter hell if you're in the wrong place. Being a barista I think is best because often it's a very easy-going job, you still make tips so it's possible to make a living and the schedule is usually flexible, so it gives you the time for other pursuits.
48 HILLS What skills are shared between making art and making coffee?
DIEGO GÓMEZ Being personable.
ALEX REYES Passion. Both, in their own way, are forms of expression. An artist can paint or write a piece of work to convey a feeling/feelings. A barista or coffee roaster will go through their own technical/creative process to make a great product or drink. Both require practice and dedication.
NICK DANBY I think of coffee as more of a craft. It involves a lot of working with the hands and developing an intuitive sense of how the coffee is brewing. Of course there's latte art, that's essential now for any good cafe. It's like each drink gets to be a little canvas, and I can kinda do whatever I want with it. I might even adjust what I'm making for the customer if I feel like they may like one design or another. I do a lot of pen and ink drawing which I love because a drawing will feel perfect and complete to me and I can't really change it too much. Lattes are kind of the same way — when I've finished pouring that's it, it's either perfect or needs improvement, but it's finished and ready to go.
48 HILLS In what ways is a job in the service industry inhibitive to creative drive? In what ways does it complement/support it?
DIEGO GÓMEZ Service industry jobs take up time where we can be creative but they also help because they're so easy u can let your mind wander into the creative while you're working and when you're off, you don't have to take work home.
ALEX REYES When I started working at the pizza shop I was amazed at how many of my co-workers were artists. I started working there after a series of unfortunate events, so my confidence was pretty low and I had no financial security. After only working there only a couple of weeks I had savings again — I couldn't remember when the last time that had happened. I started to feel a little safer. I started to have dreams again.
NICK DANBY I've worked long hours and weeks straight just trying to staff a store or make extra money for the rent. That takes its toll and I know nowadays the three or four day a week itinerant barista is a thing of the past. But also when I'm working my creative juices start flowing more, while I'm moving and making drinks, taking orders, my mind is reacting more quickly and I often get great ideas.
48 HILLS Tell us the deepest truth you have contemplated during a slow shift.
DIEGO GÓMEZ No one cares and nothing matters.
ALEX REYES There's more to life than a slice of pizza.
NICK DANBY Some years ago I got high before my shift (this was during my party days) and I was making sandwiches for order and I had this out-of-body experience where I was like "what is a sandwich really …" Never got an answer to that one.
48 HILLS Is it true what we've heard about the attractiveness of good tippers?
DIEGO GÓMEZ I'm moist as a snack cake just thinking about them!
NICK DANBY If you throw a 20 in the jar I could make it worth your while.
NOMAN COFFEE
Open everyday 7am-7pm
55 Duboce, SF
(415) 341-2344
More info here.