California's flag features a grizzly bear, even though they've been extinct in the state since the last one was shot in 1924. Today we know there are ecological benefits to returning apex predators like the grizzly to their former ranges — but so far it's been a tough sell.
The Center for Biological Diversity, where I work, has launched a groundbreaking campaign to urge the California Department of Fish and Wildlife to study — just study, at this point — bringing grizzlies back in California's remote Sierra Nevada.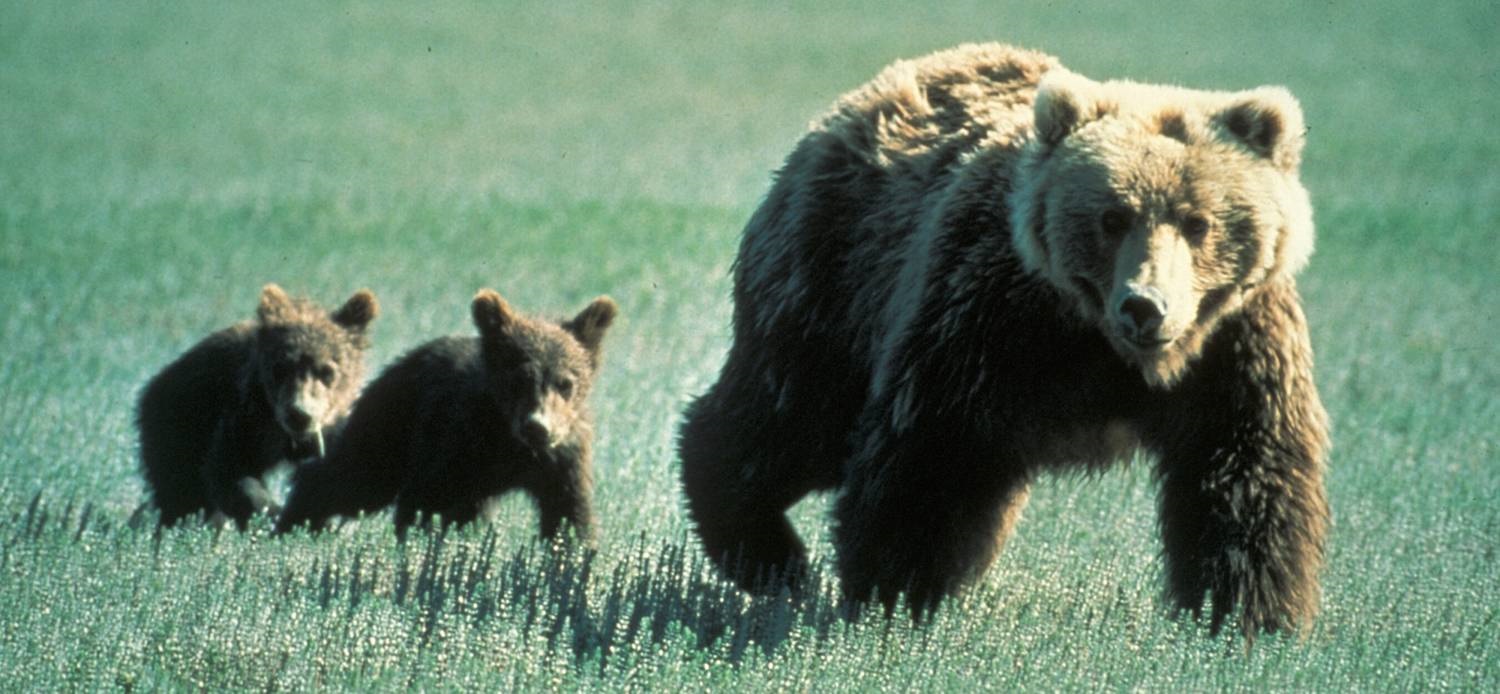 Although grizzlies are alive and well in places like Yellowstone and Glacier national parks, they still occupy just 4 percent of their historic range in the lower 48. If this endangered species is going to truly recovery, we have to do better than that — including considering bringing them back to California.
But when KQED Forum aired a program on the idea July 26, CDFW refused to even send a representative to take part in what was a fascinating discussion, instead recording a short statement rejecting the proposal and saying it was never going to even be considered, let alone studied.
But there's a way you can get involved.
Along with the ad agency gyro San Francisco, the center has launched a petition and public education campaign called Bring Back the Bears, highlighting this important species that's missing from our state. And this week we released a set of hilarious, professionally produced public-service announcements on the issue.
The videos have a little fun with four California archetypes who might deem themselves suitable replacements for the grizzly on California's flag. We're hoping some humor breaks the ice with Californians and persuades them to sign the petition (www.bringbackthebears.org) calling for the state to study the issue.
Here's how the Center's Jeff Miller put it to the media this week: "Grizzly bears lived in California long before it became a state, and they deserve a home here today. Returning these incredible animals to remote portions of our state would be a key step in rewilding parts of California and saving one of America's most iconic animals. It's time to bring back the bears."
Miller made a compelling case for the idea on Forum and at a launch event for the new videos later that day in Emeryville, acknowledging people's fears that grizzlies can present a danger to humans and noting that the feasibility study would examine ways to manage that risk, looking at a wide array of considerations, from what they would eat to whether their presence would improve the overall ecosystem.
This isn't some pie in the sky idea. We've identified about 8,000 acres in the Sierras as potential habitat for the grizzlies, who could provide real benefits to the landscape. Apex predators like grizzlies and wolves often create what scientists call "trophic cascades," restoring balance to traditional food webs and rejuvenating both fauna and flora.
Yellowstone National Park is a prime example of how grizzlies and wolves can even alter natural landforms.
But what about human safety? That's always one of the first questions that comes up. More than 3 million people visit Yellowstone every year, but bear attacks remain extremely low — it's more likely you'll be injured in a car wreck in Yellowstone than by a bear.
It's true that people may have to take extra precautions, especially visitors to the backcountry, including carrying bear spray and making noise. But people in and around places like Yellowstone have shown it can be done.
If we're willing to share our state, there may be room for grizzlies here in California. The bruins deserve a chance to return to some of their ancestral grounds. At the very least, the idea deserves serious discussion.
Former Bay Guardian editor Steven T. Jones works at the Center for Biological Diversity