SCREEN GRABS Designed inside and out by Timothy Pfleuger (who also created fellow art deco movie palaces the Castro and Paramount, among other Bay Area landmarks), the Alhambra Theater opened on upper Polk St. in 1926.
Its original splendors had long been covered up by generic multiplex "modernization" when a 1988 return to single-screen status excavated the stunning pseudo-Moorish decor underneath. Unfortunately, programming poorly suited to the neighborhood (there were rumors Disney's hefty restoration "donation" unduly influenced bookings) resulted in the Alhambra's demise as an entertainment venue after seventy years, in 1996.
For those who treasured its remarkable decor, the eventual takeover by gym chain Crunch was actually good news: As the interior was unprotected by local preservation laws, nearly any other business would most likely have stripped the Alhambra's ornate, so-recently-restored beauties in order to subdivide the space into offices and storefronts. Instead, design integrity was mostly preserved (even including a movie screen that now showed DVDs) for a new "audience" of aerobics-class attendees and weight-trainers.
Long something of a young-professional neighborhood, Russian Hill hasn't changed as drastically as the Mission or some other areas, but it too now seems largely inhabited by tech-sector newbies — as do the Alhambra Crunch facilities' workout spaces.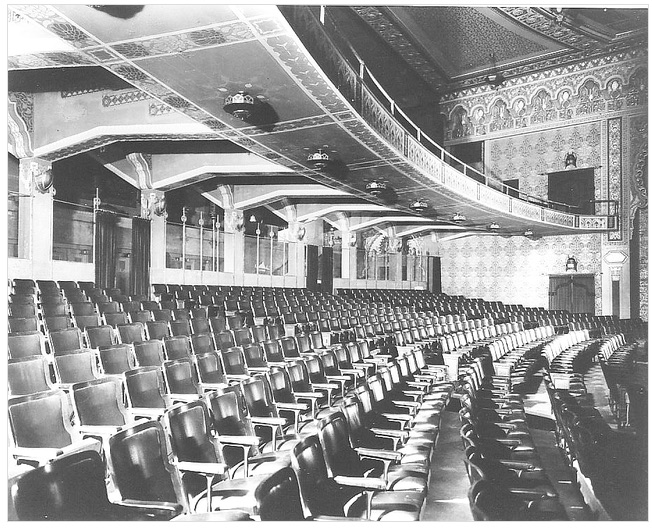 Throwing a spotlight on both an under-appreciated gem of local architectural history and the rapidly evolving community around it, local artists Lynn Marie Kirby and Christoph Steger's one-night only event The Alhambra Project, Fri/30, invites visitors to take part in a multimedia mix of cultural commentaries.
On the evening's menu are an "exercise class" of moves borrowed from classic film clips, video animation based on the Islamic design "exotica" that shaped the original Alhambra in Spain (and Pfleuger's Jazz Age homage), recorded interviews with neighborhood residents, textual contributions from Lebanese-American poet Etel Adnan, special mobile app-guided area tours, and more.
If like many San Franciscans you've been to the Castro a million times, Oakland's Paramount a few, but never inside the Alhambra, here's your chance to see one of the Bay Area's least-sung but most beautiful architectural jewels—for free, with no gym membership required this night only.
THE ALHAMBRA PROJECT
Fri/30, 7-10 pm, free.
Alhambra Theater/Crunch Gym
2330 Polk, SF.
thealhambraproject.com