The Board of Supes will finally decide Tuesday/23 whether London Breed will remain in charge of both branches of government, or take over as interim mayor (and give up her District 5 seat) – or go back to being board president when someone else takes over as caretaker mayor.
Sup. Aaron Peskin has called for a Committee of the Whole meeting to look at that question –- and as of today, as far as I can tell, nobody has six votes for anything.
That could change between now and Tuesday, and at the very least the public will get to weigh in, give the supes a sense of what they want to happen for the next four-and-a-half months – and watch public deliberations on the issue.
The meeting starts at 2pm, but the mayoral discussion is at the very end of the agenda. Still, I expect the Board Chambers will be packed, so get there early if you want a seat.
The SF Employees Retirement Board may take a dramatic step to fight global climate change Wednesday/24 when it holds a special meeting to consider divesting all of its holding in fossil-fuel companies. Right now, that's about $502 million.
For years, environmentalists have been urging large pension funds to sell off stocks in oil, gas, and coal companies. When John Avalos was a supervisor, he pushed the issue, and since then, Peskin has taken it up.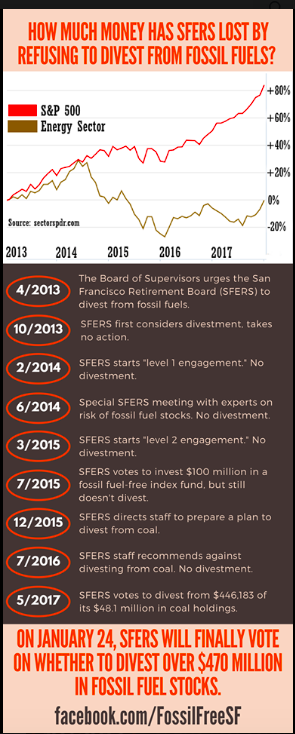 But the supes can't tell the retirement board, which manages some $23 billion in assets, how to invest its money – and a majority of the seven-member board has so far declined to approve divestment.
Peskin has a charter amendment that will come up Tuesday/23 that would change the makeup of the board, taking away one of the mayor's three appointees and giving that seat to an appointee of the city attorney. The current city attorney, Dennis Herrera, is a supporter of fossil-fuel divestment.
But there are indications – in part because of Peskin's proposal – that the board may shift this week.
The case for divestment is pretty clear: Fossil-fuel companies are a significant reason why the planet is being destroyed, and the city's money ought to be invested in more environmentally friendly activities.
As the directors of 350.org and the Sierra Club noted in an Ex oped:
Divestment is a powerful way for our cities, states and public institutions to cut ties with this industry, take away their social license to operate and weaken their political power
But the Retirement Board staff, in a remarkable memo, argues that divestment is a bad idea because fossil-fuel companies continue to make a lot of money. The memo takes the position that fossil fuels are going to be part of our energy future for a long, long time, and is dismissive of renewable energy.
The workers whose pensions are involved take a different stance – SEIU Local 1021, for example, supports divestment.
The meeting's at 1pm, 1145 Market 6th Floor. There will be a press conference at City Hall at noon.